Acland Campbell Geddes
---
Generation 6vii / VIII g
Contact the author and navigate this site
Acland Campbell Geddes b.1831 d.1908 [picture] [more information].
Son of George Geddes (2) b.1786 d.1840 aged 54 and Elizabeth Anderson of South Ronaldsay, Orkney, Scotland b.1794 d.1837.
Married in 1871 Christina Helen McLeod Anderson (IX 23) b.1850 d.1914 aged 64 [picture], daughter of Reverend Alexander "Govie" Anderson (6) b.1808 d.1884. A generation of the Anderson tree was thus bridged.
They had the following children:
F
i
Alexandra Mary Campbell (called Mona) b.1872 d.1936.
Married in 1898 Douglas Chalmers Watson
M
ii
Eric Campbell b.1875 d.1937.
Married 1900 Gwendoline Stokes.
F
iii
Nellie Campbell b.1876 died young.
F
iv
Margaret Campbell b.1878 unmarried.
M
v
Rt Hon the Lord Auckland 'Campbell' of Rolvenden b.1879 d.1954
Married 1906 Isabella Gamble Ross b.1881.
M
vi
Irvine Campbell b.9 July in Scotland 1882 d.18 May 1962 at London.
Married 1 August 1911 at Oatlands Park, Surrey Dorothy Jefford Fowler b.December 1888 at Surbiton, Surrey d.1 July 1976 at Poole, Dorset.
F
vii
Norah Campbell b.1887 died young.
Other information
Acland Campbell Geddes, named on the recommendation of Joseph Anderson, son of James Anderson 1st of Rispond b.1746 d.1828 after both Colonel Alexander Campbell of the 78th Foot (The Seaforth Highlanders) and Brigadier-General Acland. Acland became CIE Civil Engineer: Bell Carfrae & Co surveying and then supervising the construction of the Midland Railway from Carlisle to Edinburgh; surveying in Syria; Edinburgh in 1850s draining the two Corstorphine Lochs, eastern one of which where Murrayfield stadium is now situated; 1857-69 East India Company working with Robert Brown, the pair being the supposed inspiration for Kipling's 'The Bridge Builders' in his book The Day's Work. On his return home his Aunt Margaret recommended to marry, and he did marry, his cousin Christina Helen "Nellie" McLeod Anderson of Chanonry, daughter of Alexander 'Govie' Anderson (6)
Acland signed his name Auckland, objecting to the form of Acland.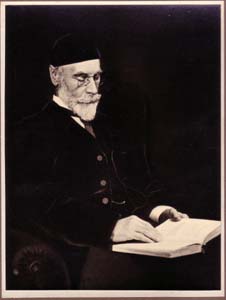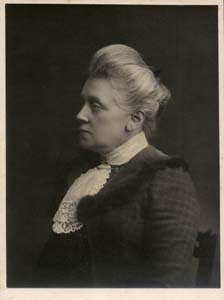 Acland Campbell Geddes b.1831 d.1908 (photo taken around 1907) and his wife Christina Helen McLeod Anderson b.1850 d.1914 aged 64
---
Contact the author and navigate this site
---
Want to ask questions, offer information or pictures, report errors, suggest corrections or request removal of personal information? Contact author
Notes on sources
Anderson family tree
Information is largely taken from the book 'The Andersons of Peterhead'. This was based on the records made by John Anderson 1825/1903 [VIII 32], known as 'China John'. This was brought up to date in 1936 by Cecil Ford Anderson [X 17] and Agnes Donald Ferguson [CS 45 X b]. Many photographs were taken and compiled in an album by Olive Edis (daughter of Mary Murray, daughter of Andrew Murray (2) of Aberdeen). Corrections to both Janet Innes Anderson's and Alexander Murray's death dates from Robert Murray Watt and Iain Forrest.
Forrest family tree
Iain Forrest kindly supplied material to update the Forrest family (progeny of William Forrest) details.
Hibbert family tree
The information is largely taken from a tree compiled by F.B. (she knows who she is!) with extra material found by the author.
Murray family tree
The 'Genealogical Table showing various branches of the Murray family', from which this information was taken, was prepared by Alexander Murray of Blackhouse, extended by Andrew Murray - advocate - Aberdeen circa 1880 and further extended by Arthur Murray Watt 1972. The generational notation is the author's.
Pike family tree
Information from family sources as well as 'Burke's Landed Gentry' 1875
Stevenson family tree and many Stevenson and Anderson photos
Deepest thanks for some fantastic pictures and for writing the wonderful book 'Jobs for the Boys' to Hew Stevenson, which you can see on www.dovebooks.co.uk.
And the rest
Thanks also to all who have written in with information, advice, help and, most importantly, corrections.
© John Hibbert 2001-2013
28 February, 2021