George Geddes
---
Generation 5 ii
Contact the author and navigate this site
George Geddes b.1786 d.1840 aged 54
Son of David Geddes of the Hudson Bay Company and Margaret Cruikshank b.17?? d.1805 More information
Married 8 January 1814 Elizabeth Anderson of South Ronaldsay, Orkney, Scotland b.1794 d.1837, daughter of James Anderson 1st of Rispond b.1746 d.1828
They had the following children:
F
i
Elizabeth died young.
M
ii
David christened 15 December 1815 died young.
M
ii
James christened 15 December 1817
F
iii
Barbara Gordon christened 21 June 1818 died young.
F
iv
Ann Irvine b.1819 d.1893. Unmarried. The four sisters of this family took over a girls' school at 16 Atholl Crescent, Edinburgh on the death of their aunt Ann Anderson (VII 14) in 1855.
F
v
Margaret Anderson b.1821 d1908. Unmarried.
M
vi
John Anderson b.1822 d.1893. Unmarried. Suffered a head injury as a child, from which he suffered all his life, became a reclusive shepherd
F
vii
Jessie Harriet Wemyss b.1823 d.1906. Unmarried.
M
viii
George (3) b.1825 d.21 June 1894. Suffered from extremes of religious fervour, and spent much of his life under medical care.
F
ix
Amelia Reid b.1827 d.1880. Unmarried.
M
x
Acland Campbell (called himself Auckland) b.1831 d.1908.
Married in 1871 Christina Helen McLeod Anderson (IX 23) b.1850 d.1914 aged 64
See Joseph Anderson, brother of Elizabeth Anderson of South Ronaldsay aforesaid, for the reason of his naming.
Other information
George Geddes returned home to Stromness, Orkney almost a year after his father's death, having undertaken a study of his father's business, by spending time at shipbrokers in Liverpool, learning banking at Manchester and London, and then in Canada, familiarising himself with the activities of the Hudson Bay Company. With the ending of the war with France, the fortunes of the family business, which was somewhat extended through the shipping bubble of the war years, went into rapid decline. All George's brothers were now dead, and the burden fell on his shoulders alone. James Anderson, 1st of Rispond, father of George's wife, helped him by buying some shipping assets. George was eventually forced to declare bankrupcy and then in 1819 had to move to Liverpool with his family to escape the sometimes violent attacks on them by the Orcadians. He worked there as best he could repaying money as it became possible. His family lived in great hardship. He died with his wife of typhoid fever in Liverpool, leaving 4 daughters and 3 sons. The girls were looked after by Ann Anderson and General John Anderson, her brother, looked after the boys, first at Rispond and afterwards at Smoo House.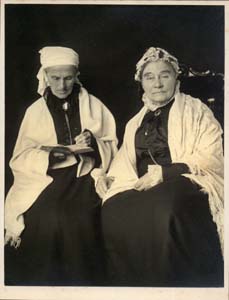 Margaret Anderson Geddes b.1821 and Jessie Harriet Wemyss Geddes (called Harriet) b.1823 d.1903.
The four sisters of this family took over a girls' school at 16 Atholl Crescent, Edinburgh on the death of their aunt Ann Anderson (VII 14) in 1855.
---
Contact the author and navigate this site
---
Want to ask questions, offer information or pictures, report errors, suggest corrections or request removal of personal information? Contact author
Notes on sources
Anderson family tree
Information is largely taken from the book 'The Andersons of Peterhead'. This was based on the records made by John Anderson 1825/1903 [VIII 32], known as 'China John'. This was brought up to date in 1936 by Cecil Ford Anderson [X 17] and Agnes Donald Ferguson [CS 45 X b]. Many photographs were taken and compiled in an album by Olive Edis (daughter of Mary Murray, daughter of Andrew Murray (2) of Aberdeen). Corrections to both Janet Innes Anderson's and Alexander Murray's death dates from Robert Murray Watt and Iain Forrest.
Forrest family tree
Iain Forrest kindly supplied material to update the Forrest family (progeny of William Forrest) details.
Hibbert family tree
The information is largely taken from a tree compiled by F.B. (she knows who she is!) with extra material found by the author.
Murray family tree
The 'Genealogical Table showing various branches of the Murray family', from which this information was taken, was prepared by Alexander Murray of Blackhouse, extended by Andrew Murray - advocate - Aberdeen circa 1880 and further extended by Arthur Murray Watt 1972. The generational notation is the author's.
Pike family tree
Information from family sources as well as 'Burke's Landed Gentry' 1875
Stevenson family tree and many Stevenson and Anderson photos
Deepest thanks for some fantastic pictures and for writing the wonderful book 'Jobs for the Boys' to Hew Stevenson, which you can see on www.dovebooks.co.uk.
And the rest
Thanks also to all who have written in with information, advice, help and, most importantly, corrections.
© John Hibbert 2001-2013
28 February, 2021