Lieutenant-Colonel Joseph Anderson
---
Generation VII 10
Contact the author and navigate this site
Lieutenant-Colonel Joseph Anderson CB¹ KH² b.1790 d.1877 [picture].
Son of James Anderson 1st of Rispond b.1746 d.1828 and Ann Innes d.1783 aged 32. More information
Married in 1826 at London Mary Campbell, only daughter of Colonel Alexander Campbell³ of the 78th Foot (The Seaforth Highlanders)
They had the following children:
F
i
Mary b.1827 at Portsmouth d.
Married in 1846 Alfred Rush Captain in 50th (later Queen's Own Royal West Kent) Regiment. They had two children
M
ii
James Joseph b.1828 at Stockport d.1828
M
iii

Colonel William Acland Douglas b.1829 at Blackburn d.1882, named after his father's friend General Acland. CMG 1878. Commissioned into 50th (later Queen's Own Royal West Kent) Regiment, Lieutenant and Adjutant 1848, Captain 1852. Exchanged to 65th (later York and Lancaster) Regiment, sold out 1853. Civil Service in VIctoria and afterwards Member of Legislative Assembly 1854-6. Raised a Volunteer Rifle Corps in Melbourne 1855, and was Commandant of all Victoria forces from 1862 till his death.
Married in 1856 Caroline Davidson d.1921 aged 83, daughter of Colonel Alexander Davidson HEICS. Caroline, Anderson and Acland Streets, in South Yarra, Melbourne are named after members of this Anderson branch. They had the following children:
 Mary Josephine Gordon b.1857 d.1933
 (married in 1883 Colonel William Henry Thompson d.1930 aged 86, 1st KDGs, son of General T Thompson, Indian Army, having 2 children );
 Fairlie Caroline Gordon b.1859 d.1934
 (married Colonel Arthur John Watson d.1900 in South African war aged 46 having 3 children );
 Captain Acland Alfred Gordon b.1862 d.1926 unmarried, 3rd DGs, retired 1897;
 Lieutenant Douglas Alexander Gordon b.1867 d.1889 in India unmarried, 3rd DGs.

M
iv
John Joseph b.1831 at Templemore, Ireland d.1841
F
v
Ferlina Gordon b.1833 at Birr Ireland d.1909
Married in 1856 Daniel Lloyd Jones of Llandovery, Camarthen d.1893. Had an estate near Avenel, Victoria. They had 2 daughters .
F
vi
Elizabeth Anne "Lily" b.1835 at Norfolk Island, Australia. Known as 'Lily' due to her pale complexion.
Married in 1856 in Australia Paul de Castella, member of an old Swiss family from Berne. He owned Yeringberg Vineyard near Lilydale in Victoria, the town being named after his wife. They had two children .
M
vii
Juliet Vivian b.1839 at Norfolk Island, Australia. Mount Juliet, a well-known landmark near Healesville, is named after her.
Married in 1859 Charles Hugh Lyon of Ballanee, Ballan, Victoria. They had 4 children .
Other information Back to top of page
After carrying the colours at the Battle of Maida when so many were killed all around, Joseph was presented by Colonel Alec Campbell (his later wife, Mary's, father) to Brigadier-General Acland, and that night he was invited to the General's dinner table. He recommended the names to George Geddes which he gave to his 10th child, and were subsequently used by the whole family, as those two men had given him such confidence.
Commissioned 1805 aged 15 in the 78th Foot; carried the Colours at the Battle of Maida in Calabria, Italy, 1806; Egyptian campaign 1807; Peninsular War with the 24th Foot (South Wales Borderers); present at Talavera 1809, Busaco 1810, Fuentes d'Honoro; to West Indies with the rank of Captain in York Chasseurs 1815; capture of Guadaloupe; 50th Foot (Royal West Kent Regiment) 1821; major 1825; with 50th to Sydney 1833; Commandant Norfolk Island, Australia 1833-9; Lieutenant-Colonel 1839; took 50th to India; temporarily Brigadier-General in Mahratta Campaign; severely wounded at Punniar 1843; sick leave with his family in Australia 1845-7; resumed command of the 50th Cawnpore 1848; regiment returned to Dover, where he sold out for £1,500 plus £4,500 the regulation amount for command, and retired to Australia; member Legislative Council 1852-6; owned Mangalore Sheep run of 85,000 acres 60 miles north of Melbourne which he occupied alone from 1850 to 1863 when he sold it to a William Forlonge.
¹CB 1844
²KH 1838 abbreviation for 'Knight of the Guelphic Order of Hanover', which did not carry a title; it was invented by the Prince Regent in 1815 and discontinued as a personal royal honour when Salic law prevented Queen Victoria also becoming King of Hanover.

³Colonel Alexander Campbell lived in Northumberland where Mary Campbell was educated with the Percy children at Alnwick Castle. Mary's brother, Septimus Campbell, brought Joseph's sheep to Goulburn in 1838 and helped to work the Mangalore Estate till he was killed in an accident.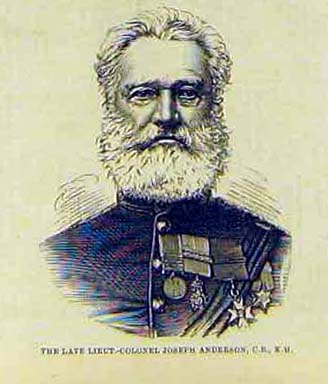 Lieutenant-Colonel Joseph Anderson CB KH b.1790 d.1877
---
Contact the author and navigate this site
---
Want to ask questions, offer information or pictures, report errors, suggest corrections or request removal of personal information? Contact author
Notes on sources
Anderson family tree
Information is largely taken from the book 'The Andersons of Peterhead'. This was based on the records made by John Anderson 1825/1903 [VIII 32], known as 'China John'. This was brought up to date in 1936 by Cecil Ford Anderson [X 17] and Agnes Donald Ferguson [CS 45 X b]. Many photographs were taken and compiled in an album by Olive Edis (daughter of Mary Murray, daughter of Andrew Murray (2) of Aberdeen). Corrections to both Janet Innes Anderson's and Alexander Murray's death dates from Robert Murray Watt and Iain Forrest.
Forrest family tree
Iain Forrest kindly supplied material to update the Forrest family (progeny of William Forrest) details.
Hibbert family tree
The information is largely taken from a tree compiled by F.B. (she knows who she is!) with extra material found by the author.
Murray family tree
The 'Genealogical Table showing various branches of the Murray family', from which this information was taken, was prepared by Alexander Murray of Blackhouse, extended by Andrew Murray - advocate - Aberdeen circa 1880 and further extended by Arthur Murray Watt 1972. The generational notation is the author's.
Pike family tree
Information from family sources as well as 'Burke's Landed Gentry' 1875
Stevenson family tree and many Stevenson and Anderson photos
Deepest thanks for some fantastic pictures and for writing the wonderful book 'Jobs for the Boys' to Hew Stevenson.
And the rest
Thanks also to all who have written in with information, advice, help and, most importantly, corrections.
© John Hibbert 2001-2013
11 April, 2013