Douglas Chalmers Watson
---
Generation 1 / X a
Contact the author and navigate this site
Douglas Chalmers Watson d.1946. More information
Married in 1898 Alexandra Mary Campbell "Mona" Geddes b.1872 d.1936, daughter of Acland Campbell Geddes b.1831 d.1908 and Christina Helen McLeod Anderson b.1850 d.1914 aged 64.
They had the following children:
| | | |
| --- | --- | --- |
| M | i | Irvine Ewart Chalmers b.1907 |
| M | ii | Rupert Gavin b.1911 |
Other information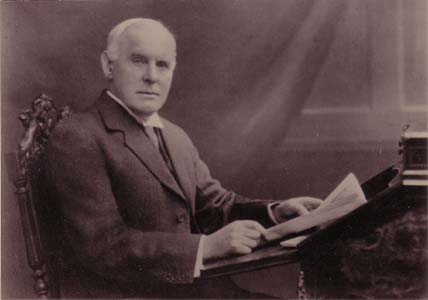 Douglas Chalmers Watson d.1946
FRCP Edinburgh 1901, MD Edinburgh 1904. Studied at Marburg and Philadelphia. Doctor at Royal Hospital for Sick Children, Edinburgh and Marshall Street Dispensary, Edinburgh. Specialist in Ear and Throat Opthalmic and Skin Department at Royal Infirmary, Edinburgh, also in auto-intoxication and auto-infection in mental disorders; and in medical sepsis in general medecine and mental disorders. Editor of "Encyclopaedia Medica".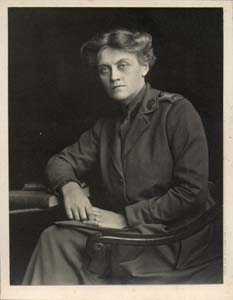 Alexandra Mary Campbell Geddes b.1872 d.1936
MB, CM 1894; MD 1898; CBE 1917. Educated at St Leonard's School, St Andrews and Edinburgh University, where she was the first woman medical graduate, 1898.
Married on the day on which she took her degree and set up a joint practice in Edinburgh with her husband.
Investigated under Government Orders in France during the Great War and became the first Chief Controller of the Women's Army Auxiliary Corps 1917 - 18. Among other activities she was Physycian to Edinburgh Hospital for women and children. President of Edinburgh Women Citizens Assocciation and of Scottish Women's Hockey Association; Hon Sec. Queen's Institute of District Nursing, Scottish Central Council. President, Women's United Service Club. Manager, Royal Infirmary Edinburgh.
---
Contact the author and navigate this site
---
Want to ask questions, offer information or pictures, report errors, suggest corrections or request removal of personal information? Contact author
Notes on sources
Anderson family tree
Information is largely taken from the book 'The Andersons of Peterhead'. This was based on the records made by John Anderson 1825/1903 [VIII 32], known as 'China John'. This was brought up to date in 1936 by Cecil Ford Anderson [X 17] and Agnes Donald Ferguson [CS 45 X b]. Many photographs were taken and compiled in an album by Olive Edis (daughter of Mary Murray, daughter of Andrew Murray (2) of Aberdeen). Corrections to both Janet Innes Anderson's and Alexander Murray's death dates from Robert Murray Watt and Iain Forrest.
Forrest family tree
Iain Forrest kindly supplied material to update the Forrest family (progeny of William Forrest) details.
Hibbert family tree
The information is largely taken from a tree compiled by F.B. (she knows who she is!) with extra material found by the author.
Murray family tree
The 'Genealogical Table showing various branches of the Murray family', from which this information was taken, was prepared by Alexander Murray of Blackhouse, extended by Andrew Murray - advocate - Aberdeen circa 1880 and further extended by Arthur Murray Watt 1972. The generational notation is the author's.
Pike family tree
Information from family sources as well as 'Burke's Landed Gentry' 1875
Stevenson family tree and many Stevenson and Anderson photos
Deepest thanks for some fantastic pictures and for writing the wonderful book 'Jobs for the Boys' to Hew Stevenson, which you can see on www.dovebooks.co.uk.
And the rest
Thanks also to all who have written in with information, advice, help and, most importantly, corrections.
© John Hibbert 2001-2013
28 February, 2021