John Ford Anderson (1)
---
Generation VII 23
Contact the author and navigate this site
John Ford Anderson (1) b.1784 d.1812. More information.
Son of Alexander "Nosey" Anderson RN b.1747 d.1806 and Janet Innes. More information.
MD in Peterhead. Died at the age of 28 of typhoid fever contracted from a patient.
Married in 1807 Margaret Skelton b.?1784 d.9 December 1876 aged 86 [picture], daughter of James Skelton, member of a prominent family of shipowners in Peterhead [picture] and a Miss Nicoll.
They had the following children:
M
i
Alexander "Govie" b.1808 d.1884.
Married (1), in 1831, Mary Gavin d. 1864 aged 57.
Married (2), in 1868, Mrs Marion Fairrie Nesbit née Marshall d.1901 aged 78.
M
ii
Mary Ford b.1810 d.1891 (VIII 29).
Married 2 January 1838 at Saint Nicholas' Church, Aberdeen Andrew Murray b.May 1808 at Peterhead d.19 July 1889 at Aberdeen.
M
iii
James "The Old Frog" (VIII 30) b.1811, founder of the Frognal branch of the Andersons.
M
iv
Joan Ford [picture] b.1812 d.20 June 1890 aged 77 at Gordondale House, Gordondale Road, Aberdeen of cerebral haemorrhage. Baptised 8 August 1812, with witnesses Dr Francis Nicoll and James Skelton.
Married 19 May 1840 James Yuill b.22 April 1807 d.7 January 1905 at Gordondale
House, Gordondale Road, Aberdeen aged 98. Baptised 3 May 1807. Reverend Minister of the Free Church in Aberdeen¹.
¹Birth, marriage and death register copies kindly supplied by Tracey Dunne (email received 22.44 19 November 2010).
Other Information Back to top of page
In 1815 James Skelton owned 5 ships in Peterhead (tonnages 103/300/78/64/168) and his brother George Skelton b.1789 d.1848 owned 7 ships (tonnages137/202/235/120/200/69/128). These two men took an active part in the affairs of Peterhead [picture] and were trustess in 1807 in connection with the improvement and maintenance of Peterhead harbour.
When Dr John Ford Anderson died at the age of 28, Margaret took the family to St Andrew's to live with her uncle, Principal Francis Nicholl.
A booklet on this John Ford's grandson, Dr John Ford Anderson contained some interesting information on this John Ford:-
Dr JOHN FORD ANDERSON ( 1840 - 1933 )
Distinguished Son of Boyndie Manse
by
DR ALEXANDER A. CORMACK
His great grandfather was Alexander Anderson, medical practitioner, Jamaica Street, Peterhead, 6ft. 3in. in height, 23 stones in weight, known as Nosey by reason of a prominent feature - who, having served as surgeon on board the flagship of Admiral John Ford, called his son John Ford Anderson.
His grand-father, John Ford Anderson, 1784-1812, M.A., Marischal College, 1802, at age 18, M.D., medical practitioner in Peterhead, died tragically at age 28 of typhus, a scourge of Europe in those days. In the old churchyard of Peterhead I found his grave, covered by a lovely polished red granite stone inscribed: "To the beloved memory of John Ford Anderson, M.D., who died of fever, 27th April 1812, aged 28. His wife, Margaret Skelton died 9th December 1876, aged 86". erected by their children, Alexander, of Chanonry, Old Aberdeen; Mary, wife of Andrew Murray, advocate, Aberdeen; James, shipowner, London; Joan Ford, wife of James Yuill, minister of the Free Church, Peterhead.
The Skeltons of Invernettie were shipowners in Peterhead, where in 1961 you will still find a Skelton Street. Of the four orphan children, Alexander became minister of Boyndie 1830-1843; James was a cofounder of the Orient Shipping Company, and proprietor of Hilton and Middlefield estates, Aberdeen (a fine investment for feuing); a granddaughter of Joan, daughter of George Skelton Yuill, shipowner, became Countess of Portarlington.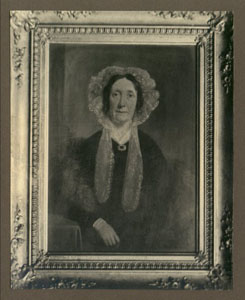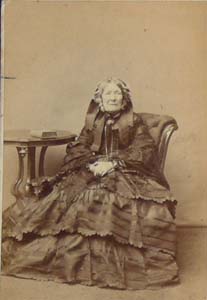 Margaret Skelton, b.1784 d.1871 aged 86.
George Skelton b.1789 d.1848 and 'Auntie George', Uncle and Aunt to Margaret Skelton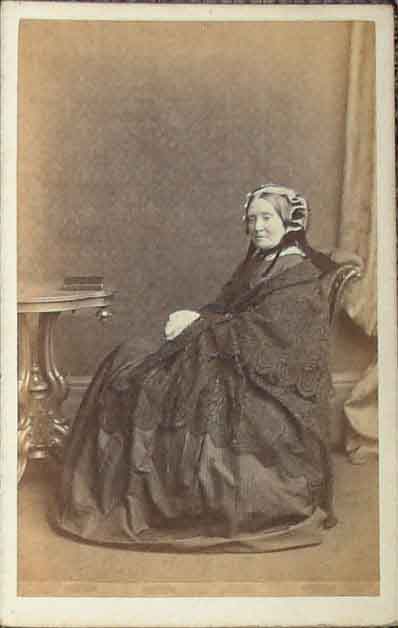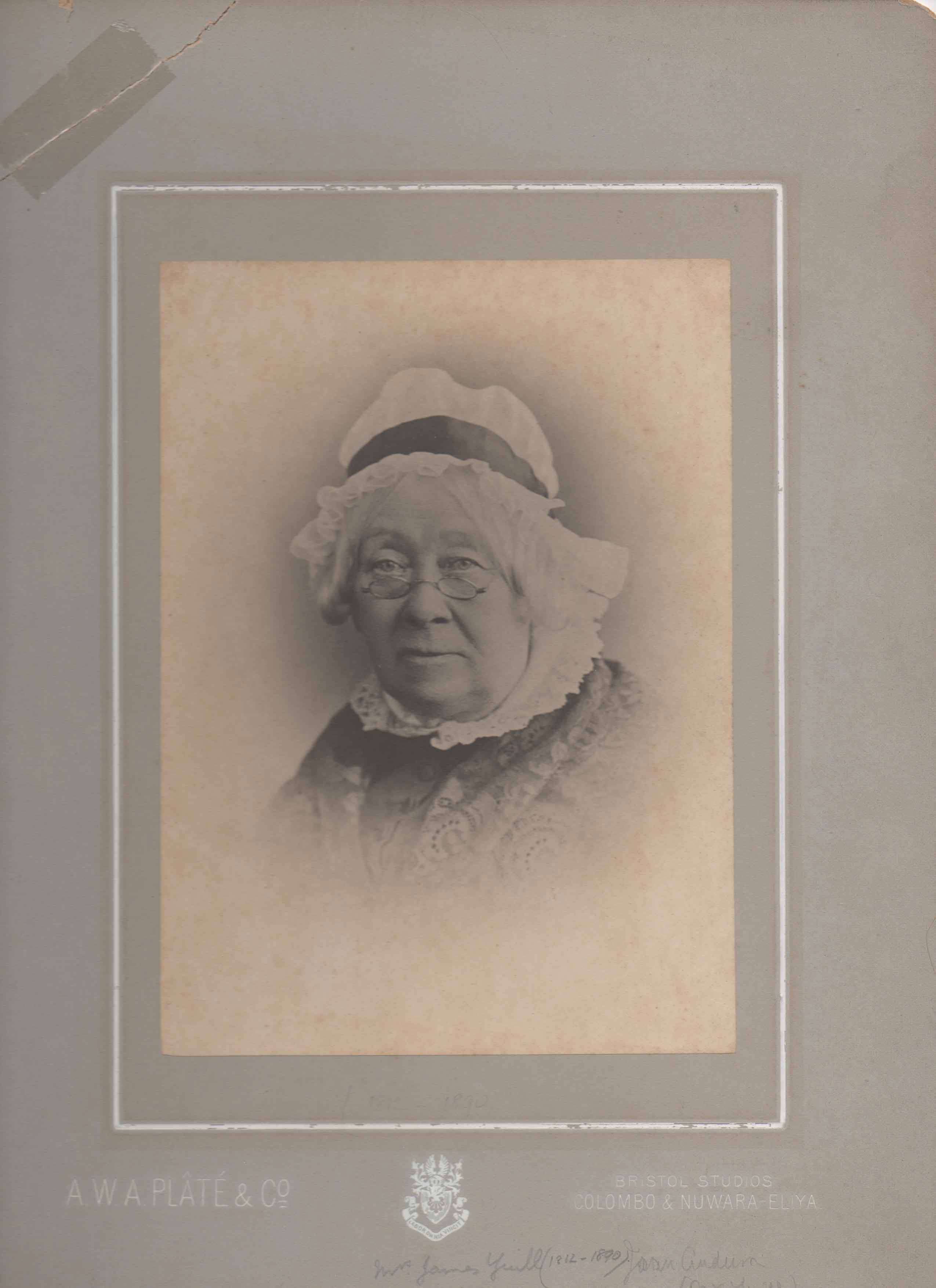 Joan Ford b.1812 d.1890 in Aberdeen, (left) in mourning attire, possibly following the death of her mother in 1876, and (right) taken or made in 1890 or later in Ceylon.
The right-hand picture was kindly supplied by Tracey Dunne (email sent 15 November 2010 18:35 received 15 November 2010 18:36), along with information and dates of the photographers' business which fixes the earliest date of this picture at 1890. The picture has the name of Joan's niece, Mrs William Duff Gibbon, née Katherine Murray, daughter of Andrew Murray and Mary Ford Anderson, on its reverse.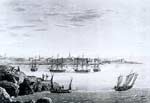 Peterhead Bay 1813 showing whaling ships at anchor from the Peterhead Arbuthnot Museum
---
Contact the author and navigate this site
---
Want to ask questions, offer information or pictures, report errors, suggest corrections or request removal of personal information? Contact author
Notes on sources
Anderson family tree
Information is largely taken from the book 'The Andersons of Peterhead'. This was based on the records made by John Anderson 1825/1903 [VIII 32], known as 'China John'. This was brought up to date in 1936 by Cecil Ford Anderson [X 17] and Agnes Donald Ferguson [CS 45 X b]. Many photographs were taken and compiled in an album by Olive Edis (daughter of Mary Murray, daughter of Andrew Murray (2) of Aberdeen). Corrections to both Janet Innes Anderson's and Alexander Murray's death dates from Robert Murray Watt and Iain Forrest.
Forrest family tree
Iain Forrest kindly supplied material to update the Forrest family (progeny of William Forrest) details.
Hibbert family tree
The information is largely taken from a tree compiled by F.B. (she knows who she is!) with extra material found by the author.
Murray family tree
The 'Genealogical Table showing various branches of the Murray family', from which this information was taken, was prepared by Alexander Murray of Blackhouse, extended by Andrew Murray - advocate - Aberdeen circa 1880 and further extended by Arthur Murray Watt 1972. The generational notation is the author's.
Pike family tree
Information from family sources as well as 'Burke's Landed Gentry' 1875
Stevenson family tree and many Stevenson and Anderson photos
Deepest thanks for some fantastic pictures and for writing the wonderful book 'Jobs for the Boys' to Hew Stevenson, which you can see on www.dovebooks.co.uk.
And the rest
Thanks also to all who have written in with information, advice, help and, most importantly, corrections.
© John Hibbert 2001-2013
28 February, 2021