Alexander "Nosey" Anderson RN
---
Generation VI 2
Contact the author and navigate this site
Alexander "Nosey" Anderson RN b.1747 d.1806.
Son of Alexander Anderson of English Mill, Inverugie (3) b.1721 d.1794. More information
Married, in 1776, Janet Innes b.1745 at Old Kirkton, St Fergus, Aberdeenshire d.1816 aged 71 in Aberdeenshire, daughter of William Innes b.1711 d.1755 in Old Kirkton, St Fergus Parish and Mary Nicoll b.1762 d.1792. More information
They had the following children:
F
i
Jane b.1781 d.1854. Unmarried.
M
ii
John Ford b.1784 d.1812. Named after Admiral Ford.
Married in 1807 Margaret Skelton, b.1784 d.1871 aged 86
F
iii
Mary b.1786 d.1791.
M
iv
Alexander "Sandy" (5) RN b.1791 d.1865
Other Information
Assistant Surgeon, RN 1765, Surgeon, RN 1766. Retired 1791, to practise in Jamaica Street, Peterhead. 6 foot 3 inches in height and weighed 22 stone. He served for a time on the flagship of an Admiral Ford, whom he admired so much that he asked if he could name his first son after him.

Mary Nicoll, Janet Innes' mother, was grand-daughter to Sheriff John Proctor, Provost and Burgess of Elgin, 1765; also sister to Dr Francis Nicoll DD, Principal of St Andrew's University, who was to help in the upbringing of the family of second child of this marriage, John Ford Anderson, after his early death because John's surviving wife was Margaret Skelton, neice of Doctor Nicoll.

Janet Innes' sister Ann Innes married this Alexander's brother, James Anderson 1st of Rispond. William Innes had a son Alexander as well as 3 daughters, and through Alexander a grandson James Innes b.1796 d.1841 who died unmarried, so this branch of the Innes family died out, though the Innes name has been given to many in the family since.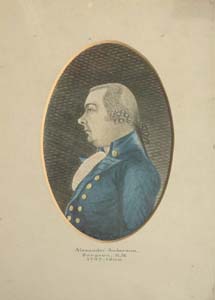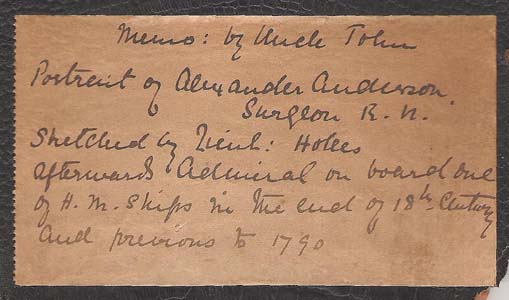 Alexander Anderson RN RN b.1747 d.1806 and the writing on the reverse of the picture
Excerpt from
Dr JOHN FORD ANDERSON ( 1840 - 1933 )
Distinguished Son of Boyndie Manse
by
DR ALEXANDER A. CORMACK
His great grandfather was Alexander Anderson, medical practitioner, Jamaica Street, Peterhead, 6ft. 3in. in height, 23 stones in weight, known as Nosey by reason of a prominent feature - who, having served as surgeon on board the flagship of Admiral John Ford, called his son John Ford Anderson.
[Excerpt ends]
The last will and testament of Alexander Anderson of Peterhead - 1803
Testament testamentary and inventory of the goods gear and effects debts and sums of money which pertained and belonged or were resting and owing to the deceased Alexander Anderson Surgeon in Peterhead at the time of his death which happened on the twenty eight day of March last made and given up before the Commissary of Aberdeen by Mrs Janet Innes otherwise Anderson widow of the said defunct and John Ford Anderson Surgeon in Peterhead his eldest son executors Testamentary nominated & appointed by the said deceased Alexander Anderson conform to his deed of settlement hearing date the 18th April 1803 and recorded in the register of probative writes kept for the Commissariot of Aberdeen upon the thirteenth day of May last Under protestation that the said executors shall only be liable for their actual in comissions and not for omissions that they shall have retention and allowance of all preferable & privileged debts charges & expenses which they have already paid out & disbursed or may hereafter pay out and incur ament the defuncts executry and manner of way and that they shall have liberty to add and eik to this inventory as may here after come to their knowledge Under protestation as aforesaid the said executors give up grant and confess that there was due and resting to the said deceased Dr Alexander Anderson at the time of his death by the Banking Company in Aberdeen the sum of one hundred and fifty one pounds sterling on an account current kept by him with the said Banking Company together with the interest due thereon.
John F Anderson
Janet Anderson
At Aberdeen the eighth day of October eighteen hundred and six years in presence of Arthur Dingwall Fordyce of Culsh Doctor of Laws Commissary of Aberdeen The Commissary aforesaid hereby ratifies and approves of the foregoing inventory and confirms the said Mrs Janet Innes otherwise Anderson and John Ford Anderson executors testamentary to the said deceased Alexander Anderson giving granting and committing to them full power warrant and authority to uplift receive and discharge the principal sum mentioned in the foregoing inventory and interest due thereon and hath received Alexander Webster advocate in Aberdeen as cautioner for the said executors conform to a separate bond granted by him and lodged with the clerk of court And the said executors hereby subject themselves to the jurisdiction of the Commissary of Aberdeen in all matters and questions regarding the said defuncts executry and affix the Commissary Clerks office of Aberdeen as a domicile for laying on all citations for them there a_ent which shall be as effectual as if delivered to themselves personally and they residing within the said Commissary Jurisdiction.
Ar Dingwall Fordyce
John F Anderson
Composition dues Forty Pounds Scots
Janet Anderson
ADF
Alex Webster
(along the side written horizontally) Sworn above the value of £600 and under the value of £800
At Aberdeen the thirteenth day of May in the year eighteen hundred and six in presence of Arthur Dingwall Fordyce of Culsh Doctor of Laws Commissary of Aberdeen Compeared Alexander Webster Advocate in Aberdeen and gave in the disposition and deed of settlement under written desiring the same might be insert and registered in the Register of Probative Writs kept for the Commissariot of Aberdeen and that the principal might be delivered back to him the Ingiver on his receipt which requesr the Commissary foresaid finding reasonable ordained the same to be done accordingly whereof the principal being written on stamped paper the tenor follows ___
I Alexander Anderson, surgeon in Peterhead, for the love favour and affection which I have and bear to Janet Innes alias Anderson, my spouse, and to John Ford Anderson, Alexander Anderson and Jean Anderson, my children, and for other onerous causes, and considerations do hereby, under the burdens and reservations after mentioned for me, my heirs and successors give, grant, and dispose to _ favours of the said Janet Innes, alias Anderson, my spouse, in liferent, all the days of her life, after my decease, but for her liferent use allenarily, and at her decease to the said John Ford Anderson, my eldest son in fee, his heirs and assignes whomsoever heritably and irredeemably, without any manner of reversion, redemption, or regress, all and haill, that my feu tenement of land, with the houses yard and pertinents, lying on the west side of the Mineral Well Street of Peterhead, presently possessed by myself as particularly bounded and described in my rights and insestments on the same together with the haill parts and pertinents of the said feu, libertier, privileges casedomes, and commodities belonging thereto, with all right and title of every sort that I, my predecessors, or authors, had have or can, claim or pretend, to the same. In the which feu tenement of land, with the houses, yard and pertinents above disposed, I bind, and oblige myself and foresaids duly and lawfully to insest and sease the said Janet Innes, alias Anderson, my spouse, in liferent, and the said John Ford Anderson, my son, and his foresaids in see, and for that purpose to make, grant, subscribe and deliver to them, all writts, deeds and conveyances, extended in ample form, containing prories of resignation, precepts of sasine, and all other usuall and necessary clauses, for fully vesting their respective rights in the premises. Further I do hereby dispose and make over, to the said Janet Innes alias Anderson, my spouse, in the event of her surviving me, for her liferent use allenarly, the whole of my household furniture, bed and table linnen, china and plate of whatever denomination, during all the days of her life, but for her liferent use as said is.
Moreover, with and under the burdens, provisions and conditions agter expressed, I do hereby give, grant, assign, and dispose, so and in favours of the said John Ford Anderson, for behoof of himself and his heirs and assignes, and for behoof of the said Alexander Anderson and Jean Anderson, and to their heirs and assignees whomsoever, equally all and sundry my whole other lands and heritages, tenements, seinds, adjudications, reversions, woods, hills, fishing, sacks, rooms, steddings and possessions, belonging to me with all debts heritable, and moveable, and whole goods, gear, sums of money, and effects, corns, cattle, horse, Kolt, sheep, outsight and insight plenishing, bonds, bills, sickles, accounts, gold and silver coined and uncoined, and haill other subjects, which shall pertain and belong or be adebted or owing to me, in any manner of way, at the time of my decease, with the whole vouchers, instructions, and conveyances thereof, and writs and deeds granted, and diligence and execution used and obtained, for payment or security of said debts and effects, together with all right, sitte, interest, claim or right property or possession, which I have or can pretend to the said lands and heritages, means, estate or effects, pertaining and belonging to me, at the time presaid, of my death and I do hereby bind and oblige me, and my heirs and successors to invest and sease the said John Ford Anderson, his heirs and assignees, in the whole lands, tenements and other heritages above disposed, requiring investment, and for that end, I hereby resign the same in the hands of my immediate lawful superiors thereof, and with power to the said John Ford Anderson, to sell the heritable subjects not liferented by his mother, with advice of the persons after mentioned the price to be applied for his, and his brother and sisters behoof and interest, equally share and share alike. Declaring that these presents are granted with and under the burden of the payment of all my lawfull debts, both heritable and moveable, and my funeral expenses, and also with the payment of the sum of fifty pounds sterling, to be paid to the said Janet Innes, alias Anderson in case she shall survive me, immediately after my death, for the purpose of purchasing mournings, and with the payment to her of the sum of twenty nine pounds sterling yearly, during all the days of her life, the said annuity of twenty nine pounds sterling to be paid her at two terms in the year Whitsunday and Martinmas by equal portions, beginning the first terms payment at the first terms payment at the first term of Whitsunday or Martinmas, that shall happen after my death, and so on yearly and termly thereafter during all the days of her lifetime.
And further, I hereby grant to the said Janet Innes alias Anderson, my spouse in the event of her surviving me, full power and liberty, to dispose and testament upon the sum of two hundred pounds sterling, to any one or more of our children, whom she may think most deserving, or to their heirs, to be paid to them at such time as she may direct, after her death, and further that she shall be intitled to a reasonable board wages, for any of our children during their residence with her after my death.
And it is hereby declared that the said John Ford Anderson shall over and above his equal share of the subjects last above disposed, have a title, right and property to my Gold Watch, with all my medical books, chirurgical instruments, and medicines, and that after the death of the said Janet Innes alias Anderson, my spouse, he shall be entitled to retain the whole of the household furniture, bed and table linnen, silver plate and china, upon the same being fairly inventoried and appraised by two persons to be mutually chosen by him and his brother and sister, and paying to them or their heirs, immediately on his receiving the same, their respective shares of the same, and it is further declared that no division of the subjects above conveyed shall take place, untill my youngest son Alexander Anderson shall obtain the age of twenty one years, if he shall then survive, except such sums as may be necessary for compleating any of my childrens education, or placing them in business, and which sum or sums, shall affect their respective shares who draw the same only.
Declaring that if any of my said children shall happen to die before arrival at majority or marriage, then and in that case, the share or shares above provided for them, both of my heritable and moveable estate, shall fall to be divided among my surviving children, share and share alike
And I do hereby nominate and appoint the said Janet Innes, alias Anderson, my spouse, & the said John Ford Anderson, my son and the survivor of them to be my sole and only executors, and the intromitters with my haill goods, gear and effects, with all powers, by the law of Scotland, competent to executors and I earnestly intreat and recommend to my said Executors, to act in the management and affairs committed to their charge with the advice and consent of the Revd Dr George Moir Minister of Peterhead, the Revd Mr William Greig, Minister of Longside, James Reid Esq of Alehousehill, and Mr Alexander Elles, Merchant in Peterhead, in whom I have entire trust and confidence, and whom I beg and request, that they will have the goodness to interest themselves in the management of my affairs, after my decease, and give my said Executors their friendly aid and assistance.
Dispensing with the generality and not delivery hereof, and declaring these presents to be as food, valid and effectual, as if every particular sum and subject were herein particularly insert, and though found lying by me at the time of my death, or in the custody of any other person to whom I may entrust the same, undelivered
But reserving always, not only my own liferent, of the subjects before disposed, but also full power and liberty to me, to alter and revoke these presents in whole or in part, as I shall think fitt, at any time in my life, or even on death bed.
And I consent to the registration hereof in the books of council and session or others competent therein to remain for preservation, and that all necessary execution may pass hereon in form as affairs and to that I constitute my procurators In witness whereof I subscribe these presents wrote on this and three preceding pages of stamped paper by Alexander Gordon son to James Gordon writer in Peterhead; at Peterhead the eighteenth day of April Eighteen hundred and three years before witnesses Mr Adam Arbuthnot Merchant in Peterhead and the said Alexander Gordon (signed) Alex Anderson Alex Gordon witness, Adam Arbuthnot witness. Extracted on this and the six preceding pages by A Gordon
---
Contact the author and navigate this site
---
Want to ask questions, offer information or pictures, report errors, suggest corrections or request removal of personal information? Contact author
Notes on sources
Anderson family tree
Information is largely taken from the book 'The Andersons of Peterhead'. This was based on the records made by John Anderson 1825/1903 [VIII 32], known as 'China John'. This was brought up to date in 1936 by Cecil Ford Anderson [X 17] and Agnes Donald Ferguson [CS 45 X b]. Many photographs were taken and compiled in an album by Olive Edis (daughter of Mary Murray, daughter of Andrew Murray (2) of Aberdeen). Corrections to both Janet Innes Anderson's and Alexander Murray's death dates from Robert Murray Watt and Iain Forrest.
Forrest family tree
Iain Forrest kindly supplied material to update the Forrest family (progeny of William Forrest) details.
Hibbert family tree
The information is largely taken from a tree compiled by F.B. (she knows who she is!) with extra material found by the author.
Murray family tree
The 'Genealogical Table showing various branches of the Murray family', from which this information was taken, was prepared by Alexander Murray of Blackhouse, extended by Andrew Murray - advocate - Aberdeen circa 1880 and further extended by Arthur Murray Watt 1972. The generational notation is the author's.
Pike family tree
Information from family sources as well as 'Burke's Landed Gentry' 1875
Stevenson family tree and many Stevenson and Anderson photos
Deepest thanks for some fantastic pictures and for writing the wonderful book 'Jobs for the Boys' to Hew Stevenson, which you can see on www.dovebooks.co.uk.
And the rest
Thanks also to all who have written in with information, advice, help and, most importantly, corrections.
© John Hibbert 2001-2013
28 February, 2021