Alexander "Sandy" Anderson (5)
---
Generation VII 25
Contact the author and navigate this site
Alexander "Sandy" Anderson (5). b.1791 d.1863
Son of Alexander "Nosey" Anderson RN b.1747 d.1806 and Janet Innes d.1816 aged 71.
Lieutenant RN, 1807 to 1815. He bought a french prize with the help of the Skeltons and captained it himself on the West Indies trade till 1841. James Thomson & Co were the London agents of his ship. Subsequently he opened a business of Comn. Agents and Merchants with his son John as partner. He became Provost of Peterhead.
Married in 1824 Mary Sutter b.April 1800 at Peterhead d.8 January 1849 at Peterhead, daughter of John Sutter b.1765 d.1850, a whaler captain of Peterhead.
They had the following children:
M
i
"China" John b.16 November 1825 d.9 July 1903 unmarried [picture]: the person on whose records this tree is originally based. In 1855 he was in partnership with his father at Peterhead (A Anderson & Son, Commissioners & Merchants). Subsequently he was a merchant in China. Lived at 78 Porchester Terrace, London.
F
ii
Janet Innes b.May 1829 d. d.12 May 1910 (death certificate) buried 14 May 1910 at Allenvale cemetery, Aberdeen.
Married Alexander Murray (5) of Nethermill.
M
iii
Alexander b.1831 d.1857 at Littlehampton unmarried.
M
iv
James b.1833 d.1874 at San Francisco unmarried.
M
v
Patrick b.1835 d.1891 in Australia.
Married 1878 Elizabeth Morse in Australia. They had the following children:
 May Charlotte b.1881;
 Helen Louisa b.1883;
 Alexander b.1885.
M
vi
George Skelton b.1838 d.1881 in Australia unmarried.
M
vii
Robert b.1840 d.1877 in Australia unmarried.
F
viii
Charlotte b.1842 d.1928 at Hurlingham Court, Fulham unmarried. [picture].
M
ix
Arthur b.1847 d.1899 at Chefoo (Yantai, Shandong) China. Business in Hong Kong.
Married in 1876 Edith Smith. They had the following children:

 Arthur Stewart Innes b.1877;
 Constance Mary Innes b.1879;
 Heather Marguerite Innes b.1881 in China d.4 March 1955 at Hove¹;
 Muriel Edith Innes b.1881 in China d.19 of March 1962 at Worthing².
 (married about 1898 Herbert Edmund Tomkins d.19 December 1927 buried in Guildford Cemetery,
 son of Benjamin Albin John Tomkins b.1825 d.1884 and Margaret Bourton b.1828, having children
 Margaret b.circa1900 d.circa1970s probably at Hayling Island unmarried;
 Arthur Albin b.1901
  [himself married 1931 at Caernarfon Elizabeth Jones-Williams having children
  Elizabeth Mair b.1932 at Guildford - married 1961 Bryan Morley Whitworth without issue -
  David Mervyn b.1935 at Guildford d.25 March 2006 - married 1960 June Vorley having children
   Alison b.1964
   Tracey b.1966];
 Joyce b.904
  [herself married circa1930 Felix Hawkesworth having children
  Jennifer
  Peter]).
Other Information
Back to top of page

¹ Heather Marguerite Innes Anderson seems to have been a member of a religious order and acted as a nurse active in Egypt, based on what my wife remembers from the 50s and earlier. She went to live in Henfield, Sussex when she retired from active work and died in Hove in a nursing home on 4th March 1955. She was buried in the churchyard of Henfield church.
Information supplied by Bryan Whitworth (email 27.1.2010 received 16.11).

² Muriel Edith Innes Anderson was married to Herbert Edmund Tomkins in about 1898. She used the names "Edith Muriel Innes" in her will and her death certificate. H E Tomkins was a merchant importer operating mainly in Hong Kong but with some activity in Shanghai. He was elected to the position of Chairman of the Hong Kong and Shanghai Banking Corporation for two separate terms. The first was in 1905 and the second in 1910. They lived in a mansion up on The Peak in Hong Kong and judging by their lifestyle HET must have been a man of considerable wealth, power and influence. He's listed as being employed by Reiss and Co and holding the position of tea inspector. The family returned to England in 1910, settling in some properties in the Guildford area ending with The Grange in Guildown, Guildford, worth at least £2M today. Edith lived in the property in Henfield already referred to until she died in a Worthing nursing home. She was buried in the same grave as her twin sister at Henfield. Of Edith's three children, Margaret never married and died in the 70s, probably in Hayling Island. Joyce Married Felix Hawkesworth in about 1930 and had two children, Jennifer and Peter. Arthur Albin married Elizabeth Jones- Williams in 1931 in Caernarfon and they had two children; Elizabeth Mair born in 1932 and David Mervyn born in 1935, both born in Guildford. Elizabeth and I married in 1961; we have no children. David married June Vorley in 1960. They had two children, Alison born in 1964 and Tracey born in 1966. David died on 25th March 2006. He was the last of that Tomkins line as both his children are girls. Now I'll take you back along the Tomkins line just one generation from Herbert Edmund. His father was Benjamin Albin John Tomkins 1825 - 1884. He married Margaret Bourton (born 1828) and they lived in Peckham where they had three children: Herbert Edmund, Albin Bourton born 1856 and Margaret Eleanor born 1861. B A J Tomkins died in Blackheath. We've not had much success finding earlier Tomkins as our main target of interest was Edith.
Information supplied by Bryan Whitworth (email 27.1.2010 received 16.11).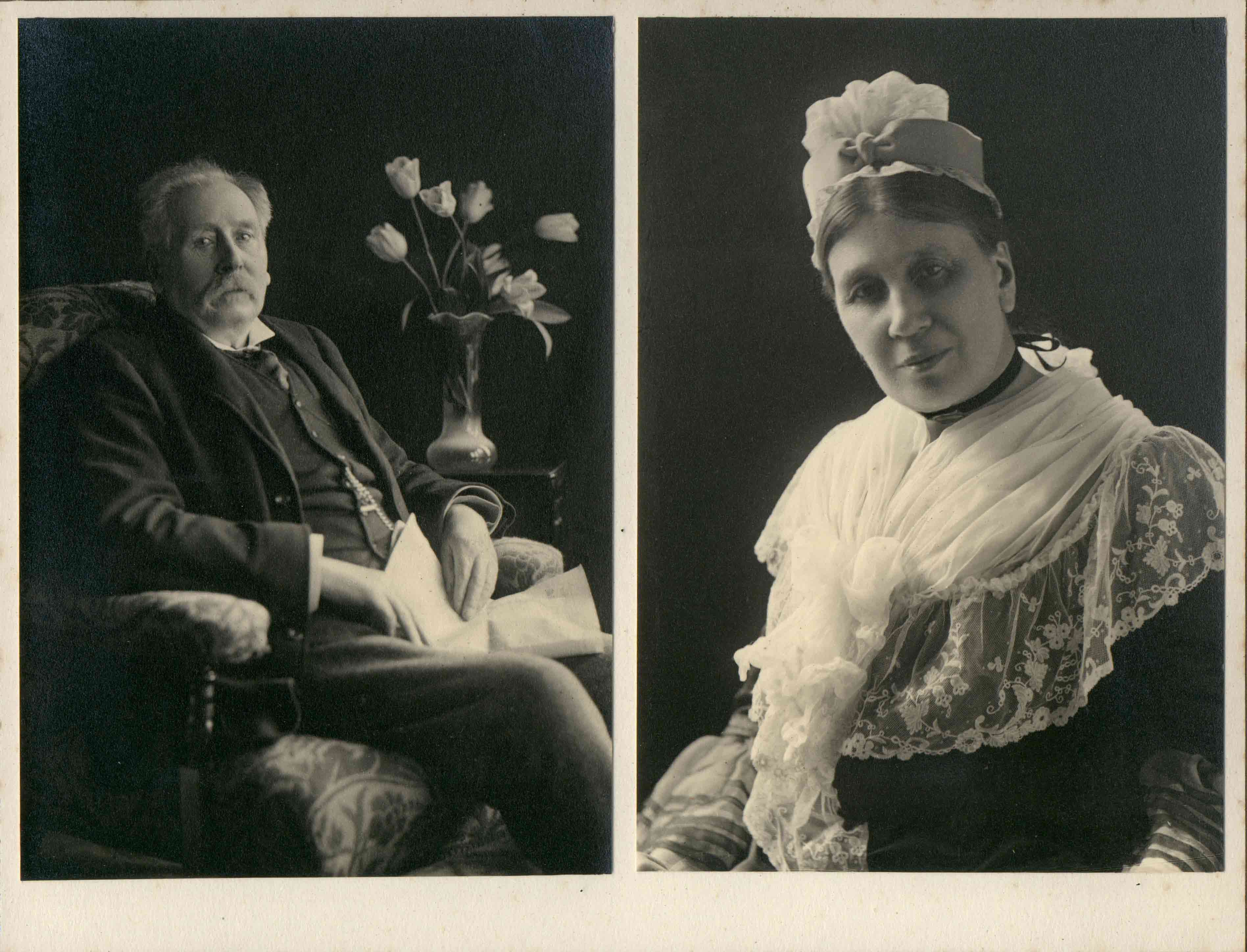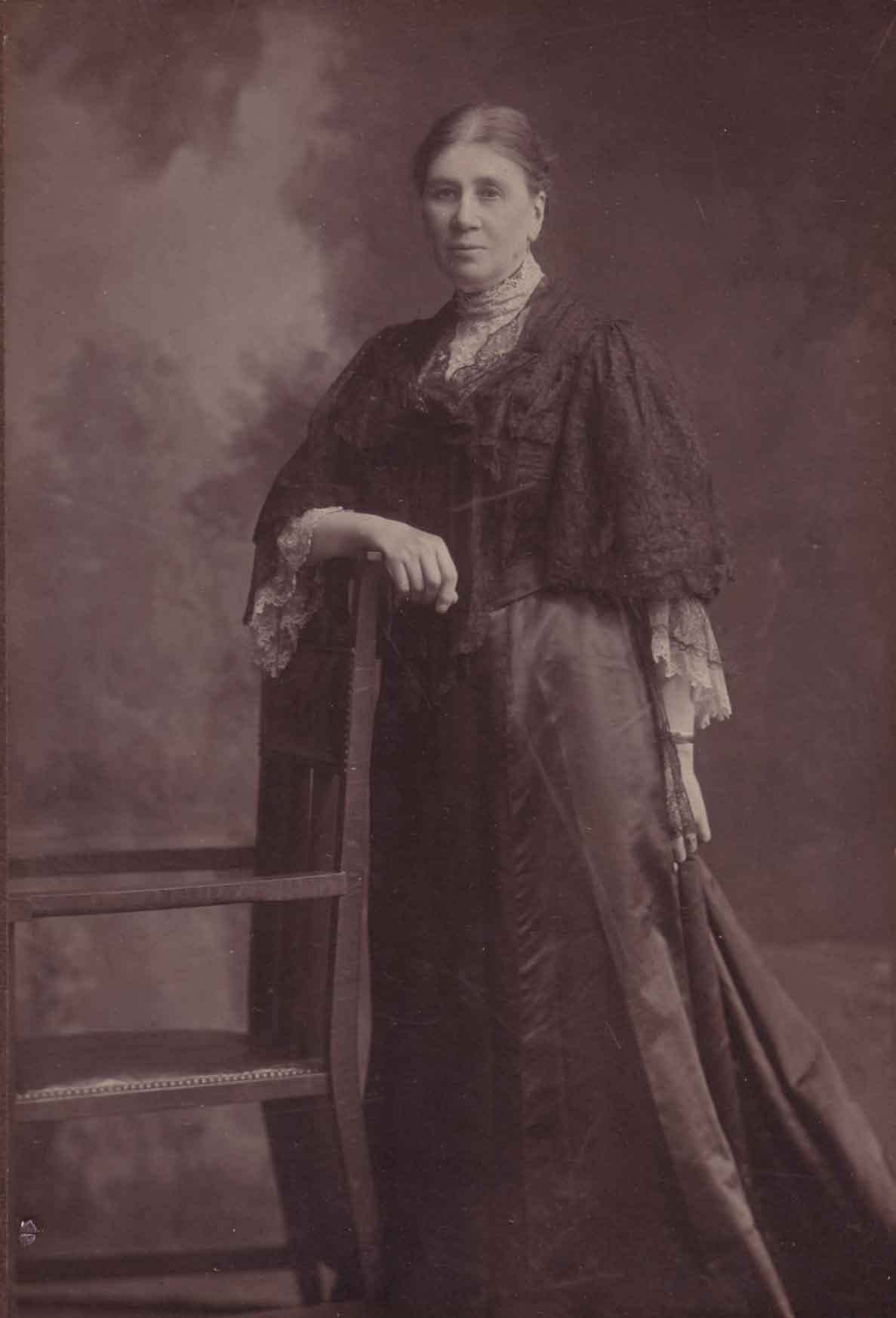 "China" John Anderson b.16 November 1825 d.9 July 1903 (photo taken 21 April 1903) and his sister Charlotte Anderson
---
Contact the author and navigate this site
---
Want to ask questions, offer information or pictures, report errors, suggest corrections or request removal of personal information? Contact author
Notes on sources
Anderson family tree
Information is largely taken from the book 'The Andersons of Peterhead'. This was based on the records made by John Anderson 1825/1903 [VIII 32], known as 'China John'. This was brought up to date in 1936 by Cecil Ford Anderson [X 17] and Agnes Donald Ferguson [CS 45 X b]. Many photographs were taken and compiled in an album by Olive Edis (daughter of Mary Murray, daughter of Andrew Murray (2) of Aberdeen). Corrections to both Janet Innes Anderson's and Alexander Murray's death dates from Robert Murray Watt and Iain Forrest.
Forrest family tree
Iain Forrest kindly supplied material to update the Forrest family (progeny of William Forrest) details.
Hibbert family tree
The information is largely taken from a tree compiled by F.B. (she knows who she is!) with extra material found by the author.
Murray family tree
The 'Genealogical Table showing various branches of the Murray family', from which this information was taken, was prepared by Alexander Murray of Blackhouse, extended by Andrew Murray - advocate - Aberdeen circa 1880 and further extended by Arthur Murray Watt 1972. The generational notation is the author's.
Pike family tree
Information from family sources as well as 'Burke's Landed Gentry' 1875
Stevenson family tree and many Stevenson and Anderson photos
Deepest thanks for some fantastic pictures and for writing the wonderful book 'Jobs for the Boys' to Hew Stevenson, which you can see on www.dovebooks.co.uk.
And the rest
Thanks also to all who have written in with information, advice, help and, most importantly, corrections.
© John Hibbert 2001-2013
28 February, 2021