Alexander Murray (5) of Nethermill
---
Generation 7:iv / VIII 33
Contact the author and navigate this site
Alexander Murray (5) of Nethermill, Cruden, Aberdeenshire b.1811 or 1813 (christened 19 June 1813) d.10 September 1901 (death certificate) More information
Son (ii) of Alexander Murray (4) of Blackhouse and Catherine Johnston b.27 October 1785 at Crimond, Aberdeenshire d.16 January 1818 at Peterhead.
Married 10 August 1852 Janet Innes Anderson b.May 1829 d. d.12 May 1910 (death certificate) buried 14 May 1910 at Allenvale cemetery, Aberdeen, daughter of Alexander "Sandy" Anderson (5) RN b.1791 d.1865 (VII 25) and Mary Sutter b.1826 d.1906. Janet Innes Anderson was cousin to this Alexander's brother Andrew's wife, Mary Anderson, both of whom being grand-daughters of Alexander "Nosey" Anderson RN b.1747 d.1806.
They had the following children:
F
i
Mary b.1851 at Cruden d.1922 in South Africa.
Married 11 December 1877 at Old Machar, Aberdeen James Bisset.
M
ii
Alexander Johnstone b.circa1854 at Cruden d.1917 at Kyle of Lochalsh, Ross. Unmarried. Architect in Aberdeen and Australia. Later a lay missionary for the Church of Scotland.
F
iii
Katherine "Katie" b.20 September 1856 d.13 March 1919 buried 18 March 1919 at Putney Vale, London.
Married 29 October 1879 at Aberdeen William Forrest d.1886 aged 40.
F
iv
Janet Loveday b.18 January 1859 at Cruden d.circa1865.
F
v
Charlotte "Lottie" b.21 May 1861 at Cruden d.3 September 1938 at Berkhamsted, Hertfordshire and buried there 7 September 1938.
Married November 1890 Robert Downie Watt d.1907.
F
vi
Anne Bertha b.11 January 1864 d.1952 [picture].
Married 9 April 1890 at Rubislaw James Robertson Beckett b.1857 d.1923.
F
vii
Janet Loveday Innes b. b.8 September 1866 at Cruden, Aberdeenshire d.4 May 1928 at Aberdeen and buried there. Artist.
Married 12 July 1900 at Aberdeen Reverend Joseph McKenzie MacPherson.
Other information Back to top of page
At the time of marriage, Alexander Murray's occupation was listed as 'farmer', though when his daughter Anne Bertha was married, his occupation - at the age of 77 - was given as 'Land Valuator'. He was still alive on 12 July 1900 when Janet Loveday was married. Beth Smith said in April 1998 that he was a factor to the Earl of Errol, looking after Slains castle and its estate.

Charlotte Anderson McPherson was told by her mother, Janet Loveday Innes Murray, that Alexander planned the building of Duthie Park in Aberdeen.
His death certificate gives the following information:-

"Murray, Alexander, sometime farmer, Nethermill, parish of Cruden, thereafter residing at 49 Springbank Terrace, Aberdeen, latterly at 182 Mid Stocket Road there, died 10 September 1901 at Aberdeen, testate. Confirmation granted at Aberdeen 16 November to Janet Innes Anderson, his widow and Alexander Johnston Murray, architect, Aberdeen, his son, Peter Bothwell Bisset, Burnside House, Westburn Road there and James Robertson Beckett, 21 Park Mount, Manningham, Bradford, Executors nominated in Will . . . . recorded in the Court book of Commissioners of Aberdeen, 5 November 1901. Value of estate £805 17s 2d".

In the inventory of his estate, Alexander had a life policy worth £924/8/0, security for a debt of £274/4/2 so the nett proceeds were £650/3/10, the major part of his estate. There was also an amount of 'Heritage' valued at £1600, encumbered with debts of £1200, possibly the value of properties which were apparently rented to 19 different people, e.g a "habitable property at Keith Inch, Peterhead", "apartments let during the herring fishing season", the tenants being tradesmen, fishermen, an engineer, a shipmaster, a retired harbour master and the Paterhead Coal Company.

According to Charlotte Anderson McPherson he suffered from rheumatism, and when he couldn't sleep he made exquisite wood carvings. He also made garden furniture out of tree roots.

The above background information, and some life dates, courtesy of Iain Forrest, with thanks.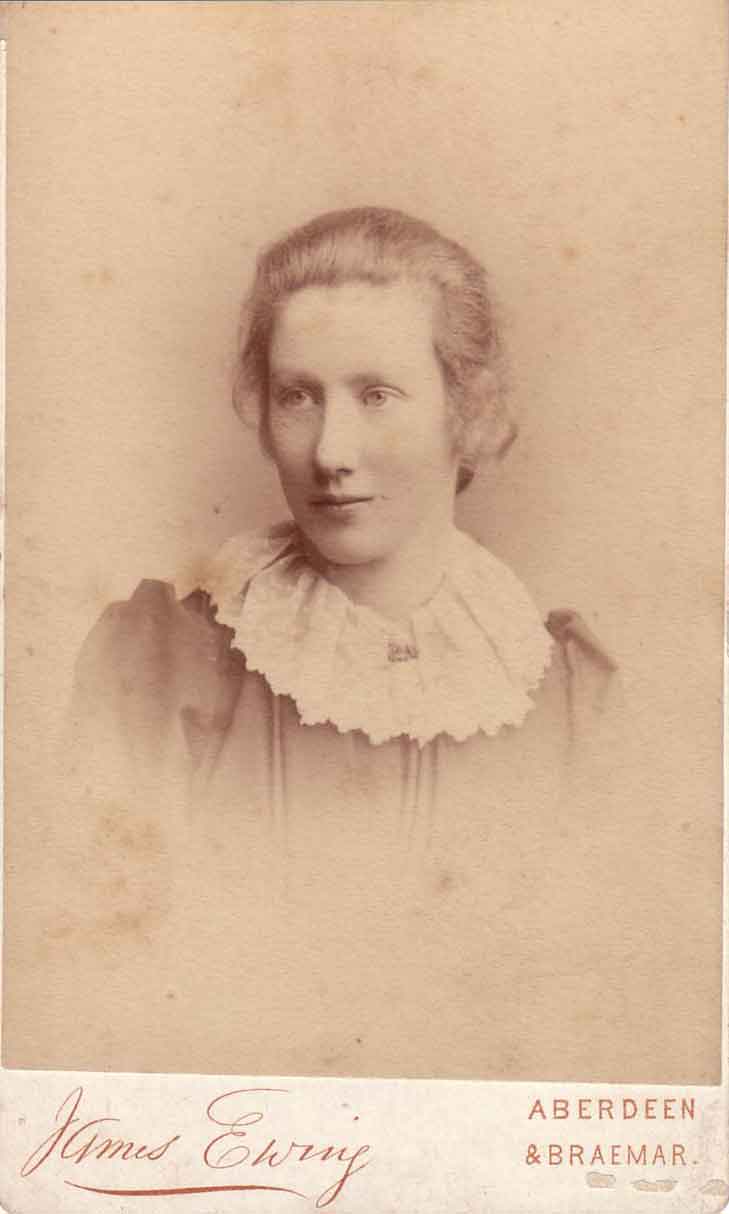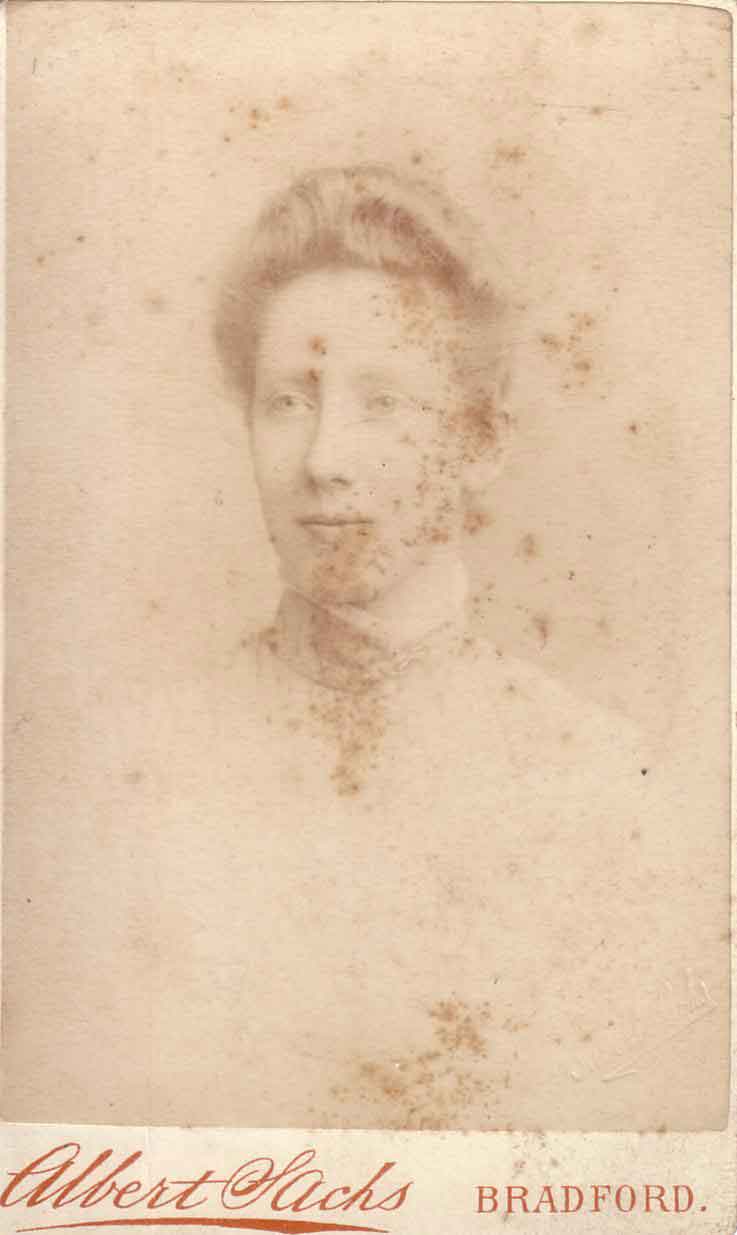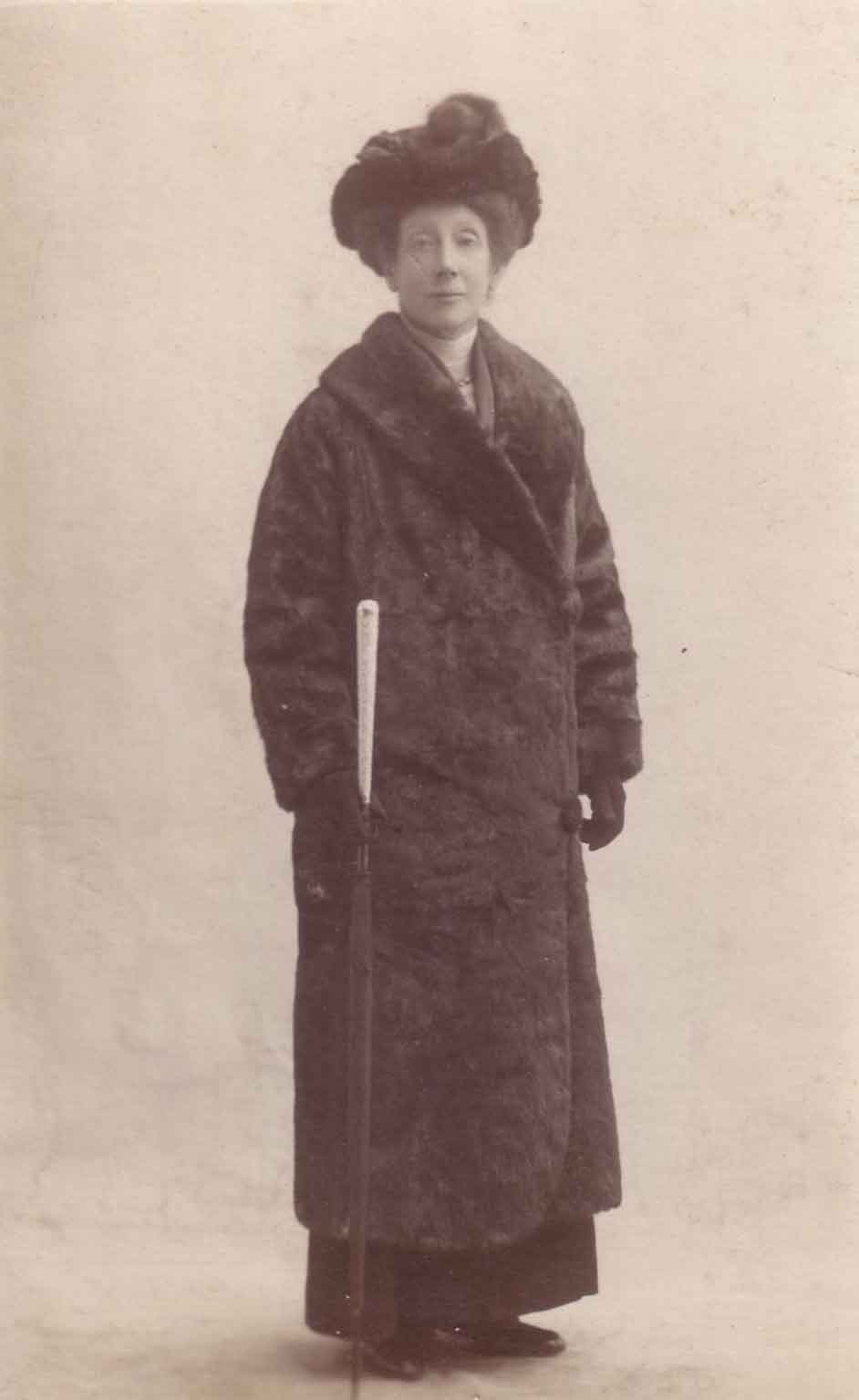 Anne Bertha Murray b.1864 d.1952. The left-hand picture was taken during Easter 1885 when she was 21
---
Contact the author and navigate this site
---
Want to ask questions, offer information or pictures, report errors, suggest corrections or request removal of personal information? Contact author
Notes on sources
Anderson family tree
Information is largely taken from the book 'The Andersons of Peterhead'. This was based on the records made by John Anderson 1825/1903 [VIII 32], known as 'China John'. This was brought up to date in 1936 by Cecil Ford Anderson [X 17] and Agnes Donald Ferguson [CS 45 X b]. Many photographs were taken and compiled in an album by Olive Edis (daughter of Mary Murray, daughter of Andrew Murray (2) of Aberdeen). Corrections to both Janet Innes Anderson's and Alexander Murray's death dates from Robert Murray Watt and Iain Forrest.
Forrest family tree
Iain Forrest kindly supplied material to update the Forrest family (progeny of William Forrest) details.
Hibbert family tree
The information is largely taken from a tree compiled by F.B. (she knows who she is!) with extra material found by the author.
Murray family tree
The 'Genealogical Table showing various branches of the Murray family', from which this information was taken, was prepared by Alexander Murray of Blackhouse, extended by Andrew Murray - advocate - Aberdeen circa 1880 and further extended by Arthur Murray Watt 1972. The generational notation is the author's.
Pike family tree
Information from family sources as well as 'Burke's Landed Gentry' 1875
Stevenson family tree and many Stevenson and Anderson photos
Deepest thanks for some fantastic pictures and for writing the wonderful book 'Jobs for the Boys' to Hew Stevenson, which you can see on www.dovebooks.co.uk.
And the rest
Thanks also to all who have written in with information, advice, help and, most importantly, corrections.
© John Hibbert 2001-2013
28 February, 2021