James Yuill
---
Generation VIII 31
Contact the author and navigate this site
James Yuill b.22 April 1807 d.7 January 1905 at Gordondale House, Gordondale Road, Aberdeen aged 98. Baptised 3 May 1807. Other information
Son of William Yuill of Houston, weaver, and Elizabeth Lang. William's name is given on James' birth registry entry as 'Yull'. James Yuill was Reverend Minister of the Free Church in Aberdeen. At the time of his wife's death he was described as the Senior Minister of the Free Church at Peterhead; at the time of his death as the senior Minister of St Peter's Untited Free Church there, presumably the same place.
Married in 1840 Joan Ford Anderson [picture] b.1812 d.20 June 1890 aged 77 at Gordondale House, Gordondale Road, Aberdeen of cerebral haemorrhage, daughter of Dr John Ford Anderson (1) of Peterhead (VII 23) and Mary Sutter.
They had the following children:
M
i
William b.1842 d.1922 in Aberdeen. Civil engineer. Unmarried. Listed as 'informant' on his father's entry in the register of deaths.
F
ii
Elizabeth L. b.1844 d.1893 in Aberdeen. Unmarried.
M
iii
John Ford b.1846 died in Australia. An average stater in London and after in Adelaide.
Married an unknown wife. They had the following children:
 Elsie May Ford unmarried;
 James unmarried, killed in action 1916;
 Mary Joan married in 1908 Charles Mayo Reid in Australia (2 children);
 Keith, attorney with Reid & Co, shipbroker's in Sydney, Australia (2 children);
 Margaret married Albert Corley in Australia (2 children);
 Ford Yuill & Co Sydney (2 children);
 George solicitor in Sydney, married Mary Buchanan in Australia, no children.
M
iv
George Skelton b.1848 d.1918. Married a Regan in Australia. They had on child,
 Winifreda b.1883
F
v
Margaret Skelton b.1851 d.1898 at Edfu 60 miles north of Aswan, Egypt. Unmarried.
F
vi
Emily Reid b.1853 d.1883 at Chefoo, China.
Married in 1880 James Henry Scott d.1912 aged 67, shipowner. JH Scott is shown as the 'informant' in his mother-in-law Joan Ford's entry in the Aberdeen register of deaths. His address is given as the Thatched House Club, St James's Street, London. They had the following children:
 Colin Cunningham b.1880, shipowner;
 James Yuill b.1881 d.1916, called to the Bar but never practised, Captain in 10th battalion Rifle Brigade, killed in action at capture of Guillemont on the Somme. Unmarried.
Other information Back to top of page
Detailed information on the birth of Joan Ford Anderson and James Yuill, their marriage and subsequent deaths, was kindly supplied by Tracey Dunne (email received 22.44 19 November 2010).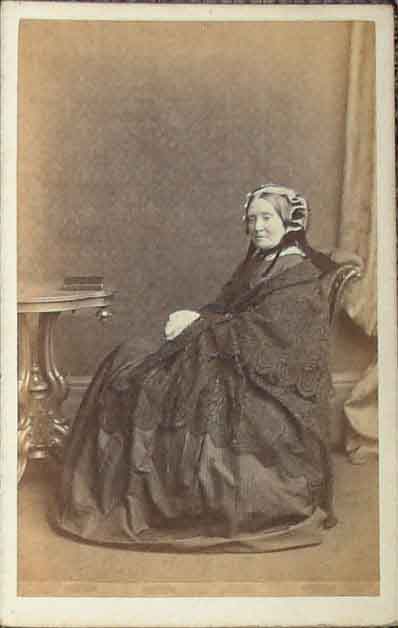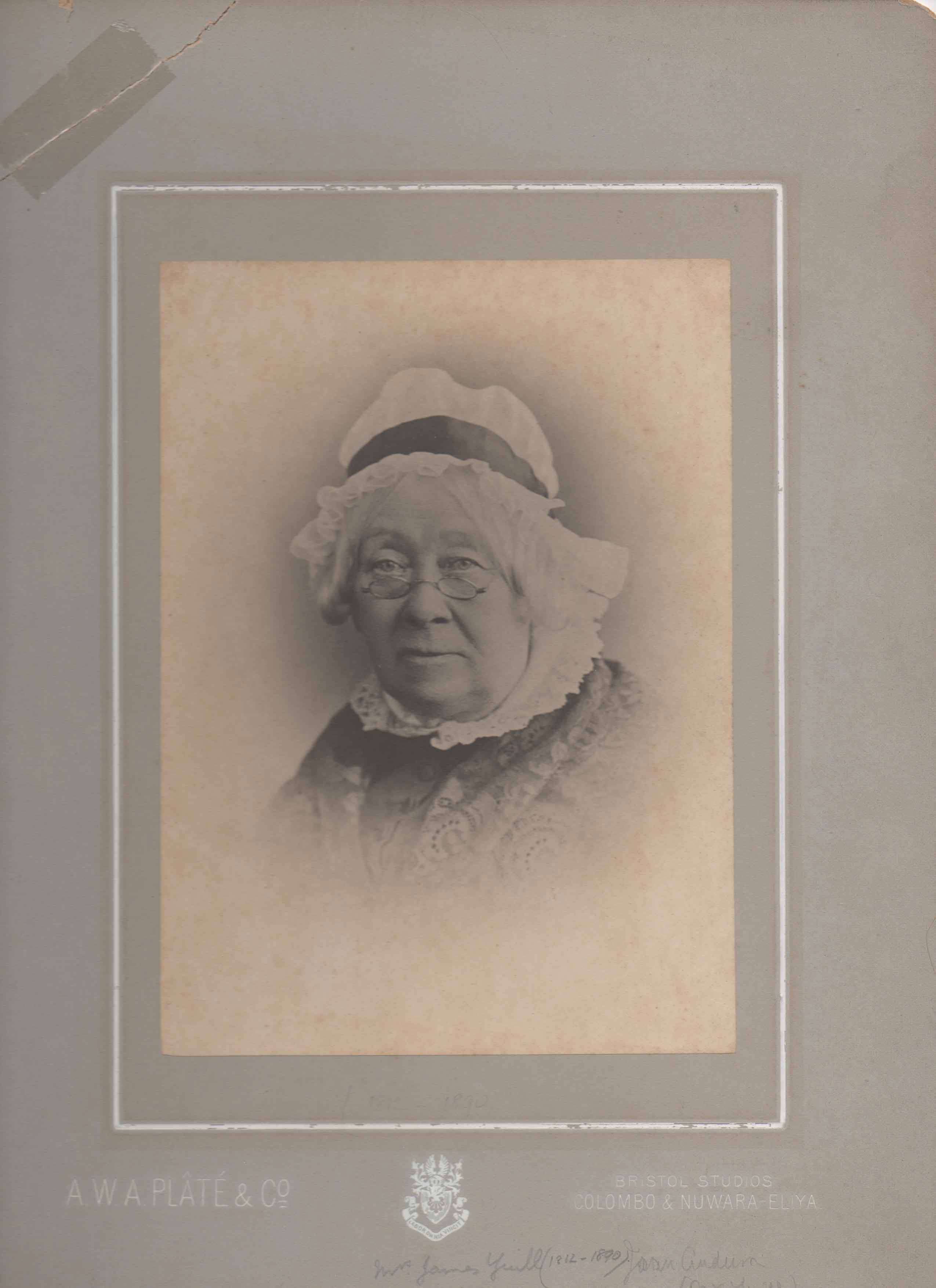 Joan Ford b.1812 d.1890 in Aberdeen, (left) in mourning attire, possibly following the death of her mother in 1876, and (right) taken or made in 1890 or later in Ceylon.
The right-hand picture was kindly supplied by Tracey Dunne (email sent 15 November 2010 18:35 received 15 November 2010 18:36), along with information and dates of the photographers' business which fixes the earliest date of this picture at 1890. The picture has the name of Joan's niece, Mrs William Duff Gibbon, née Katherine Murray, daughter of Andrew Murray and Mary Ford Anderson, on its reverse.
---
Contact the author and navigate this site
---
Want to ask questions, offer information or pictures, report errors, suggest corrections or request removal of personal information? Contact author
Notes on sources
Anderson family tree
Information is largely taken from the book 'The Andersons of Peterhead'. This was based on the records made by John Anderson 1825/1903 [VIII 32], known as 'China John'. This was brought up to date in 1936 by Cecil Ford Anderson [X 17] and Agnes Donald Ferguson [CS 45 X b]. Many photographs were taken and compiled in an album by Olive Edis (daughter of Mary Murray, daughter of Andrew Murray (2) of Aberdeen). Corrections to both Janet Innes Anderson's and Alexander Murray's death dates from Robert Murray Watt and Iain Forrest.
Forrest family tree
Iain Forrest kindly supplied material to update the Forrest family (progeny of William Forrest) details.
Hibbert family tree
The information is largely taken from a tree compiled by F.B. (she knows who she is!) with extra material found by the author.
Murray family tree
The 'Genealogical Table showing various branches of the Murray family', from which this information was taken, was prepared by Alexander Murray of Blackhouse, extended by Andrew Murray - advocate - Aberdeen circa 1880 and further extended by Arthur Murray Watt 1972. The generational notation is the author's.
Pike family tree
Information from family sources as well as 'Burke's Landed Gentry' 1875
Stevenson family tree and many Stevenson and Anderson photos
Deepest thanks for some fantastic pictures and for writing the wonderful book 'Jobs for the Boys' to Hew Stevenson, which you can see on www.dovebooks.co.uk.
And the rest
Thanks also to all who have written in with information, advice, help and, most importantly, corrections.
© John Hibbert 2001-2013
28 February, 2021