Joseph St.John Yates of Wellbank, Sandbach
---
Generation 8 i
Contact the author and navigate this site
Joseph St.John Yates of Wellbank, Sandbach b.10 or 16 October 1808 at Chancery Lane London d.2 March 1887 Sandbach, Cheshire [crest and picture] .
Son of Joseph Yates (5) of Peel Hall, Lancashire b.28 March 1764 d.1820 and Amelia Ainsworth b.14 February 1773 at Bolton le Moors, Lancashire, christened St Andrew's Church, Holborn, London d.1864 buried at ?Alverstone, Warwickshire. [more information]
Married in 30 March 1842 Emily Augusta Scott b.2 May 1822 at Ashton upon Mersey, Cheshire d.17 December 1899 at Sandbach, Cheshire, daughter of David Scott of Brotherton, Johnshaven b.16 June 1782 at Benholm, Kincardinshire, Scotland d.18 December 1859 and Mary Seddon b.1790 d.22 January 1866, daughter of William Seddon of Acres Barn.
They had the following children:
F
i
Augusta St.John b.1 May 1843 at Cross Street, Chester d.1 February 1928 at Sandbach.
Married 19 April 1865 at St Mary's Church, Sandbach Joseph Sladen of Hartsbourne Manor, Hertfordshire d.28 January 1887, Judge in the Bengal Civil Service. They had the following children:
 Joseph b.9 April 1866 in Kent;
 Cecil Augusta b.19 July 1867 in Kent;
 Ethel St.John b.31 August 1868 in Kent;
 Diana Henrietta b.28 October 1871 in Kent;
 Francis Farquhar b.10 July 1875 in Kent.
M
ii
Joseph Maghull of Buglawton Hall, Congleton b.19 June 1844 at Victoria Park, Saint James, Burt in Rusholm, Lancashire, England d.17 April 1916 [picture]
Married 29 May 1873 at Chiswick Church Wilhelmina "Ella" Elizabeth Wylde of Sulhamstead House, Chiswick b.11 March 1853 at Chiswick d.1938¹.
¹Date of death of Wilhelmina Wylde thanks to Ana Squire (email received 5-4-2011 00:31)
M
iii
Henry Townley Scott of Ullswater Crescent, Weymouth b.8 July 1846 Victoria Park, Saint James, Burt in Rusholm d.26 January 1924 at Weymouth. Entered Rugby School August 1860; Lieutenant in Royal Artillery.
Married 19 October 1878 at Bangalore Sophie Richardson, daughter of Major David Lester Richardson of the Madras Army.
M
iv
Cecil Egerton b.23 June 1847 at Victoria Park, Saint James, Burt in Rusholme d.13 October 1865 from a fall from the masthead of HMS Resistance.
M
v
Cholmeley Russell b.13 August 1849 at Victoria Park, Saint James, Burt in Rusholme d.9 June 1883 at Wye House, Fairfield, Derbyshire. Christened at St James' Church, Birch in Rusholme, Lancashire.
M
vi
Hercules Campbell of Macclesfield, Cheshire b.1852 at Sandbach, Cheshire d.1931 at Bollington, Cheshire. HM Coroner for Cheshire.
Married 18 August 1880 at Saint George's Church, Hanover Square, London Annie Cochrane b.19 February 1855 Stourbridge, Worcestershire d.1908 at Bollington, Cheshire, daughter of Alexander Brodie Cochrane of Heath House, Stourbridge b.10 Feb 1813 at Dudley Worcestershire d.26 June 1863 and Esther Hughes b.1811 in Staffordshire d.June 1897 at Dudley, Worcestershire. They had the following children:
 Reginald Cholmeley Campbell b.1883 at West Macclesfield, Cheshire d.before 1916
 (married Florence Jones having children
  Reginald George Albert b.8 Apr 1916 at Stockport Third, Cheshire, England d.December 1985 at Sheffield, Yorkshire
  [himself marrying 1957 Silvia Rimington b.1934 at Fylde, Lancashire, having children
   Steven Richard b.1958 at Sheffield, Yorkshire,
   Robert Allen]);
 Hercules Cyril St.John b.1885 at West Macclesfield, Cheshire d.1918 at Bollington, Cheshire;
 Arthur Gerald Vavasour b.1886 at West Macclesfield, Cheshire d.1916 More information ;
 Percy Dundonald Scott b.1888 at West Macclesfield, Cheshire d.after 1918;
 Marjory Hylda Gladys b.1892 at Bollington, Cheshire;
 Annie Winifred Muriel Gwendolin b.1893 at West Macclesfield, Cheshire.
F
vii
Emily Augusta Diana b.20 July 1853 at Wellbank, Sandbach, Cheshire d.15 October 1942 at Leicester [picture].
Married 1880 (?or 19 November 1878?) at St Mary's Curch, Sandbach Percy John Hibbert b.27 June 1850 d.29 September 1926.
M
viii
Oswald Vavasour of Kingston House, Yeovil b.8 August 1855 at Wellbank, Sandbach, Cheshire d.19 March 1925 at Elm Park Gardens, Kensington, London. Lieutenant-Colonel Forfar & Kincardine Artillery 1895 to 1904. Will dated 18 October 1898, proved 10 June 1925.
Married 1898 at Minehead, Somerset Margaret Jane Fownes-Luttrell b.15 November 1873 at Bridport, Dorset d.25 January 1963 (Will proved 4 April 1964), daughter of Captain John Alexander Fownes-Luttrell RN of Edington, Bridgewater, Somerset.
M
ix
Walter Baldwyn CBE, JP of Cilcen Hall, Mold, Flintshire b.13 May 1857 at Wellbank, Sandbach, Cheshire d.27 April 1947. Executor of his eldest brother's Will.
Married 6 April 1896 at St Mary's Church, Grennah's Quay, Flintshire after Banns Rose Caroline Bankes, first married to Walter Howman Buddicom of Penbedw, Flintshire More information .

23 May, 2017

Other information Back to top of page

Joseph St.John Yates was a barrister at the Inner Temple, Judge at the Cheshire County Court. He was baptised at St. Andrew's Church, Holborn 16 November 1808



Thanks to Betsy Warner for the following:

J.P. County Court Judge 1847-1882, Wellbank, Cheshire

Arthur Yates was born in 1886, the third of four sons. His father Hercules Campbell Yates was Macclesfield's District Coroner and the family lived in Lower Beech, Tytherington. The brown-haired, blue-eyed boy loved his sport. He played football and cricket for Macclesfield Grammar School and for Macclesfield Cricket Club – where he would have played alongside Roy Mellor. Although he was seen as university material, he instead chose to work for Brunt and Brocklehurst solicitors on King Edward Street, qualifying in 1914. When war broke out, Arthur volunteered at once – travelling to London to enlist with the 28th London Regiment, a territorial unit known as The Artists Rifles. The eager 27-year-old probably wanted a commission, a problem without a degree, and "The Artists" were the fastest likely route to becoming an officer. Arthur was selected for officer training and was commissioned into The Queen's Westminster Rifles, also territorials, who had been in France since 1914. But the enthusiastic solicitor did not see action any sooner than his contemporaries, even after travelling to the capital. Now 29-years-old, the 2nd lieutenant was transferred to France on March 16 1916 in preparation for the Battle of the Somme.

ARTHUR Gerald Yates, The cricket-mad solicitor, who worked at Blunt's on King Edward Street, was so eager to enlist, he travelled to London – his best bet to get a commission. The Macclesfield Cricket Club player, who preferred to use his second name Gerald, was now near the ruins of Gommecourt – the most advanced point on the German line and the strongest defensive position the enemy held. The objective was to take the two sets of trenches including the notorious Quadrilateral, which defended the slope around the decimated village. The 29-year-old 2nd Lieutenant with the Queen's Westminster Rifles was not the only Maxonian marked out to attack this part of the line. Bollington-born Leo Mattimore, 19, and Private John Boulger were territorials with the 1/5th battalion of the Cheshire Regiment, attached to support the London regiments. All three men would die in the attack – which was a disastrous failure. Gerald was in the second wave. At 7.30am he moved forward, "as if on parade, across the 400 yards that separated the lines." He was sandwiched between machine-gun fire in front and the falling shells, aimed at the advancing lines behind him. All the company commanders fell at once and Gerald and three other 2nd lieutenants were the only officers left. Heroically they rallied the remaining men. Gerald and his troops managed to reach the third of the first rank of trenches and tried to bomb their way along it. Gerald was killed about ten yards along the German trench. By 9am all the company's officers were dead. 750 men of the Westminster Rifles left the trench at 7.30am. 600 were killed, wounded or missing by the end of the day.

The First World War memorial at the Parish Church commemorates Gerald's two older brothers who also died during the war. Only his youngest brother Donald, who enlisted in 1915, survived the war and returned home. He is remembered at St Peter's Church in Prestbury, the King's School memorial board and at the memorial in St Michael's Church in the town centre. Roll of Honour of the men of the 1/16th London Regiment (Queen's Westminster Rifles) who died in front of Gommecourt, 1st July 1916.

Rose Caroline Bankes (daughter of John Scott Bankes of Soughton Hall) first married Walter Hownam Buddicom in 1890. He died 2 years later and she remarried Walter Baldwyn Yates in 1896 and had Winifred and Rachel. Walter Yates was barrister and died in 1947. In the 1901 Census he is in London and Rose is at Cilcain with the girls. Walter Yates was the son of Joseph St John Yates and Amelia Yates. Walter's gggrandfather was Sir Joseph Yates. The family of Yates comes from around Bolton in Lancashire, lived at Peel Hall. Walter's brothers included Hercules Campbell Yates (coroner in Cheshire) and Joseph Maghull Yates.

Photos below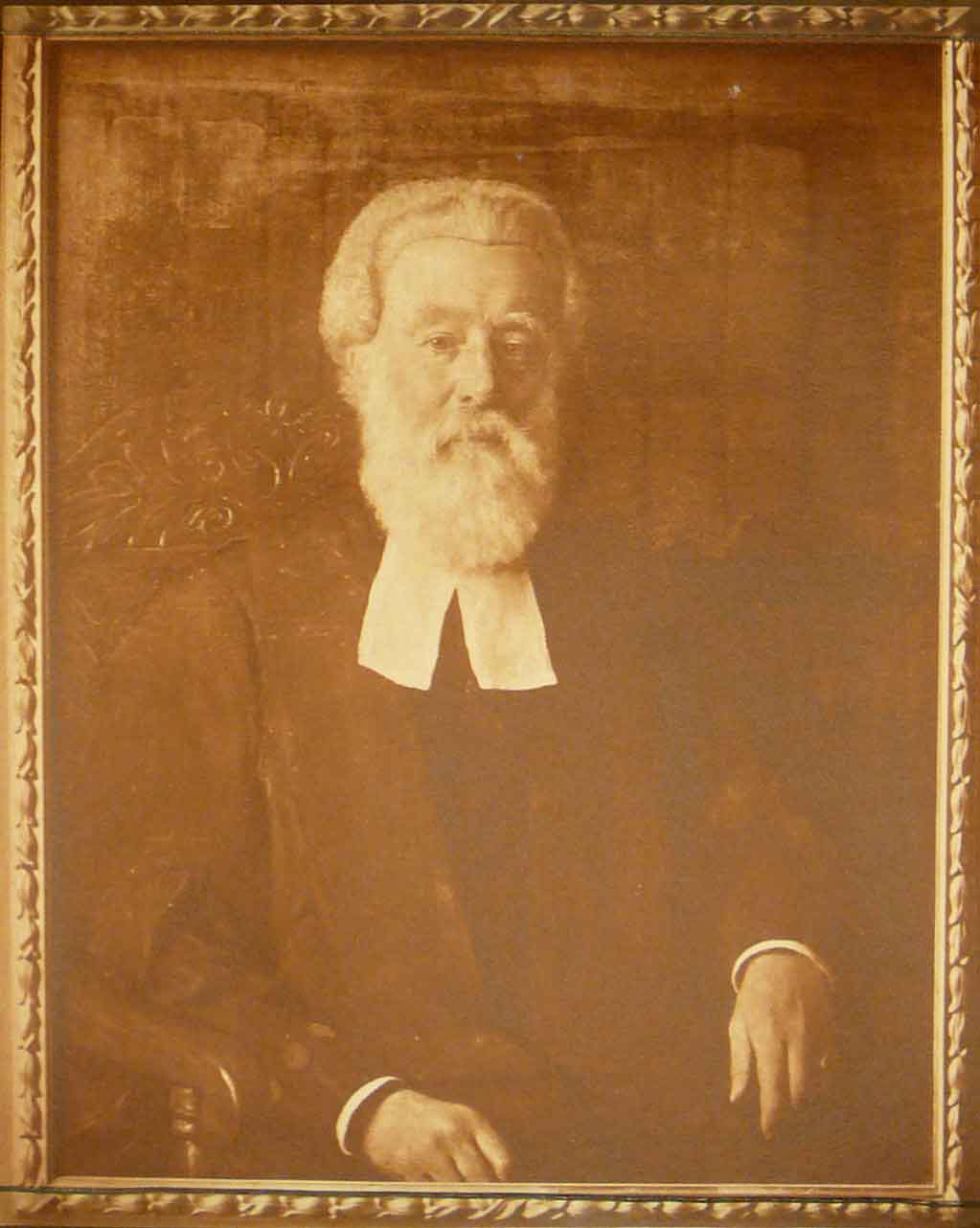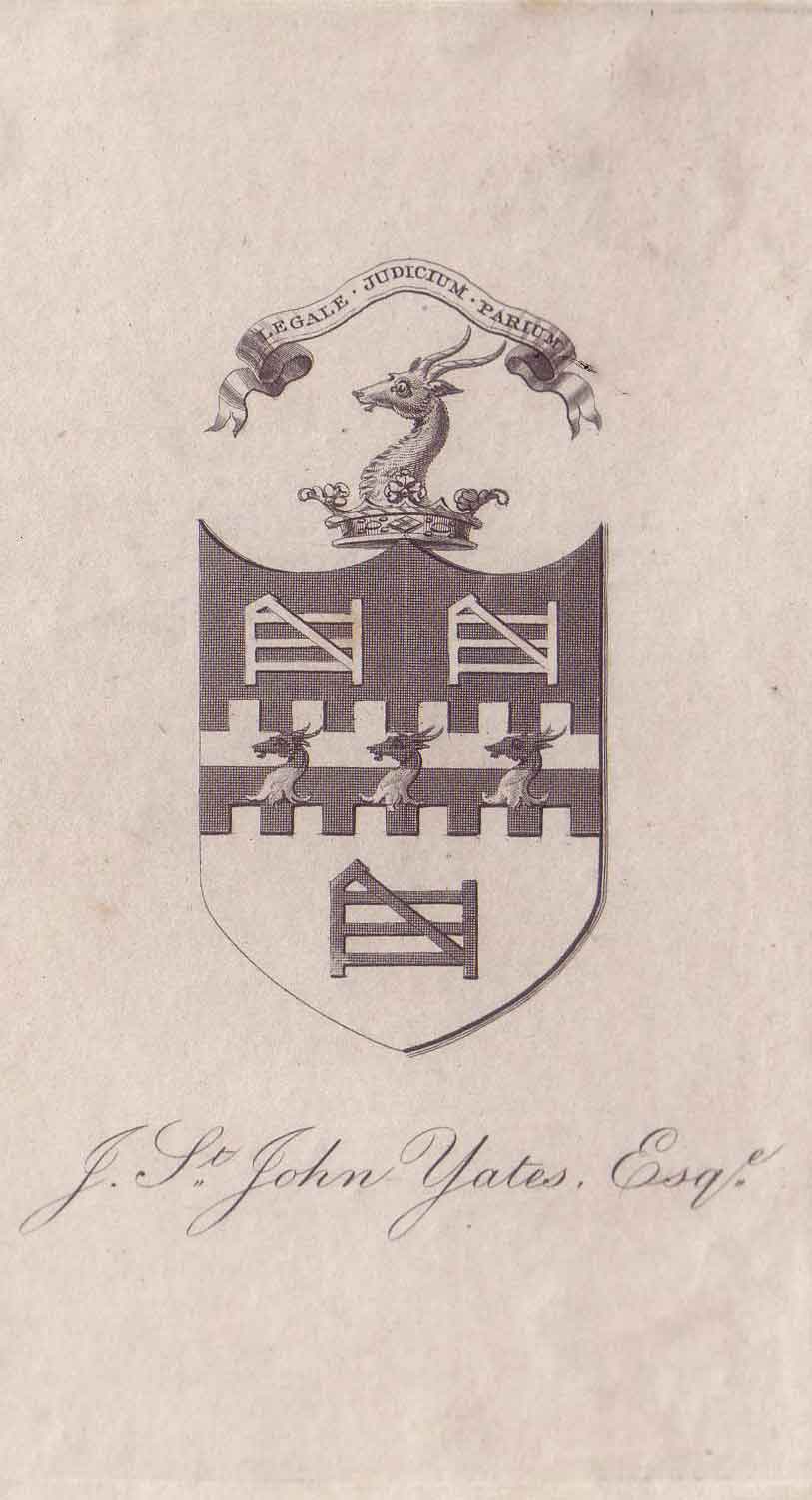 Picture and crest of Joseph St.John Yates of Wellbank, Sandbach b.10 October 1808 at Chancery Lane London d.2 March 1887 Sandbach, Cheshire
More photos below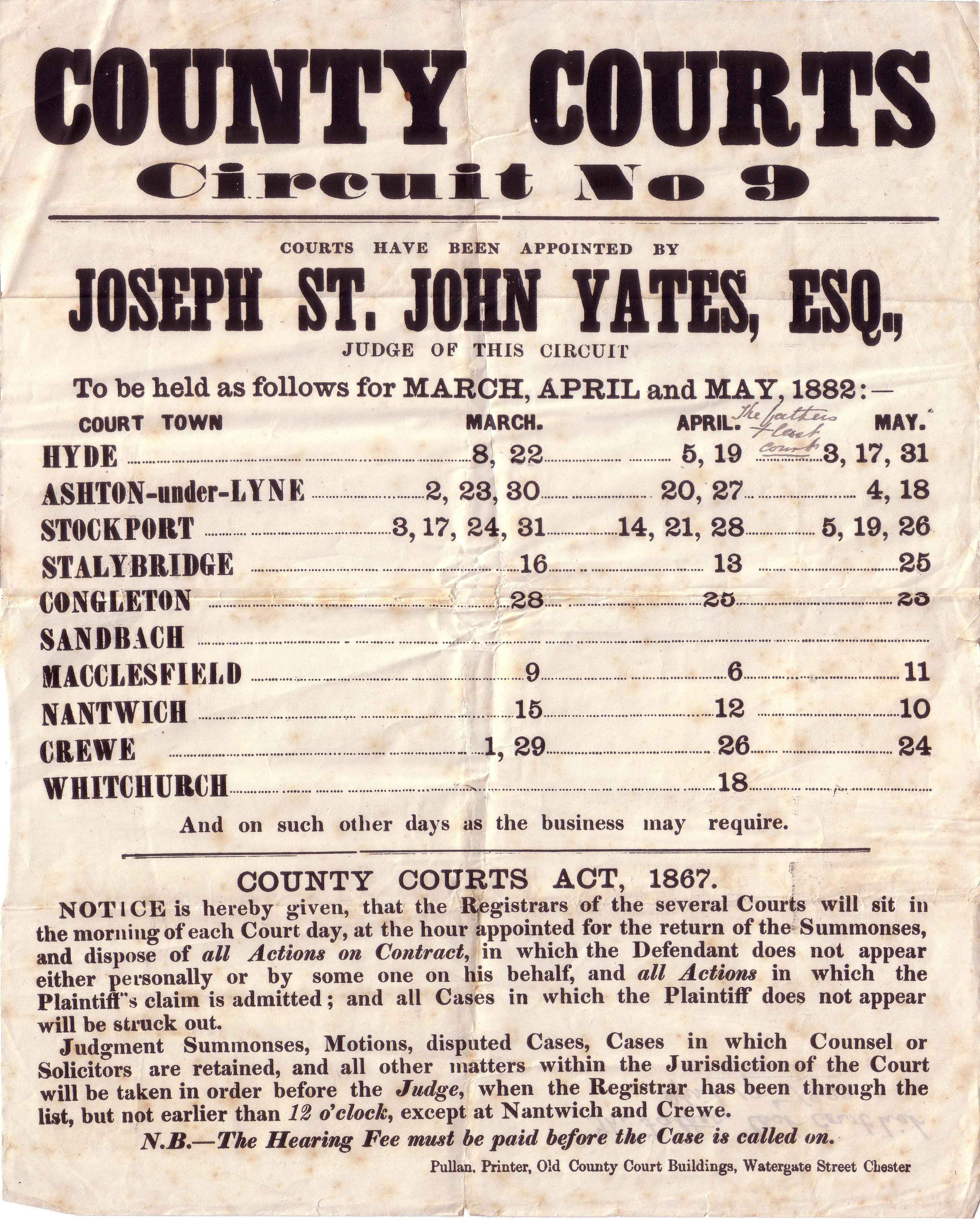 Joseph St.John Yates last Court list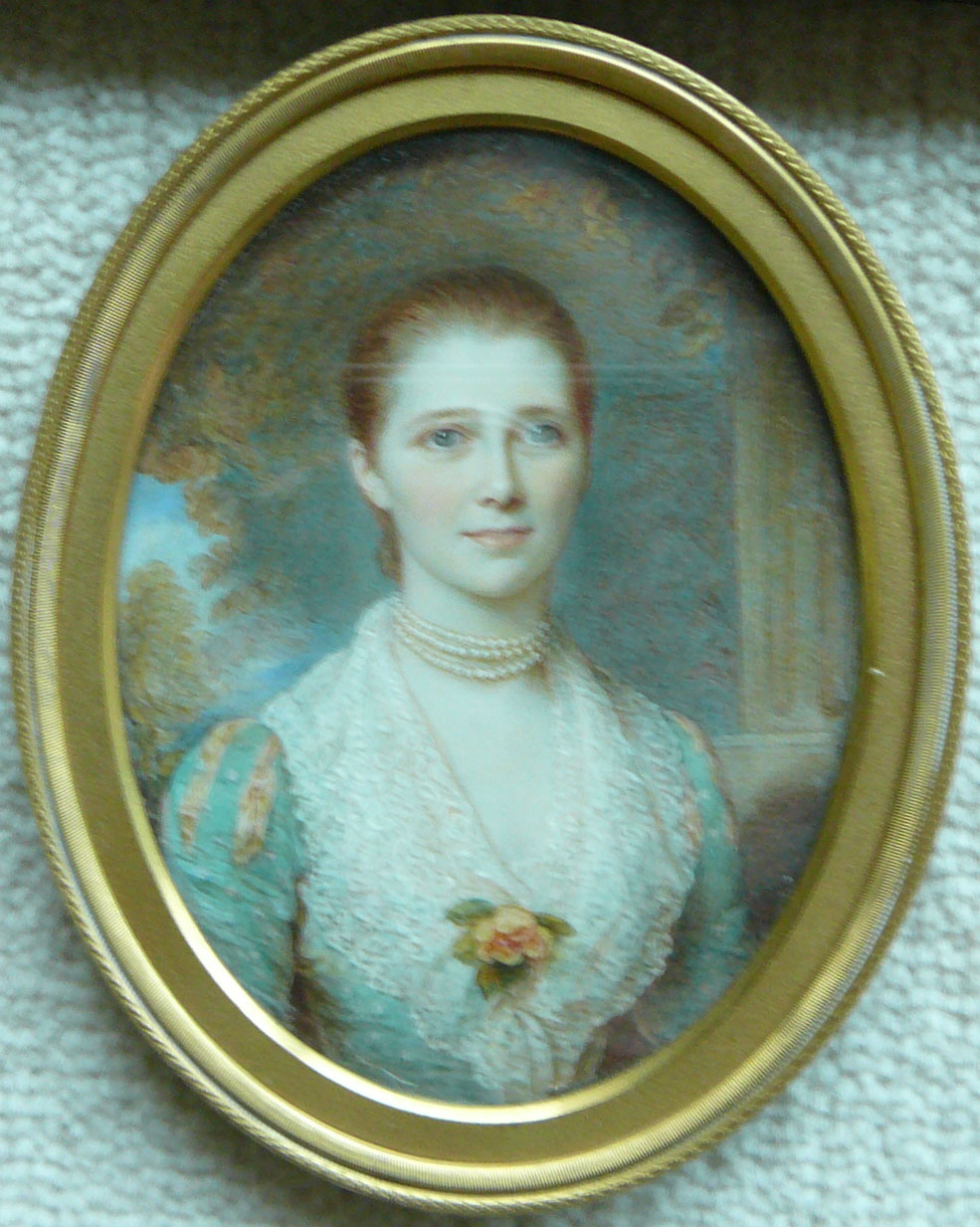 Emily Augusta Diana Yates b.20 July 1853 d.15 October 1942
---
Contact the author and navigate this site
---
Want to ask questions, offer information or pictures, report errors, suggest corrections or request removal of personal information? Contact author
Notes on sources
Anderson family tree
Information is largely taken from the book 'The Andersons of Peterhead'. This was based on the records made by John Anderson 1825/1903 [VIII 32], known as 'China John'. This was brought up to date in 1936 by Cecil Ford Anderson [X 17] and Agnes Donald Ferguson [CS 45 X b]. Many photographs were taken and compiled in an album by Olive Edis (daughter of Mary Murray, daughter of Andrew Murray (2) of Aberdeen). Corrections to both Janet Innes Anderson's and Alexander Murray's death dates from Robert Murray Watt and Iain Forrest.
Forrest family tree
Iain Forrest kindly supplied material to update the Forrest family (progeny of William Forrest) details.
Hibbert family tree
The information is largely taken from a tree compiled by F.B. (she knows who she is!) with extra material found by the author.
Murray family tree
The 'Genealogical Table showing various branches of the Murray family', from which this information was taken, was prepared by Alexander Murray of Blackhouse, extended by Andrew Murray - advocate - Aberdeen circa 1880 and further extended by Arthur Murray Watt 1972. The generational notation is the author's.
Pike family tree
Information from family sources as well as 'Burke's Landed Gentry' 1875
Stevenson family tree and many Stevenson and Anderson photos
Deepest thanks for some fantastic pictures and for writing the wonderful book 'Jobs for the Boys' to Hew Stevenson, which you can see on www.dovebooks.co.uk.
And the rest
Thanks also to all who have written in with information, advice, help and, most importantly, corrections.
© John Hibbert 2001-2013
28 February, 2021