David Scott of Brotherton, Kincardineshire (2)
---
Generation 10
Contact the author and navigate this site
David Scott of Brotherton², Kincardineshire (2) b.16 June 1782 at Benholm, Kincardinshire, Scotland d.18 December 1859.
Son of David Scott of Brotherton, Johnshaven, Kincardineshire (1) b.1725 d.1797 and Wallace Scott More information
Married Mary Seddon b.1790 d.22 January 1866, daughter of William Seddon of Acres Barn, Eccles, Lancashire, son of John Seddon of Acres Barn, Eccles, Lancashire [picture], buried in Eccles churchyard, who himself was also father to General Seddon.
They had the following children:
F
i
Wallace Mary b.1815 d.1896
Married 10 Sep 1846 Reverend Walter Butler d.19 Feb 1857¹. They had the following children:
 David b.1849;
 Hercules b.1850.
F
ii
Penelope b.1818 d.
Married (unknown) Dickson. They had the following children:
 Sarah b.1844;
 Selina b.1845.
F
iii
Emily Augusta b.2 May 1822 at Ashton upon Mersey, Cheshire d.17 December 1899 at Sandbach, Cheshire.
Married in 1842 Joseph St.John Yates b.10 October 1808 at Chancery Lane London d.1887 Sandbach, Cheshire.
M
iv
Hercules of Brotherton, Kincardineshire JP [picture] b.15 Jun 1823 d.31 May 1897¹ More information.
Married 1857 Anna Moon b. d., only daughter of James Moon of Hillside House, Liverpool. They had the following children:
 Hercules James b.1860 d.3 Feb 1869 of diptheria,
 Mary Isabella b.30 May 1862 d.29 Jan 1869 of diptheria,
 Helen b.12 Sep 1863 d.4 Feb 1869 of diptheria,
 Edward Uchtred b.2 Feb 1865 d.1 Feb 1869 of diptheria,
 Anna Katherine b.10 Jun 1868,
 Margaret Rose de Noel b.25 Dec 1869.
 Latter two daughters survived their father¹.
F
v
Anna Maria b.1825 said to be 7th daughter, so there were three others
Married 16 Aug 1855 Cdr George Skene Tayler RN b.20 Sep 1816 d.18 Mar 1894¹.
F
vi
Diana Octavia b.1829
Married 29 Apr 1863 James Farquhar b.16 Apr 1836. They had two daughters b.17 Sep 1864 (Reigate) and 5 Sep 1867.
F
vii
(Unknown) b. d.
Married Edmund Lane b.1817. They had one child:
 Katherine b.1844.

13 December, 2012

Other information Back to top of page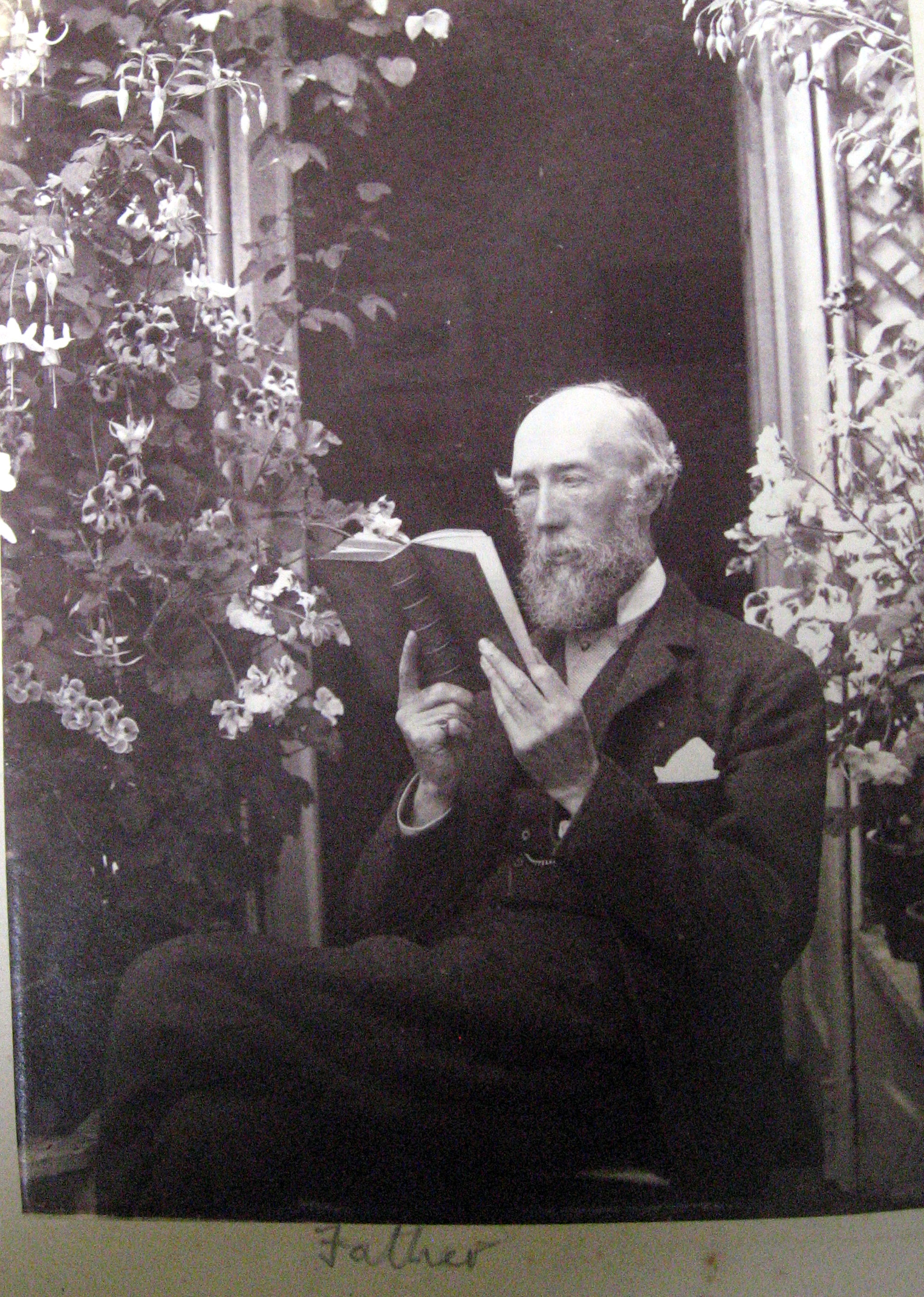 Hercules Scott b.1823
Hercules Scott was educated at Harrow and Haileybury College. Deputy-Lieutenant for Kincardineshire. Lieutenant Commanding 2nd Kincardine Artillery Volunteers. Entered Bengal Civil Service 1844, held various appointments in NW Province including Settlement Officer at Salundhur, retired 1855. Chairman of Montrose & Bervie Railway from 1855 until its sale to the North British Railway in 1881. According to an entry in the Dundee Courier in that year, Hercules was presented with a large oil portrait of himself by the Directors, which was hung in Brotherton, but of which there seems no trace now¹.

A SHORT HISTORY OF BROTHERTON AND THE SCOTT FAMILY

Lathallan Preparatory School has occupied Brotherton Castle, the family seat of the Scotts of Brotherton, for over thirty years. The building is not, of course, a true castle at all; but is a Victorian mansion house built in the Scottish Baronial style for Hercules Scott in the 1860's.
The connection between the Scotts and Brotherton goes back some three hundred years before the building of the present castle. The estate of Brotherton was purchased in 1570 by James Scott of Logie, a member of a cadet branch of the family of Scott of Balweerie in Fife. That family, in turn, traces ancestry to one Uchtredus Filius Scoti, who witnessed the foundation charter of the Abbey of Holyrood House in 1128. Brotherton was presented by James Scott to his son, Hercules, his other five sons being given the local estates of Craig, Commieston, Hedderwick, Benholm and Logie.
Hercules the first of Brotherton resided in a building which stood where there is now a terraced lawn in front of the present building. The original Brotherton Castle is described thus in The Baronage of Angus and Mearns:
An old capacious mansion forming three sides of a square. The walls in some places are about six feet in thickness. The older part on the East side as a circular turret at the back which answers for a staircase inside. At the South East corner there is a flagstaff attached.
Fortunately, Susan Carnegie, great grand-niece of Hercules, sketched the old building in 1764, so we have some idea of what it looked like.

We now deplore the demolition of all old buildings; not so the Victorians! The Stonehaven Journal of 2 June 1862 simply notes that the demoli¬tion work and the building of the new castle would be "a boon to the neighbourhood".
The Scott family were very active in the area throughout the intervening centuries. Susan Carnegie, nee Scott, was largely responsible for the founding of Sunnyside Royal Mental Hospital and Carnegie House was named after her. Many other Scotts made agricultural innovations. The turnip was first introduced to the county by a Scott farming Milton of Mathers, who also developed the lime kilns there and the salt pans at Usan.
Nor are the eighteenth century Scotts remembered solely for their land improvements; there are reports, unfortunately unsubstantiated, of a connection with the Jacobite cause. Scott of Logie owned a house in Montrose in which the Marquis of Montrose was born and where the Old Pretender is said to have spent his last night before embarking for France on 14 February 1716. The Montrose Review in December 1871 claims that he spent some time prior to that with Hercules at Brotherton. It is certainly true that George Carnegie, Susan's husband-to-be, was on the rebel side in 1745, living abroad in exile until he received full pardon in 1765.
As the Scotts achieved increasing status in the area, they adopted family mottoes, Scott of Brotherton's being "paterno robore tutus" (safe by paternal strength). They also received a grant of arms, emblazoned thus in The Baronage of Angus and Mearns:
Argent a fesse embattled, counter embattled, between three lions heads erased, Gules; in chief a mullet of the second, charged with a martlet, silver, for due difference.
David Scott was the last occupant of the old Brotherton Castle. He founded both St David's Chapel in Johnshaven and St Mary's episcopal church in Montrose. He and his wife, Mary Sedden, had one son and eight daughters. The son was Hercules who built the present castle. As a young man, Hercules spent some time in the Bengal Civil Service, re¬turning home in 1850, and marrying Anna Moon, daughter of a Liverpool cotton merchant, in 1857. The couple had five children before their new home was built. After some years in temporary accommodation at Craig, the family returned to Brotherton with considerable pomp. The Montrose Review of 22 May 1868 claims that the event gave rise to "rejoicing at Johnshaven". This may be connected with the reputation for philanthropy which Hercules was fast establishing, including his founding of a soup kitchen for Johnshaven's poor in winter 1866.
All did not go well in the new home, however. The four eldest children and a nurserymaid all died between 29 January and 4 February 1869 from diphtheria. The disease was believed to have been caused by the exposure of old drains during the demolition of the old building. This left the fifth child, Anna Katherine, and another child was later born, Margaret Rose de Noel, so called because she was born on Christmas day.
With his brother-in-law, Mr Porteous of Lauriston, Hercules Scott was involved in the creation of the branch of the North British Railway which ran between Montrose and Inverbervie. Brotherton had its own halt. He also saw to the erection, at a total cost of £300, of the St John's Templar Hail in Johnshaven's "old" and "new" harbours in 1871 and 1884. The grand opening took place on 5 July 1884 with a long procession from the harbour to the castle. A painting of the harbour which can still be seen in the castle probably commemorates this day. In accordance with his con¬cern for the local fishermen, Hercules became involved in 1891 in the construction of a life-boat station in the village to house the "Meanwell of Glenbervie". In 1891, this time on the instigation of Mrs Scott, Johnshaven became the first village in the Mearns to boast street lighting. In return for his generosity, Hercules Scott is said to have reserved the absolute right to stop the Johnhaven mill from blowing its hooter as it frightened his horses!
The castle which he built at Brotherton has been tentatively attributed to that famous architect of the Scottish Baronial style, David Bryce, 1803—76. It is constructed around a central hall, or "salon" which rises to the full height of the building. The drawing rooms have ornamented plaster ceilings on which the initials H. S. and A. M. are intertwined amid thistles and roses. Much of the furniture was specially designed and gave its name to the Mahogony, Birch and Pine bedrooms. The domestic quarters were comprehensive and included a room set aside solely for storing vases and arranging flowers from the extensive gardens. In the yard there hangs a bell, used for summoning servants and for reminding guests when to change for dinner. Outhouses included several greenhouses, an ice-house and a pagoda-shaped game larder. .
Hercules Scott was succeeded on his death in 1897 by his elder daughter, Anna Katherine, the last Scott to live at Brotherton. Increases in taxation and real wage levels in the new century, to say nothing of two world wars, brought changes to all landowning families; but Miss Scott kept Brotherton intact until her death. The estate was largely self- sufficient within living memory. It had its own laundry, employing two maids, and its own gas-works, later converted for electricity. The Mains of Brotherton was run by a grieve complete with dairy, sawmill and blacksmith's shop. Before the last war, five gardeners, five foresters and three gamekeepers kept the grounds in order, whilst, in the castle there was a housekeeper, who acted as lady's maid, a butler, footman, hall- boy, cook, kitchen-maids, house-maids and scullery-maids. After the advent of the motor car, two chauffeurs were also employed, and in North Lodge there lived a gate-keeper.

A Christmas party was held for the staff every year, and in summer the gardens were opened to the public. Various Sunday Schools held picnics on Laundry Park where swings were erected. At the end of the day, all the children were led up to the castle by the imposing figure of the head gardener and presented to Miss Scott. They were then given a tour of the gardens before returning home.
Miss Scott was in the habit of renting a house in Chelsea for the Season, taking with her her butler, cook, scullery maid, lady's maid and third housemaid. She spent some time in London during the last war, allowing Brotherton to be used as a maternity hospital. The first baby to be born there was presented by her with a perambulator. Some three years after the end of the war, Anna Katherine Scott died, in July 1948. Despite a lifelong membership of St Peter's and St Mary's episcopal church in Montrose, she chose to be buried at Benholm. All her staff were required to attend church at Benholm, and it is there that her grave can be seen, along with other Scotts, in the family plot outside the East door.
Brotherton was left to Miss Scott's niece, Mrs Freda Gell, who sold the estate to Mr Charles Alexander. He gave it over to the use of Lathallan Preparatory School in 1949, later selling the school governors the castle and its grounds but retaining the farmland for his own use. Thus ended the unbroken line of the Scotts of Brotherton. Appropriately enough, the new inhabitants also came from Fife, seventy four boys under their head¬master, Mr J. H. Nock, refugees from premises recently gutted by fire. Despite the fact that the stables have now been converted into classrooms, the castle of Brotherton retains all its original character.
PAMELA M. KING, 1980
The author wishes to thank all those who assisted her, particularly those who gave her access to their persona! research and reminiscences.


¹Information via Mike Mitchell (Emails Sat 31-03-2012 15:49, Sat 31-03-2012 20:23 and 4-12-12 21:32) credited to the British Newspaper Archive, a digital online archive service. Most of the entries are from the Dundee Courier.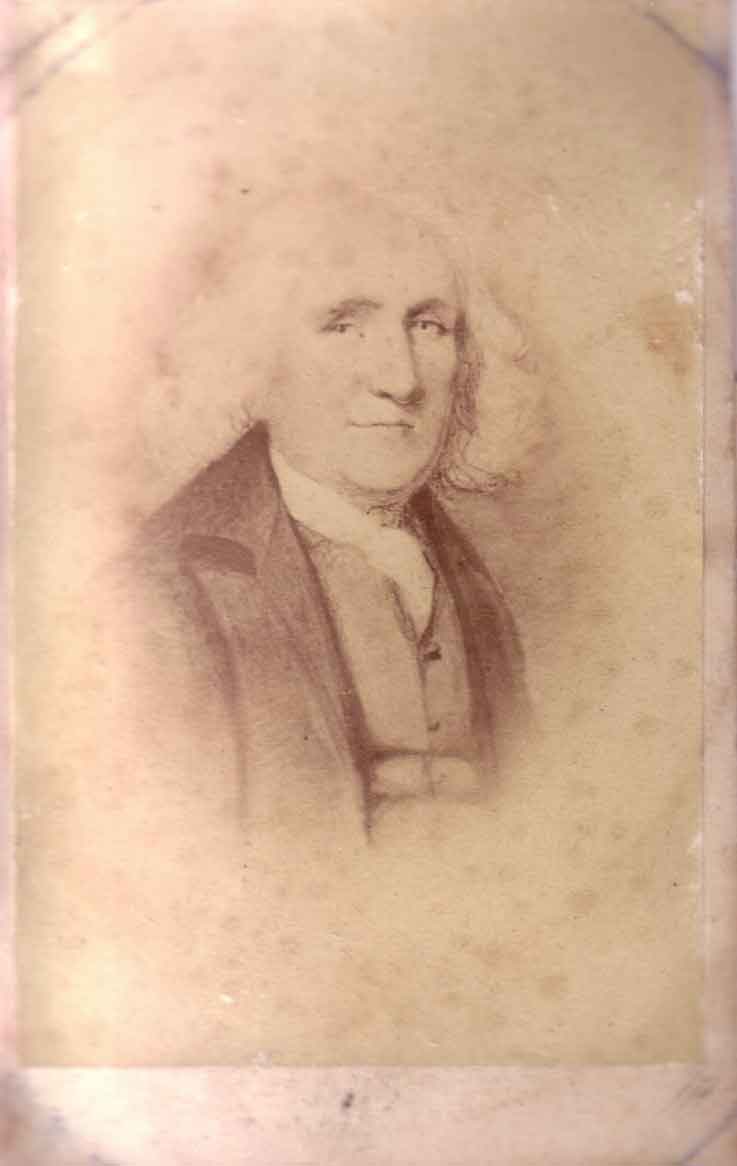 John Seddon of Acres Barn, Eccles, Lancashire
John Seddon was also father to General Seddon. The caption on the back of this photo says a miniature of General Seddon in Hussar uniform is in the possession of the Whatton family.

From 'The annals of Manchester' edited by William E. A. Axon 1886 see Salford Hundred ancestry:

Major-General Daniel Seddon, the youngest surviving son of the late Mr. John Seddon, of Acres Barn, died May 18 [1839], in Paris, aged 78. Seddon, who was educated at the Grammar School, entered the army and was several years in the East Indies, and one of the few who survived thirteen months' imprisonment in the dungeon of Chiteledroog. He afterwards served in Russia and Egypt; and during the rebellion in Ireland he received the thanks of the county of Antrim for his defence of the town of Antrim from the rebels Sword in hand, at the head of 26 dragoons, he charged the rebels, who had posted themselves to the number of 500 in the principal street. He was one of the only three who survived. He was afterwards appointed inspecting field officer in the northern district, and had the rank of major-general conferred upon him for training Portuguese troops.

A Seddon of Acres Barn, Lancashire appears as a witness in the marriage of Edmund Greene Mahone Esqr. and Miss Margaret Rose Lewin both of the County of Clare in the register of marriages in Portpatrick, Ireland (see Ulster Ancestry). A Reverend Thomas Seddon of Acres Barn turns up in 1779 preaching a sermon, mentioned in the 'The Bayley family of Manchester and Hope'.

See also 'The Story of Halshaw Moor Chapel' by Harold A Barnes, M.A., published in 1908 in by J Whatmore, Printers, Bookbinders, Farnworth:

"1483 Adam Prestall owned land in Farnworth adjoining that of John Hulton and Richard Seddon"

"In 1651 James Stanley Earl of Derby was executed in Bolton. It was reputed as a fugitive he hid in the cellar of Seddon Farm, for a long time there was a portrait of James Stanley there which has since been destroyed"

"...were the owners and proprietors of messuage, lands and tenements in the manors, and, were thereby entitled to the rights of common upon the commons and waste lands, which were in such a state as to be of little value, but if divided into specific allotments and enclosed might be very considerably improved. It was therefore elected that the several commons and waste lands (except the moss or turbary grounds) should be set out, divided and allotted, and that. John Seddon, yeoman, of Acres Barn, Eccles, Ralph Fletcher, yeoman, of Tong-with-Haulgh, and Richard Jones, innkeeper, of Little Hilton, and their successors were hereby appointed Commissioners for putting the Act into execution"

"The following paper does not treat of a resident of Farnworth, although his home at Prestolee was only just across the boundary (being divided from that township by the river Irwell), and his person and character were very familiar to the inhabitants of Halshaw Moor, and there are no doubt some of the older inhabitants of Farnworth at the present time who will remember him as "Dictum Factum". He punningly nicknamed himself "Dictum Factum" from Dictum — said, and Factum — done — said done - Seddon, his real name being James Seddon.

He owned a paper mill which his father had previously worked, and his horses and carts were frequently brought over Halshaw Moor over the old bridge at Darley, to witch Mr. Rawson strongly objected, denying Mr. Seddon's right-of-way over that bridge, and threatened to forcibly contest it, if Mr. Seddon's men again made use of it "Dictum Factum" (as he preferred to be called) soon gave Mr Rawson an opportunity of putting his threat into execution, by sending his horses and carts guarded by all the workmen he had in his employ. They were met at the bridge by a staff of employees from Rawson's chemical works, armed with a variety of implements of warfare and a fierce battle ensued between the two parties, ending in a complete victory for the Rawsonites, who thoroughly routed their opponents and drove them back to Little Lever. No lives were lost, but there were a few broken heads and many sore bones. "Dictum Factum" was terribly annoyed and very indignant at his defeat, and revenged himself by getting printed and extensively posted throughout Halshaw Moor and Little Lever a most bitter and sarcastically placard, carefully worded so as not to be actionable. I well remember the following lines in large capital letters: - ROAD STOPPERS AND WELL DESTROYERS And some wag painted on the brew house door of the Church Inn: - " In Memory of Darley Fight". And this remained on that door for several years, to the amusement of persons attending the church, as there was no other way for worshippers to the church than down or up Church Lane.

"Dictum Factum" was not only witty, but also whimsical and capricious. He had a large summer house erected at the top of the large field leading from the river, and on the top of this building he placed a large image representing some celebrity or animal, which was changed every few weeks for a new one of a different character, the dismounted one being broken up and thrown into the river. He must have been a good Customer to some of the Italian image sellers who at that time frequently came round carrying a large board on which ware plaster images of various kinds.

He had an oil portrait painted, of himself which I thought was an excellent likeness, but on exhibiting it to a party of visitors one of them (no doubt mischievously) criticised severely, and found so much fault with it that "Dictum" was thoroughly disgusted, and when the visitors left, he took a knife, cat the picture out of the frame, and slashing it across several times he rolled it up and ordered his servant man to throw it into the river, which was the usual receptacle for most of his cast off hobbies. On the man and his wife and his daughters examining the wreck they found to their great joy that the entire features and one shoulder of the portrait are not injured, and James Leach who was painting at Prestolee House at the time, brought the uninjured canvas home to the Old Chapel lane, close to my father's house. Leach, being an amateur artist during his spare time from house painting, mounted the salvage portion of the portrait on a large canvas, painted the missing parts of the picture, and returned it to the coachman's family, by whom it was highly prized. What became of it in after years I do not know?

"Dictum" sometimes amused himself as a sculptor and prided himself in the bas-relief figure of a horse, which he had carved and placed over his stable door. One bright sunny morning he was showing some visitors over his establishment, and calling their attention to the carving of the horse, told them it was his own workmanship, when a Scotch gentleman of the party, rather banteringly, said "D'ye call that a horse? Its nair like an ass with such long ears", upon which "Dictum", looking down towards the visitor's feet, hastily replied, with emphasis. "Bless me, the man is looking at his own shadow", and pointing at the stone caving said "See you, man, that is what I directed your attention to, and not your own shadow in the sunshine".

"Dictum Factum" was a heavy shareholder in the old Bank of Manchester. When the bank stopped payment a full meeting of the directors and shareholders was held, at which it. Richard Roberts, the chairman of the board of directors, presided. "Dictum Factum" entered the room just before the business of the meeting commenced, and loudly announced himself thus: — "Gentlemen, I've come to show you the biggest fool in all Christendom", upon which one gentleman asked why had (Mr. Seddon) risked such a large sum in a concern not considered over safe? To which Mr. Seddon promptly replied. "Because the devil took me up into a high mountain and showed me ten per cent." This answer caused great merriment and excitement amongst the assembly, upon which the chairman hastily called out "Harmony, gentlemen, please, do let us have harmony". "Yes", replied "Dictum", imitating the chairman's voice and manners, "It's our money that we want, gentlemen: please do let us have our money". But they only received a very small portion of their money, and many were thereby reduced from comparative affluence to beggary and severe privations.

Some years before the bank's failure, "Dictum Factum" had a new carriage built according to a plan of his own, something after the style of Napoleon Bonaparte's private carriage which was captured after the battle of Waterloo and was afterwards exhibited in London. When "Dictum" got his new carriage home, he invited my father (whom he frequently came to hear preach) to accompany him for an hour's drive, then he would explain the various ingenious fittings and conveniences the interior of the carriage contained. My father's curiosity being excited, he gladly accepted the invitation and ha was both amused and interested with his ride. The description of the interior of the carriage and its cooking, citing, and even sleeping appliances, would occupy too much space, but nothing seemed to be wanting, that would add to the comfort of the traveller. This was previous to the introduction of any railway. Shortly afterwards "Dictum" drove over to his father's, whom had retired to the suburbs of Manchester, and after showing his father all the conveniences it contained the old gentleman said; "I'll tell thee what, James, if I had ridden in a carriage like that, thou would have had to walk" a very pithy remark and full of meaning.

For many years after "Dictum" had retired from business he went to Manchester every Tuesday to dine with a number of his old associates at the "Ship Inn", in Blue Boar Court, where there was a first-class ordinary every market day, and he was a great gourmand, always enjoying a good dinner as well as cheerful society. He had a rack fitted up in his barn at Prestolee, on which he had his game (when in season) and sundry legs of mutton hung to condition and get tender. He would never have a leg or shoulder of mutton cooked until it had been hung in the barn at least a full fortnight after which he said, "It ate like venison". I remember "Dictum" coming to Mr. J.R. Barnes at the warehouse in Macdonald's Lane with a memorial or petition to the directors of the Manchester and Bolton Railway, respecting the poor accommodation for passengers at Halshaw Moor Station. This memorial he had embellished with a pen and ink drawing of a huge dragon, with its open mouth representing the tunnel at Halshaw Moor, and of which issued fire and smoke forming a locomotive engine, the body and tail of the monster representing a railway train tapering off prospectively to little more than a dot. Mr. J. R Barnes was one of the board of directors. We all had a good laugh over this artistic and calligraphic curiosity after "Dictum" was gone.

During the last few years of his life, he grew to be enormously stout and short winded. On one occasion he was returning from Manchester in the same compartment I was in, and on arriving at Stoneclough Station, where his carriage was waiting at the bottom of the steps, he had the greatest difficulty in squeezing himself cut of the railway carriage, the doors being narrower than they now are now, he was struggling to compress his huge corporation so as to permit his exit, he caught sight of a "Manchester Guardian" which some one had left on the seat, and turning to me he said, "That's a 'Manchester Guardian' but this doorway is a Manchester and Bolton guard you in". A most atrocious pun, but it was certainly impromptu.

One morning "Dictum" felt very unwell, and being of a very nervous temperament he fancied he was going to die. He kept in bed and sent for his medical adviser, Dr. Anderton, to come immediately, but the doctor had gone his morning's round of visits to his patients, and did not get home until noon then told "Dictum's" urgent message, the doctor hastily swallowed his dinner and hurried down to Prestolee House. On his ascending the stairs, he heard preceding from "Dictum's" room, at short intervals, a long and prolonged Boo-oo-co-oo-m, followed in a few seconds by another Boo-oo-oo-oo-m repeated several times. The doctor stopped outside the bedroom door for a minute or two, listening to these strange ejaculations, and entering the room laughing he approached the bedside and Inquired, "What is the matter, Mr. Seddon? And what 'is the meaning of all this?" The sick man, turning a most doleful look towards the doctor said in a faint hollow voice, "It is the passing bell tolling for the decease of "Dictum Factum", who died through the cruel neglect of Dr. Anderton". The Doctor was highly amused, but assuming as serious a countenance to he could, requested the sick man to put out his tongue and hand, but "Dictum" refused, saying it was useless to feel the pulse of a dead man, and taking a sovereign out of his purse, he gave it to Dr. Anderton as his fee".
Daniel Seddon (1762-1839)

The following is a very long resume of his career from "Royal Military Calendar - or - Army Service and Commission Book in 5 vols", 1820, London (Vol III p 249):-

"In 1778 this officer was a lieutenant in the Lancashire Militia and, in 1779, Ensign in the 96th foot. In 1780 he was a Lieutenant in the late 100th Foot under orders for embarkation on a secret expedition, which sailed from Spithead the 13th March 1781, under command of General Medows and Commodore Johnstone; this officer was engaged in the battle of Port Praya, fought at anchor in the bay, yard-arm to yard-arm, with a superior fleet of the French, commanded by Monsieur Suffrein, and which effectively frustrated the original intent and purpose of the expedition, which was destined against the Cape of Good Hope and Buenos Ayres. The French expedition, having taken possession of the Cape, the expedition was obliged to proceed to the East Indies; on arriving there, it being deemed expedient to divide the forces, a part went with General Medows to the coast of Coromandel; the rest, consisting of the 100th Regiment, a part of the 2nd Battalion of the 42nd, and two additional companies under command of Lieutenant-Colonel Humberstone to the coast of Malabar. Destitute of every necessary equipment for the field, they landed at Calicut in April 1782; a strong garrison opposed their landing without effect, and the fort was immediately stormed and carried with little loss. This small corps, after being recruited, took the field and against every difficulty and impediment marched and raised the siege of Tillicherry, which had been for two years invested by a powerful army of Hyder Ali's under the superintendence of the late Tippoo Sultain. This fortunate event enabled the garrison to spare a force of near 3000 native troops well experienced in Indian warfare, which gave them the power immediately to commence offensive operations. Lieutenant Seddon was at this period appointed Brigade-Major to Major Campbell of the same regiment, who on all occasions commanded the advance brigade.

The army was now somewhat formidable, near 1000 Europeans, and about 8,000 effective Sepoys; with this force the campaign was carried on with the utmost energy, and during which they possessed themselves of every fort and garrison from Tillicherry to Anjanga, and from the coast to Ramghurry. Several general engagements were fought, and the almost daily skirmishing perfectly established the credit of this little army for bravery, discipline and patient endurance.

The services of this officer in the following campaign were required as an engineer. The field was taken even before the monsoon had ended, with every prospect of brilliant success, for notwithstanding the torrents of rain which fell, and the incessant opposition which was made, they fought their way to Pallachacherry. This movement was made with the intention of giving relief to the Carnatic, and it had the effect of withdrawing Tippoo Saib in person, with 30,000 troops. The moment intelligence to this effect arrived, an instantaneous retreat was ordered, but no sooner had the troops re-entered the town, which they had before passed through without even leaving a guard therein, than they were attacked on every side, front, flank, and rear, as well as from the windows and roofs of the houses. In this perilous state they remained for several hours, nor were they able to extricate themselves until the evening closed, when a passage was forced, but at the expense of many valuable lives, both of officers and men, with every article of baggage, provisions and ammunition, except what had that morning been served out to them. The battalion guns fortunately escaped, which in a great measure saved the army. The wounded, such of them as were unable to walk, were of necessity left in the streets and in this state, under constant heavy rain, the march was pursued. It was so far fortunate however, that the rain continued with such unremitting violence, as to impede the rapidity of Tippoo's movements, and thereby saved the lives of numbers, and probably the entire army. Under such uncommon difficulties it was most wonderful that the retreat was effected at all - not a moment's time to halt, no possibility of cooking the scanty provisions the troops had with them, and the enemy hanging on their flanks and rear. Ten days however completed their march, but so utterly exhausted were they on their arrival at Panana, their depot, that they laid themselves down in the sand, and would have suffered death rather than have been at the trouble of rising to defend themselves. The next day however presented a different view - a British fleet was anchored close to shore, from which Lieutenant-Colonel M'Leod landed with the remainder of the 42nd regiment, and about 2,000 additional Sepoys. This seasonable relief gave confidence to all, provisions were served out, and all was joy, exertion and bustle. Breastworks were forthwith thrown up, and every man laboured with all his might. It was evident that the enemy were fatigued, or that the whole of their force had not yet arrived, otherwise, had they sooner commenced their attack, they most assuredly would have had infinitely greater advantage, but they suffered three days to elapse, and in that time everything was prepared to give them a warm reception.

At daybreak on the fourth day the enemy's entire force, commanded by Tippoo in person, commenced a general attack, and were repulsed in every quarter with considerable loss. This so enraged His Highness that, when he rallied, which he had a difficulty in doing, he recommenced the attack, and placed his war-elephants in the rear of his own troops, at the same time giving them to understand that inevitable death would be the consequence of their retreat. A desperate assault again took place, and they were again repulsed with immense slaughter. The confusion they were thrown into by the bayonets in the front, and the elephants in the rear, occasioned the Sultaun a loss of upwards of 5,000 of his best troops, a greater force than the British had in the field. Whether this complete defeat or the death of Hyder Ali, which happened at that time, induced a precipitate retreat was never ascertained, but the following morning the whole army had disappeared. A few days after this glorious victory the troops embarked and proceeded coastwise, to meet a force then expected under the command of Brigadier-General Matthews. The junction was formed at Sadashagur near Goa, and the whole were landed with but trifling opposition. Lieutenant Seddon now returned to the duties of his regiment, which was actively employed on every occasion and on every emergency. In a short period this army, now nearly 8,000 men, over-ran the whole coast, took every important garrison, and the strong forts of Onore, Cundapore, Cannanore and Bangalore fell into their possession. From Cundapore their course was directed to Bedanore, with the intention of again relieving the Carnatic. Every possible resistance was made to stop the progress of their march which the enemy finding impractical, resolved to make a desperate stand, for which purpose they collected all their strength for defence of the Ghauts, which were nearly a perpendicular height with five barrier gateways, yet nothing could withstand the intrepidity and bravery of the troops. They stormed and, at the point of the bayonet, carried the whole in less than three hours. Lieutenant Seddon was on this occasion slightly wounded in two places, but not so materially as to prevent his continuing his services. These gallant achievements ought to have been recorded by earlier historians, but the subsequent calamities of the army, and being afterwards captured, prevented them from being particularly known. The enemy, panic-struck by what they considered so desperate an undertaking, surrendered Bedanore without firing a shot. Ananpore and Cooladroog were taken by storm, and an immense extent of country was taken possession of. These brilliant successes however were not of long duration, for Tippoo Saib, now Sultaun Bauhauder, having by the death of Hyder Ali quietly succeeded to his dominions, and finding his richest provinces overrun by a comparatively trifling force, moved an army upon them of 40,000 men and a corps of French, commanded by Colonel de Cossigné. A disagreement having taken place previous to this, between General Matthews and the field officers of his army relative to the division of the spoils of Bedanore, the whole were sent away, and lucky indeed it was for them.

On the approach of Tippoo and his army, the general moved all his force, now not more than 1,500 men ( the rest having been left in different garrisons) to meet the enemy in the open plain. This extraordinary conduct occasioned a severe loss, and reduced the remaining few to the confines of the fort; the siege lasted 17 days, a cessation of arms took place, and on the 26th day of April 1783, this gallant army terminated their exploits. The garrison capitulated on the following terms:- That it should march out of the fort with the honours of war, and pile their arms on the glacis; the public stores and prisoners to be given up, private property respected and that, after the garrisons of Ananpore and Cooladroog (which were included in the articles) had joined, the whole should be at liberty to proceed unmolested to Sadashagur, a sufficient guard to be furnished for their protection, and every necessary accommodation given for the comfort and convenience of the sick and wounded, and that two hostages should be sent forthwith by the Sultaun for the performance of the articles on his part. The hostages were forthwith sent, the capitulation signed and the troops accordingly marched out of the garrison and piled their arms on the glacis. They were then surrounded by a large body of the enemy, which was supposed for their escort, and conducted to a plain about half a mile from the town, where they remained without notice or shelter till the 1st of May. The most gloomy presage now pervaded everybody. The General, the Captains and all the principal officers were sent for and the remaining British or European officers were ordered into the bazaar. Here the most disgraceful and ignominious scene took place that was almost ever witnessed: one by one they were forced into a circle of armed men, and there stripped and plundered of every article that was worth consideration, nor did they scruple at exposing them thus naked, to the ridicule and insults of their brutal banditti. The women also were searched in the same infamous and indecent manner. In the afternoon the European soldiers and Sepoys were separated, the sick and wounded were left to perish on the ground, and in the evening the subalterns were marched into the stables which their horses had occupied but a few days before, and there more closely confined, without food, until the following night. A pice and a seer of the coarsest black rice was then given to each person. On the 7th a letter was sent to the Commandant of the French troops, Monsieur Cossigné, praying his inter-ference with the Sultaun, representing to him the shameful violation of the conditions on which the fort surrendered, and the cruel and inhuman treatment they experienced, requesting him at the same time, in the name of his Britannic Majesty, to use his strenuous endeavours that the terms of the capitulation be adhered to and if he, in that point, failed, that he would for humanity's sake obtain a mitigation of their hard usage. This letter was never answered but they were told that, as General Matthews had plundered the treasury and stores, the Nabob considered himself justifiable [sic] in acting in the manner he did.

On the 9th the subaltern part of that brave army were removed in pairs from these loathsome stables, rendered insupportable by the dreadful stench that arose from such close confinement, and were, at the door, linked together like felons with irons so rough and unfinished that, in a short time after they were thus manacled, but little skin was left on their wrists. When the whole were fitted with serviceable heavy irons, they were marched, like convicts to the galleys, to pass in grand review before His Highness the Nabob Sultaun, where they were received with shouts of joy and acclamations of the most malignant inveteracy. At 7 o' clock on the morning following, their march was commenced under a strong escort of infantry and cavalry, each officer as he left the ground receiving three pice (about 3 farthings) for his day's subsistence. To detail every barbarous and inhuman aspect of this march would overpower the feelings of humanity: we will therefore content ourselves with stating that a number died for want of food, from savage treatment and from intensity of the heat.

It was the misfortune of Lieutenant Seddon on this occasion to be handcuffed to an officer who died, but the barbarians would not liberate him from the corpse, and, placing it across a bullock, obliged him to march by its side till the day's journey was ended. On 21st May this miserable body of fallen heroes arrived at Chittledroog and, after having been exhibited for several hours to the gaze of the gaping multitude, they were marched to the summit of this almost impregnable fortress where they were formed into two divisions and put into several cells. Their handcuffs were then taken off and heavy irons put upon their legs. We will pass over their wretched condition in this abode of misery, briefly observing that during the whole period of their confinement they were kept under continual apprehension of their being either poisoned or starved to death for want of food. Providence however ordained it otherwise for, on the 25th March 1784, their irons were knocked off and they were taken out of their dungeons. The prison in which Lieutenant Seddon was confined consisted of four dark rooms surrounded by a wall of twenty feet high, which formed an area of four yards square and was the only place that nine and thirty of them had for every purpose. At one time they were kept for three days without provisions, but they suffered no inconvenience on that account, having a plentiful supply of rats on which they fed.

When they were moved into the open air and quite at liberty, they were unable to walk from their legs having been so long and so closely confined together. Here they were joined by their fellow sufferers, who had survived the hardships of the other prison but alas, like themselves, in so meagre and miserable a state that even the most intimate friends did not know each other, and at which the reader will not be astonished, if he considers their long confinement, almost entirely naked, their beards at full length, their hair matted and their bodies covered with vermin. Such however was their sensations at this meeting, that tears of joy trickled down their faces. About eleven o' clock the whole were ordered to proceed below, but which, with every possible exertion, they were unable to effect before 10 o' clock at night. The next morning they were informed that a peace had been ratified between the Sultaun and the East India Company and that they should be immediately conducted to their own country.

On the 28th, somewhat recruited both in body and mind, they began the happiest march they had ever as a body taken. On 25th April they reached their own territories, and were on that day given up at Vellore, one of their frontier garrisons in the Carnatic. Dreadful to relate, General Matthews and every officer, save one, above the rank of subaltern had been most barbarously and inhumanly murdered. We will not dwell on this sad and melancholy subject, but shortly state the losses which the 100th [Regiment] alone sustained during the short period of its existence. They were raised by Lieutenant-Colonel Humberstone the latter end of the year 1780, sailed for the East Indies the beginning of 1781 and, on the 25th April 1784, the day on which they were given up, they had lost by service:-
1 Lieutenant-Colonel
3 Majors
7 Captains
16 Lieutenants
9 Ensigns
1 Quarter-Master
1 Surgeon
1 Surgeon's Mate
- and upwards of twelve hundred men

Such a list of casualties in one regiment, and in so short a time, perhaps was never known. They were embarked upwards of eleven hundred strong, had two additional companies drafted into them, and some recruits joined them from England, and they returned to their native land in 1785 with only 27 men. Four Captains suffered death by poison, the vacancies of which, as well as every other that occurred during the captivity of the regiment, were filled up in England. However, immediately previous to the reduction of the regiment, the Captain-Lieutenancy became vacant, and this officer succeeded thereto. We have exceeded the limits of our wishes in detailing so particularly the services of this unfortunate regiment but we have been induced to do so in consequence of its having been so long in confinement, and the peculiar hardships which it underwent being but little known.

This officer, during the time he remained on half-pay, made an excursion to the northern continent, and visited Germany, Denmark, Sweden and Russia, where he availed himself of every opportunity of obtaining professional knowledge. In 1788 he was recalled from his tour, having succeeded to a company in the 75th Regiment [the Highland Regiment], and again went out to the East Indies. This Regiment, raised by its present Colonel, Sir Robert Abercromby*, was considered one of the best disciplined in His Majesty's service. Certainly it produced some officers of considerable eminence, among whom were Major-General Robert Crauford, Lieutenant-General Sir Samuel Auchmuty* and General the Honourable John Abercromby*. [*All in New Oxford Dictionary of National Biography] Captain Seddon went through the regular service with this regiment as Captain of grenadiers, and was at the taking of Seringapatnam with Lord Cornwallis [as was his nephew, Edward Boardman]. In the year 1792, in consequence of a universal peace, and being unable to obtain leave of absence, he disposed of his commission and returned home, but on his arrival the French revolution had broken out [hardly - it broke out in 1789. In 1792 Louis XVI was found guilty, later to be beheaded, which is what may be referred to here] and he re-commenced his services.

In 1795 the 22nd Light Dragoons, in which he was then Major, embarked for Ireland, and in the rebellion of 1798 he was stationed with a squadron of that regiment in Antrim. The circumstances attending the attack of that town are too well known to require mentioning; suffice it to say the 22nd suffered materially and the rebels very considerably. Major Seddon on this occasion was wounded and had two horses shot under him, one of them in three different places. His conduct during his stay in this troubled part of the country was most highly spoken of, and the loyal inhabitants of the town and neighbourhood testified their approbation by presenting to him a piece of plate [mentioned in the codicil to his will] estimated at 300 guineas value, and on which was engraved the following inscription This Piece of Plate is presented to Daniel Seddon, Esquire, Major of the 22nd light dragoons, by the Inhabitants of the town and neighbourhood of Antrim, as a mark of gratitude, for his unremitting attention to the preservation of their lives and property, in bringing treason to justice, and affording protection to loyalty, during the period of near four years which he commanded in this district. Antrim, July, 1798.

On 1st of January 1800 he obtained, by brevet, the rank of Lieutenant-Colonel, and early in 1801 he embarked with the regiment for Egypt, and remained there until the end of the war. On their return home the regiment was disbanded [the short-lived Peace of Amiens] and when the war broke out again he was appointed Inspecting-Field-Officer of Yeomanry and Volunteers in the Northern District, in which situation he remained till 1809. He then went out to Portugal and commanded the 1st Brigade of Portuguese cavalry. On obtaining the rank of Colonel, the 25th of July 1810, he returned home and on the 4th of June 1813 he succeeded to the rank of Major-General."

Notes:
- A brevet rank was a rank without the full complement of troops to go with it, and usually given as a mark of distinction.
- Chiteledroog was Chitradurga Fort in today's Karnataka - a huge, sprawling and all but impregnable fort.
- Seddon claimed in WO 25/748 (48) that he was without pay for a year and a half. This was during the period of his imprisonment - which does seem extraordinarily mean-spirited and callous on the part of the army. It still rankled with him forty years later.
- His conduct at the Battle of Antrim (1798) might have been heroic, but it was exceedingly stupid. To charge down a long street lined with houses really isn't too smart and, when you find there is no-one at the end of it, and have to charge all the way back again, well......
- The "Rebellion" was that of the United Irishmen of that year.
- The Dragoons were of course of the 22nd Light Dragoons. Citation is the London Gazette of June 9th 1798 - he was mentioned by name and rank in the Gazette issue of 12th June.
- Contrary to any claims he was not at the battle of Waterloo.
- it is interesting that Seddon's way of dealing with what we today would call Post Traumatic Stress Disorder, after his captivity and privations, was to travel extensively. I would hazard a guess that he could not, for a long time, bear to sleep in the same place for very long. God knows how he coped on board ship on his way back to Blighty.
As far as the entry itself is concerned I have reproduced it word for word. However the punctuation is eccentric to say the least. The writer obviously thought full stops were the invention of the devil and colons were all the punctuation a gentleman ever needed. This was merely the most obvious of the eccentricities. I have therefore completely re-punctuated it. The other thing to say is that two things amazed me. The first was the depths of stupidity, over-confidence and neglect of even the most elementary precautions displayed by the senior army officers involved. The second was the degree to which the narrative, even allowing for the fact that it is in the great tradition of Medieval hagiography, is dominated by the writer's narrow outlook on the subject matter. There is not the slightest inkling that he (one assumes it was an 'he') might even have considered that, if an enemy army invaded your country for extremely dodgy reasons, you might feel both at liberty to destroy it by every means at your disposal and teach the invaders, and others who might be disposed to do likewise, a lesson they would not easily forget. Not that this, to us understandable, mind-set availed them any once a proper, if unlucky, general appeared on the scene.....

Hans Norton
July 2010

Reverend Thomas Seddon (1753- 1795)

The following is the text of the entry in the New Oxford Dictionary of National Biography, written by Mark Smith

Seddon, Thomas (1753-1795/6), Church of England clergyman and author, was born at Acres Barn, Pendleton, Lancashire, the son of John Seddon, farmer, of Pendleton. He received his early education at a number of local schools, including the Manchester grammar school. He was intended by his father for the medical profession and at the age of seventeen was entered for training at the Manchester Infirmary. His own aspirations, however, lay towards the church and while still at the infirmary he received an education in the classics under the tutorship of the Revd John Clayton of the collegiate church in Manchester. Encouraged by a promise of preferment from a certain baronet, he entered Magdalen Hall, Oxford, as a gentleman commoner, matriculating in 1776. He does not seem to have taken any degree and according to his own account was not much benefited by an academic education but he obtained a testimonial and without difficulty was ordained a deacon in 1777 and priest in 1778. The original promise of preferment was not fulfilled, and a combination of improvidence and the expense of his education left Seddon in debt. He sought to resolve his financial difficulties by making an advantageous marriage and on 2 October 1777 married Margaret Sidebottom, a young lady of good family near Manchester. The marriage seems to have proved a disappointment to both parties-there were no children-and seems effectively to have terminated by separation before 1786.

Seddon's early career in the church was also a disappointment. In 1779 he was licensed as incumbent of Stretford, a small living in which he had served as curate since 1778, and in 1781 was also offered the new living of St George's, Wigan. However, his living at Stretford was sequestered for debt after he had been there two or three years, while opposition from an influential group of parishioners in Wigan obliged him to give up St George's. His reputation was further damaged by his publication in 1779 of Characteristic strictures, or, Remarks on upwards of one hundred portraits, of the most eminent persons in the counties of Lancaster and Chester: particularly in the town and neighbourhood of Manchester. This work, penned under the influence of multiple disappointments and published anonymously, consisted in a number of satirical and libellous sketches of local notables and gave great offence.

After the sequestration of Stretford, Seddon appears to have sought to supplement his income by writing and by serving as chaplain to the earl of Lonsdale. In 1786 he published his most significant work, Letters written to an officer in the army on various subjects, religious, moral, and political, with a view to the manners, accomplishments, and proper conduct of young gentlemen, in two octavo volumes. This work, probably addressed to his brother the future Lieutenant-General Daniel Seddon, together with his other published output (a number of sermons and a volume of 1780 entitled Impartial and Free Thoughts on a Free Trade to the Kingdom of Ireland) reveal him generally to have been a man of conventional high-church tory views.

Although in the autobiographical introduction to the Letters Seddon described himself as retired from all professional engagements and without hope of succeeding to any, his career seems to have revived in 1788, when he was nominated to the perpetual curacy of St Anne's Lydgate in Saddleworth, which he held in plurality with Stretford. The living was poor, however, and his debts continued to increase. In the 1790s he was prominent in co-ordinating anti-radical activity in the area and in 1794 he became chaplain to the 104th regiment of foot, the Royal Manchester volunteers, before leaving in 1795 to join the regiment at Belfast. He met his death by drowning, possibly with men from the regiment who had been transferred to an expeditionary force to the West Indies and whose transport was lost in a gale on 18 November 1795 near Portland. No notification of his death, however, reached Manchester before May 1796, and its precise date remains uncertain.

Sources
+ T. Seddon, Letters written to an officer in the army on various subjects (1786)
+ C. C. W. Airne, St Anne's Lydgate: the story of a Pennine parish, 1788-1988 (1988)
+ F. R. Raines, 'Catalogue of incumbents of Lydgate', Chetham College Library, Raines MSS, 15.57
+ J. F. Smith, ed., The admission register of the Manchester School, with some notices of the more distinguished scholars, 1, Chetham Society, 69 (1866)
+ J. Bailey, Old Stretford (1878)

Wealth at death probably in debt: Airne, St Anne's Lydgate
---
Contact the author and navigate this site
---
Want to ask questions, offer information or pictures, report errors, suggest corrections or request removal of personal information? Contact author
Notes on sources
Anderson family tree
Information is largely taken from the book 'The Andersons of Peterhead'. This was based on the records made by John Anderson 1825/1903 [VIII 32], known as 'China John'. This was brought up to date in 1936 by Cecil Ford Anderson [X 17] and Agnes Donald Ferguson [CS 45 X b]. Many photographs were taken and compiled in an album by Olive Edis (daughter of Mary Murray, daughter of Andrew Murray (2) of Aberdeen). Corrections to both Janet Innes Anderson's and Alexander Murray's death dates from Robert Murray Watt and Iain Forrest.
Forrest family tree
Iain Forrest kindly supplied material to update the Forrest family (progeny of William Forrest) details.
Hibbert family tree
The information is largely taken from a tree compiled by F.B. (she knows who she is!) with extra material found by the author.
Murray family tree
The 'Genealogical Table showing various branches of the Murray family', from which this information was taken, was prepared by Alexander Murray of Blackhouse, extended by Andrew Murray - advocate - Aberdeen circa 1880 and further extended by Arthur Murray Watt 1972. The generational notation is the author's.
Pike family tree
Information from family sources as well as 'Burke's Landed Gentry' 1875
Stevenson family tree and many Stevenson and Anderson photos
Deepest thanks for some fantastic pictures and for writing the wonderful book 'Jobs for the Boys' to Hew Stevenson, which you can see on www.dovebooks.co.uk.
And the rest
Thanks also to all who have written in with information, advice, help and, most importantly, corrections.
© John Hibbert 2001-2013
28 February, 2021