Elisabeth Gilberte Innes Beckett
---
Generation 5 ii
Contact the author and navigate this site
Elisabeth Gilberte Innes Beckett b.29 July 1924 d.7 February 2009.
Daughter (ii) of His Honour Ronald Brymer Beckett b.1891 d.1970 and Norah Ford Anderson b.1891 d.1972. More information
Married 14 December 1942 Richard 'Dick' Oswald Hibbert b.16 December 1914 d.14 October 1979. The marriage was dissolved in 1958.
They had the following children:
Other information
Elisabeth Gilberte Innes Beckett was throughout her life an exponent of ideas and concepts frequently well ahead of their time and which partly through her efforts have become accepted as mainstream. She was a tireless crusader for causes of principle that often arrayed her against the authority of the establishment. For five decades she was a champion of organic and biodynamic farming and whole-foods cooking, running several farms and operating restaurants in Oxford and Bristol. She was also a proponent of early childhood education based on the principles of the Austrian philosopher Rudolf Steiner, and operated a nursery school for some years in Oxford. In her last years, as one of several constitutional cases that she spearheaded, she refused to pay her council tax in protest at the expenditure of funds for activities not properly approved by Parliament and appealed her case to the High Court.
Elisabeth was born in 1924, the second daughter of Nora Ford nee Anderson and Ronald Brymer Beckett, later a High Court Judge in India and after independence a prominent art historian. She lived in India until age four, when she returned for schooling in England, where she attended Vyne Stratton and later Cheltenham Ladies College. On the outbreak of the Second World War, she became a telephone operator at the local hospital until she rejoined her family in India.
As her ship passed the Cape of Good Hope in convoy, the passengers heard with some amusement a report from German radio, claiming that the German Navy had sunk the very ship in which they were travelling.
In 1942, Elisabeth married Richard Oswald Hibbert, a district officer, in the Indian Civil Service, in the Lahore Cathedral. At the reception live doves were supposed to fly out of the cake, but they fell asleep and had to be thrown up into the air. After the marriage they lived in Kangra district, near Dharamsala. She toured widely and was chairwoman of the committee which cared for the welfare of families of Indian soldiers fighting in Burma.
She returned to England in 1944 where she worked for the Picture Post and on BBC Publications before her husband rejoined her in 1947, following Indian independence. The marriage was dissolved in 1958.
Following the breakdown of her marriage in 1956, the family moved to Oxford where due to the refusal of her ex-husband to pay even adequate maintenance, she found herself in grave financial difficulties. At this time she found that it was actually cheaper to feed her children on good whole food.
She became a member of the local soil association and was involved in the campaign to prevent the demolition of the terraced houses of Jericho district. She became chairwoman of the National Council of Women standing committee on animal welfare. In that role she organized conferences and meetings in Oxford and Reading including speakers such as Lady Eve Balfour and nutritionist Dr Hugh Sinclair. As a result of the conference, the organization "Compassion on World Farming" was started Oxford on man's involvement with animals. . She also started the local Oxford Soil Association. She was subsequently asked by the local Labour Council to investigate the issue of water fluoridation. As a consequence of her report, the council decided against fluoridation of the local water supply.
Elisabeth had a lifelong curiosity about and respect for other cultures and religions. In 1963 she gave hospitality to several Tibetan lamas, who had escaped from the Chinese. One of them, Chögyam Trungpa Rinpoche was a Buddhist meditation master, scholar, teacher, poet, artist, and a Trungpa tülku. Another, Chöje Akong Rinpoche, is a tulku in the Kagyu school of Tibetan Buddhism. They founded the Samye Ling Monastery in Dunfries.
In the late 1960s, she started the Ark Nursery School in a small cottage in Headington, Oxford. The school, which ran for more than a dozen years, followed an integrated approach to early childhood education, which incorporated daily bread-making and gardening into the timetable. The approach used ideas from D.W. Winnicott's The Child, the Family and the Outside World and Rudolph Steiner's Growth of the Child, but was also inspired by Elisabeth's own experience with children and philosophy of education. The school not only catered for many Oxford children but also trained young teachers from England, Europe, and the United States. The school and its practices were described in the book Free Way to Learning: Educational Alternatives in Action, published by Penguin Books in 1974.
In the 1970s, she owned and operated two restaurants in Oxford and Bristol that served organically and biodynamically grown foods. The restaurants were supported by her own smallholding which supplied organic meat and vegetables to the restaurant. She purchased other foods, such as cheese and cider, directly from other local small producers to ensure high quality. The restaurants were called Bevers, which is an Anglo-Norman word meaning light repast. Again these establishments served as training grounds for young employees to learn food preparation and serving and the benefits of whole foods to the health of people and the land.
No matter how busy she was, Elisabeth found time to raise issues and bring them to the attention of people in power. Often these efforts had lasting effects. In the 1970s, she organised and presented a petition to the Labour government against employee dismissal for failing to join a closed shop under the proposed Trade Union and Labour Relations Act. It was rejected. She then successfully lobbied Lord Hailsham with the idea of a conscience clause in which employees could opt out of the closed shop. With this opposition pressure, the government incorporated the clause. The principle is now incorporated into human rights law.
Throughout the 1980s and 1990s, she operated biodynamic farms in Essex, Devon, and Wiltshire. In Calne, Wiltshire, she organised meetings for local farmers to consider the growth of the European Union and its effects on British farming.
In the 1980s and 1990s, she researched and drafted two books on India, one on the Amritsar riots and one on the formation of the East India Company. In these books, she tried to correct what she felt were fundamental inaccuracies in previous historical accounts, which had been advanced and repeated for political purposes, in contradiction to eyewitness evidence.
Although not a lawyer, Elisabeth studied law for a number of years and was learned in history and precedence. In 2003, she helped lead a protest against legal practices that disadvantage fathers in parental rights cases, culminating in an occupation by Fathers 4 Justice of Court No. 1 of the Principal Registry of the Family Division of the High Court in London.
As a result of her experiences with the law, she became increasingly concerned that the British Constitution was being progressively eroded by successive governments. She was particularly incensed by the false assertion that we do not have a written constitution. When she learned that her council tax payment was being used for a European Union inspired regional assembly, she decided to bring legal action. She brought four cases against the government for breach of contract, breach of trust, legal fraud, and treason. All were sent back by Lord Goldsmith with the judgment "No such case known in Law." She subsequently refused to pay the local tax on her home in Alston, Cumbria, in protest against the illegalities of the council tax under constitutional and case law. For this, she was threatened with eviction, forcible confiscation of her property, and bankruptcy. The case earned her a place on the "Brits at Their Best" website.
In 2008, Elisabeth lodged a case of treason against Gordon Brown at Newcastle Court for forcing the Queen against her oath to sign the Lisbon Treaty. The case is not yet resolved.
In these late skirmishes, it became commonplace for Elisabeth to direct letters to Tony Blair, Gordon Brown, Queen Elizabeth, and the Archbishop of Canterbury, pressing her case, with detailed precedent and case study going back to the Magna Carta. These campaigns were embarked on with a fierce determination to expose the unprincipled behaviour of public officials and to hold them to a higher standard of truth.
Elisabeth is survived by four children, twelve grandchildren, and a great granddaughter.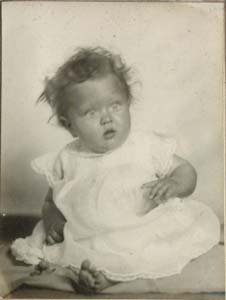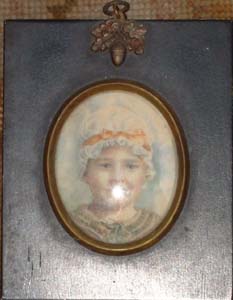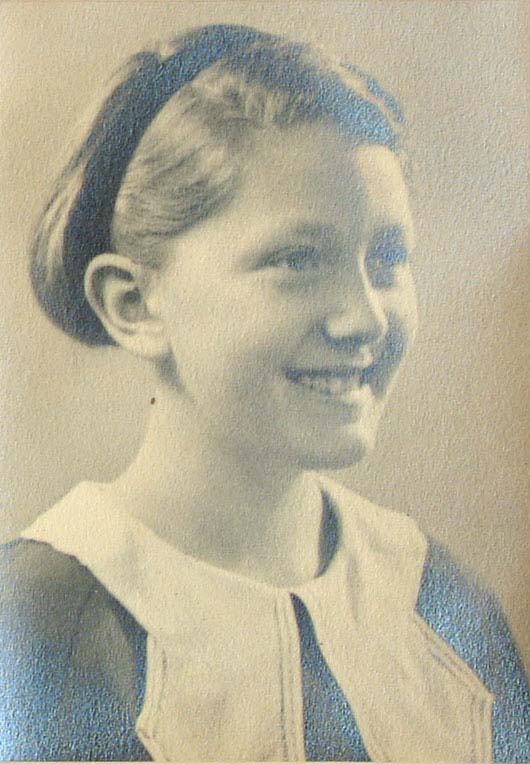 Elisabeth Gilberte Innes Beckett: baby, child, cap on because of an attack of ringworm, schoolgirl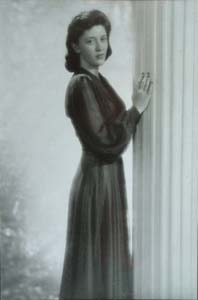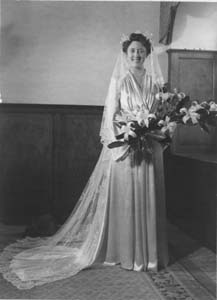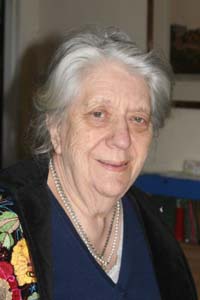 Elisabeth Gilberte Innes Beckett: teenage, wedding day, old age
---
Contact the author and navigate this site
---
Want to ask questions, offer information or pictures, report errors, suggest corrections or request removal of personal information? Contact author
Notes on sources
Anderson family tree
Information is largely taken from the book 'The Andersons of Peterhead'. This was based on the records made by John Anderson 1825/1903 [VIII 32], known as 'China John'. This was brought up to date in 1936 by Cecil Ford Anderson [X 17] and Agnes Donald Ferguson [CS 45 X b]. Many photographs were taken and compiled in an album by Olive Edis (daughter of Mary Murray, daughter of Andrew Murray (2) of Aberdeen). Corrections to both Janet Innes Anderson's and Alexander Murray's death dates from Robert Murray Watt and Iain Forrest.
Forrest family tree
Iain Forrest kindly supplied material to update the Forrest family (progeny of William Forrest) details.
Hibbert family tree
The information is largely taken from a tree compiled by F.B. (she knows who she is!) with extra material found by the author.
Murray family tree
The 'Genealogical Table showing various branches of the Murray family', from which this information was taken, was prepared by Alexander Murray of Blackhouse, extended by Andrew Murray - advocate - Aberdeen circa 1880 and further extended by Arthur Murray Watt 1972. The generational notation is the author's.
Pike family tree
Information from family sources as well as 'Burke's Landed Gentry' 1875
Stevenson family tree and many Stevenson and Anderson photos
Deepest thanks for some fantastic pictures and for writing the wonderful book 'Jobs for the Boys' to Hew Stevenson, which you can see on www.dovebooks.co.uk.
And the rest
Thanks also to all who have written in with information, advice, help and, most importantly, corrections.
© John Hibbert 2001-2013
28 February, 2021