Sir Joseph Yates (4) of Peel Hall, Lancashire
---
Generation 6
Contact the author and navigate this site
Sir Joseph Yates (4) of Peel Hall, Lancashire [picture] b.1722 d.1770 buried at Cheam, Surrey.
Son of Joseph Yates (3) of Peel Hall, Lancashire b.1690 d.November 1773 at Preston, buried at Peel Hall Chapel 1 December 1773.
Married Elizabeth Baldwyn [picture] , daughter of Charles Baldwyn of Munslow, Salop. The name Munslow was altered in later years and in 1929 the house was burnt down.
They had one son:

4 January, 2011

Other information Back to top of page

An inscription in the Lumley Chapel, cheam reads:-
Sacred to the memory of the Honourable Sir Joseph Yates, Knight of Peel Hall in Lancashire, successively a Judge of the Court of King's Bench and Common Pleas, whose merit alone advanced him to the seat of Justice which he filled with the most distinguished abilities and invincible integrity. He died the 7th day of June 1770 in the 48th year of his age, leaving the world to lament the loss of an honest man and able judge firm to assert and strenuous to support the laws and Constitution of his Country.
He was alluded to in the letters of Junius as "that just judge", "that honest man" and was the subject of Byron's epigram.
In the annual register of 1770 headed deaths:-
Sir Joseph Yates one of the honestest Judges that ever filled the Bench. He was educated at the Manchester Grammar School and Queen's College, Oxford.

From the Dictionary of National Biography:-
"YATES, Sir JOSEPH (1722–1770), judge, was the younger son of Joseph Yates of Stanley House, Lancashire, barrister-at-law, by his wife Helen, daughter of William Maghull of Maghull, and heiress of her brother Edward Maghull. The father served the office of high sheriff of the county in 1728, and by the will of a relative he succeeded in 1730 to the Peel Hall estate in Little Hulton in the same county, but, through the great expense incident on an attempt to develop the large coal-fields under the property, his affairs were seriously embarrassed. The son Joseph was born at his father's house in Manchester, and was baptised at the collegiate church on 17 July 1722. He received his education at the Manchester grammar school when Henry Brooke [q. v.] was high master, entering in August 1737. Thence he went to Queen's College, Oxford, where his expenses were paid by his relative, Mr. Serjeant Bootle; he matriculated on 7 Dec. 1739, but left without a degree. He entered Staple Inn, where his arms are emblazoned on the south window of the hall, but removed to the Inner Temple, practising as a special pleader from Michaelmas 1748 till he was called to the bar in July 1753. He quickly attained a high reputation and extensive practice, and was employed by the crown in the litigation arising out of the militia riots of 1758, and in the proceedings against John Wilkes in 1763. In June 1761 he was made king's counsel for the duchy of Lancaster. After little more than ten years at the bar he was offered a judgeship of the king's bench, which he reluctantly accepted on 23 Jan. 1764. In anticipation he had received the honour of knighthood on 16 Dec. 1763, and in February 1765 he was made chancellor of Durham. Not holding at times the same opinions as his chief, Lord Mansfield, he exchanged his judgeship for one in the court of common pleas on 16 Feb. 1770. He died a few months later, 7 June 1770, and was buried near his residence at Cheam. Yates was an able lawyer. The opinions which he advanced in his dispute with Lord Mansfield were subsequently shown to be correct, and were confirmed by the House of Lords. Subsequently Junius in his first letter to Lord Mansfield wrote: 'The name of Mr. Justice Yates will naturally revive in your mind some of those emotions of fear and detestation with which you always beheld him. That great lawyer, that honest man, saw your whole conduct in the light that I do. After years of ineffectual resistance to the pernicious principles introduced by your lordship, he determined to quit a court whose proceedings and decisions he could neither assent to with honour nor oppose with success.' Yates was a man of integrity and industry, and was of generous disposition. His punctilious regard for dress attracted much attention from the wits. By his wife Elizabeth, daughter of Charles Baldwyn of Munslow, Shropshire, a lady of ancient Scottish descent, he left one son, whose descendants have distinguished themselves in the legal profession, and one daughter".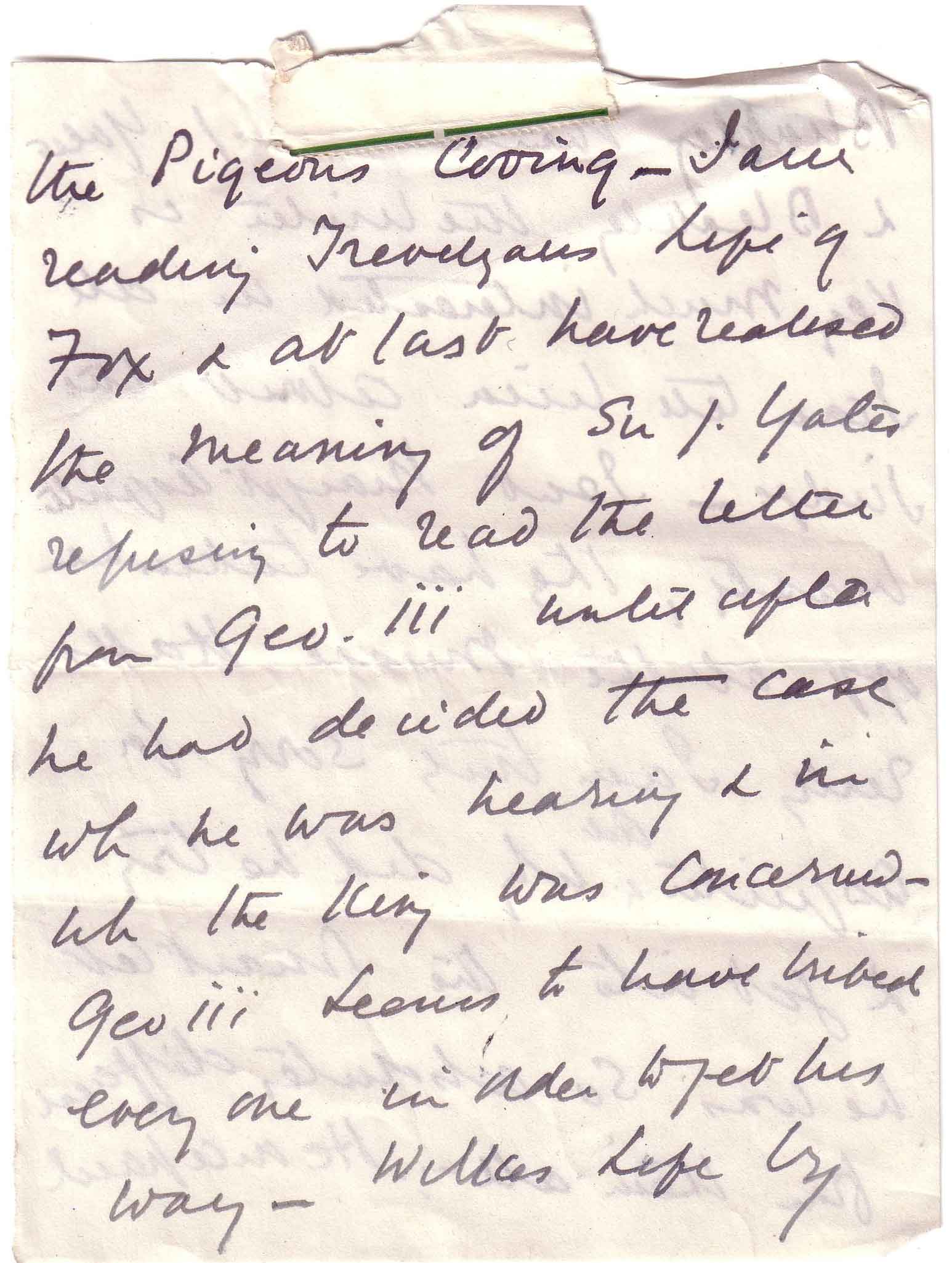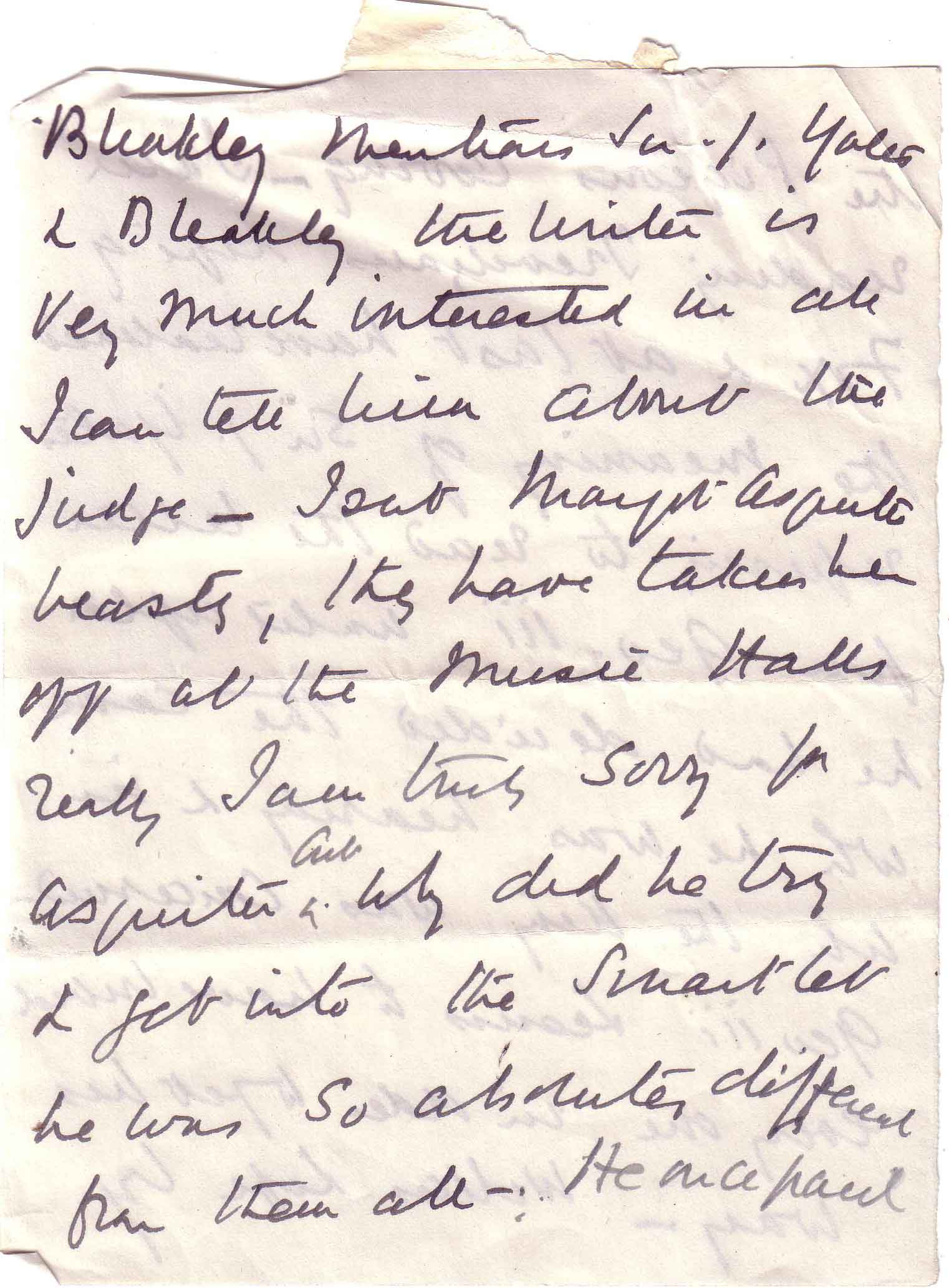 Letter written - possibly by Emily Augusta Diana Yates b.20 July 1853 at Wellbank, Sandbach, Cheshire d.15 October 1942 at Leicester - with reference to the reputation for integrity of Sir Joseph Yates b.1722 d.1770
More photos below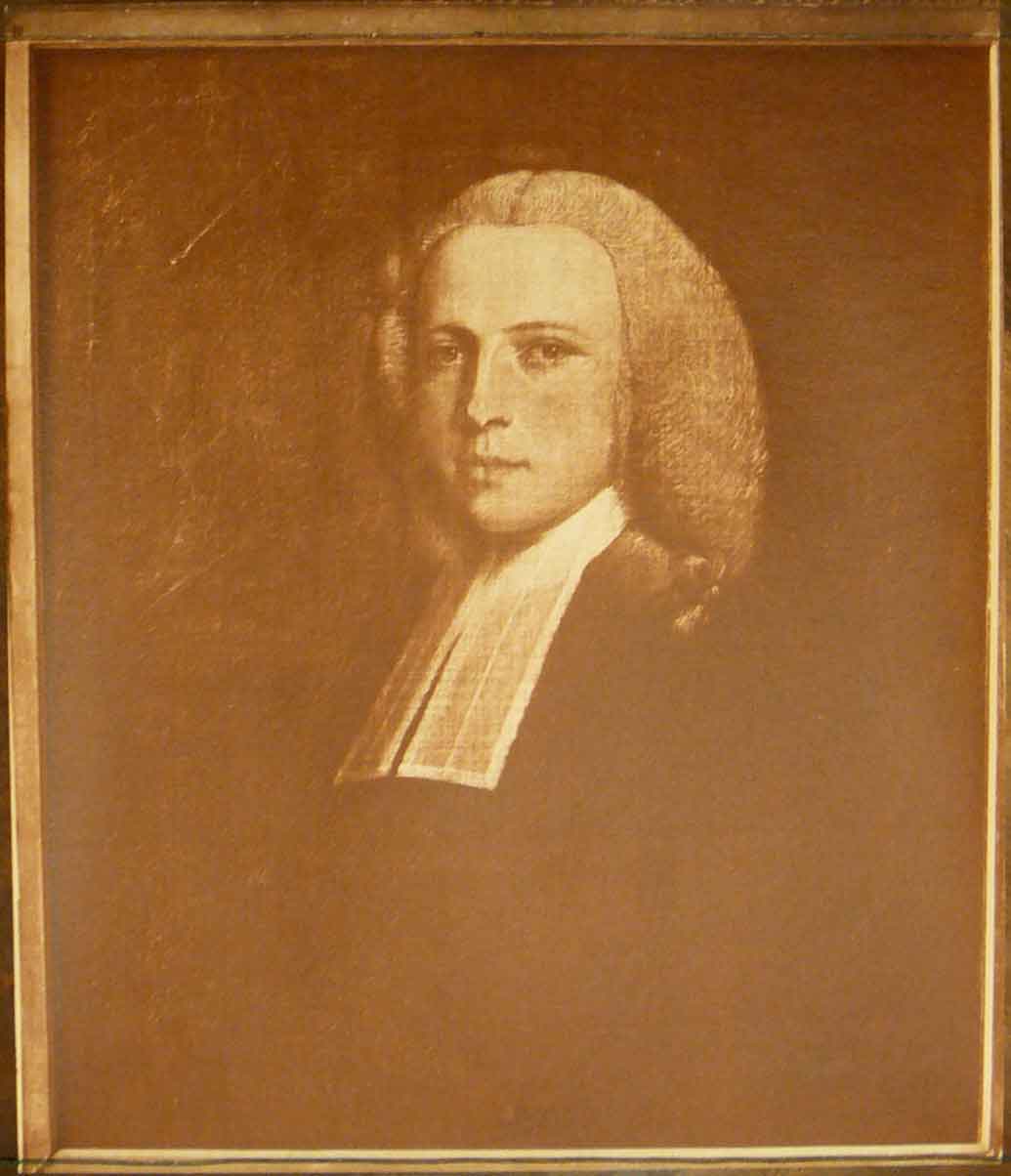 Sir Joseph Yates b.1722 d.1770
More photos below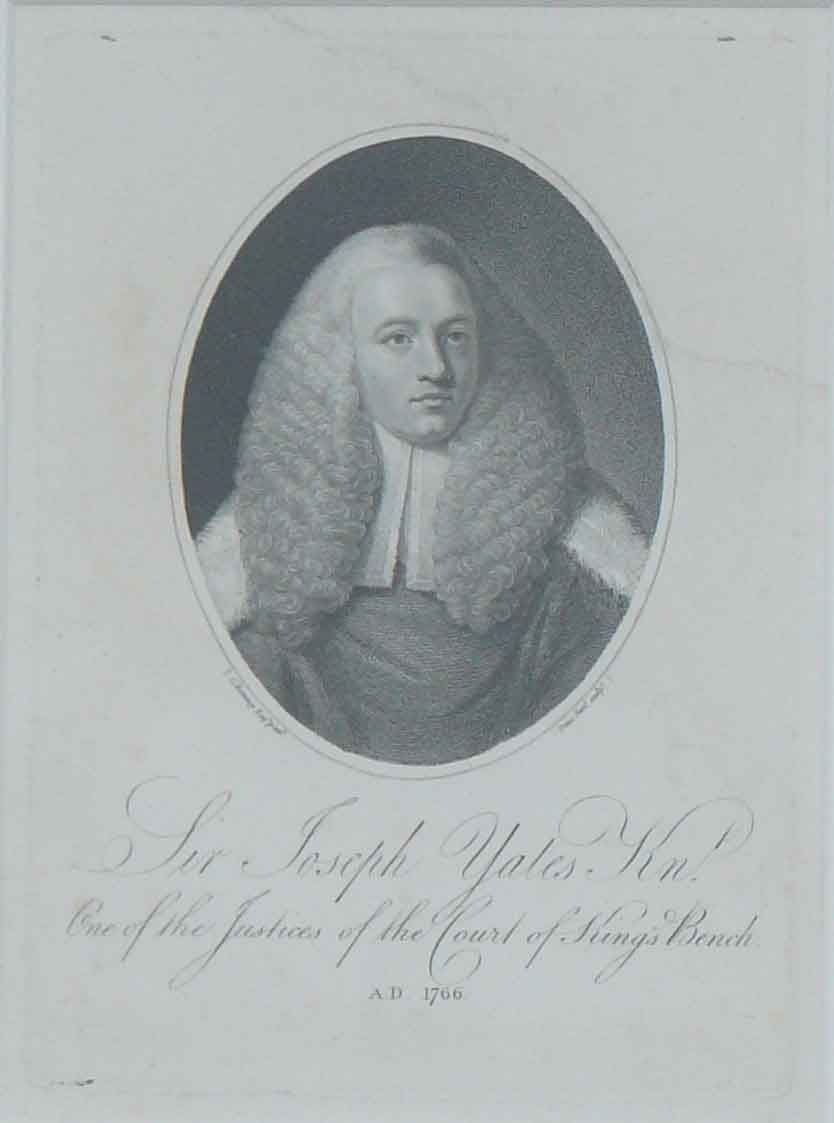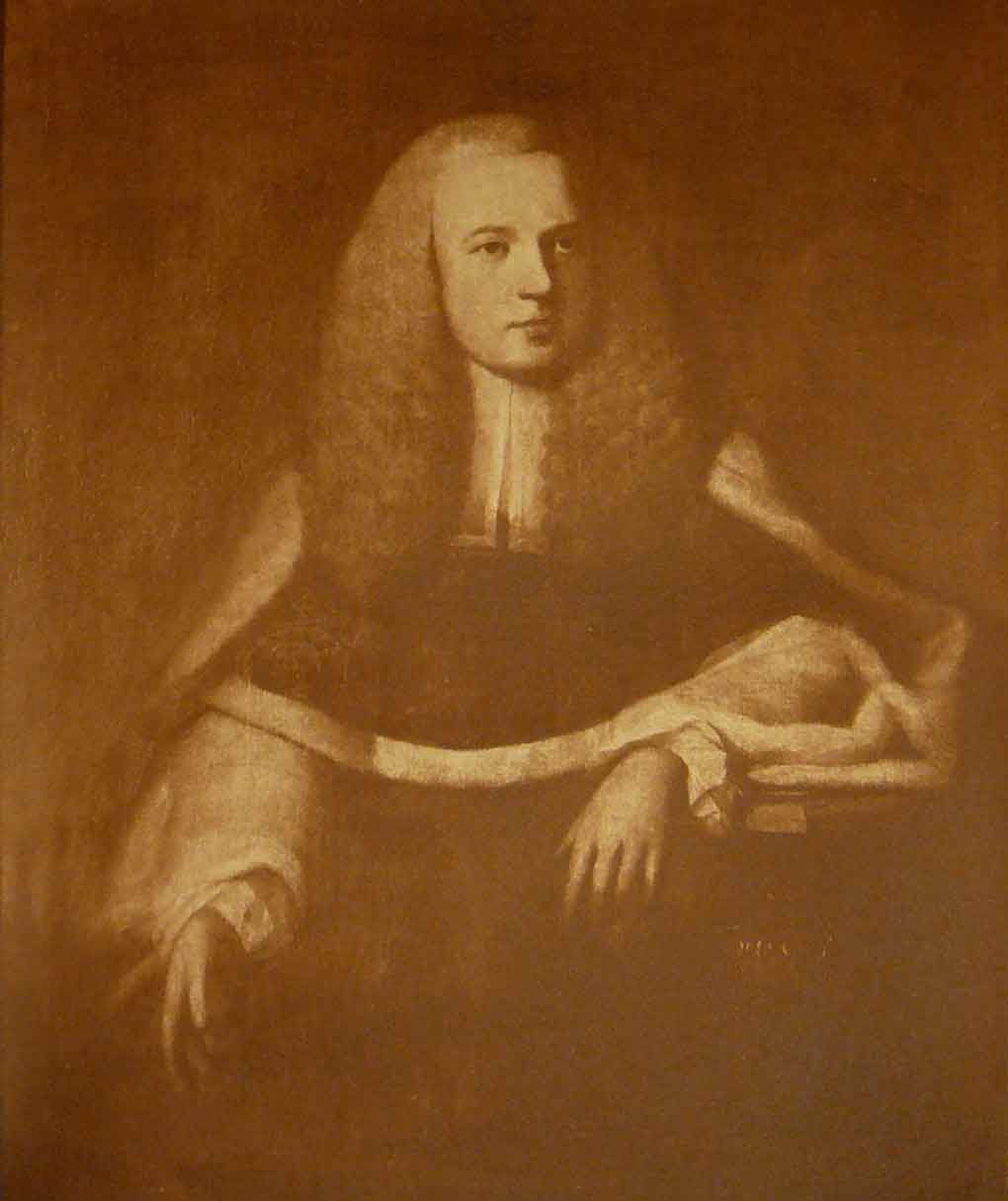 Sir Joseph Yates b.1722 d.1770, engraving and original, painted by Romney.
It was in the possession of his great-great-grandson Joseph Maghull Yates in 1914.
More photos below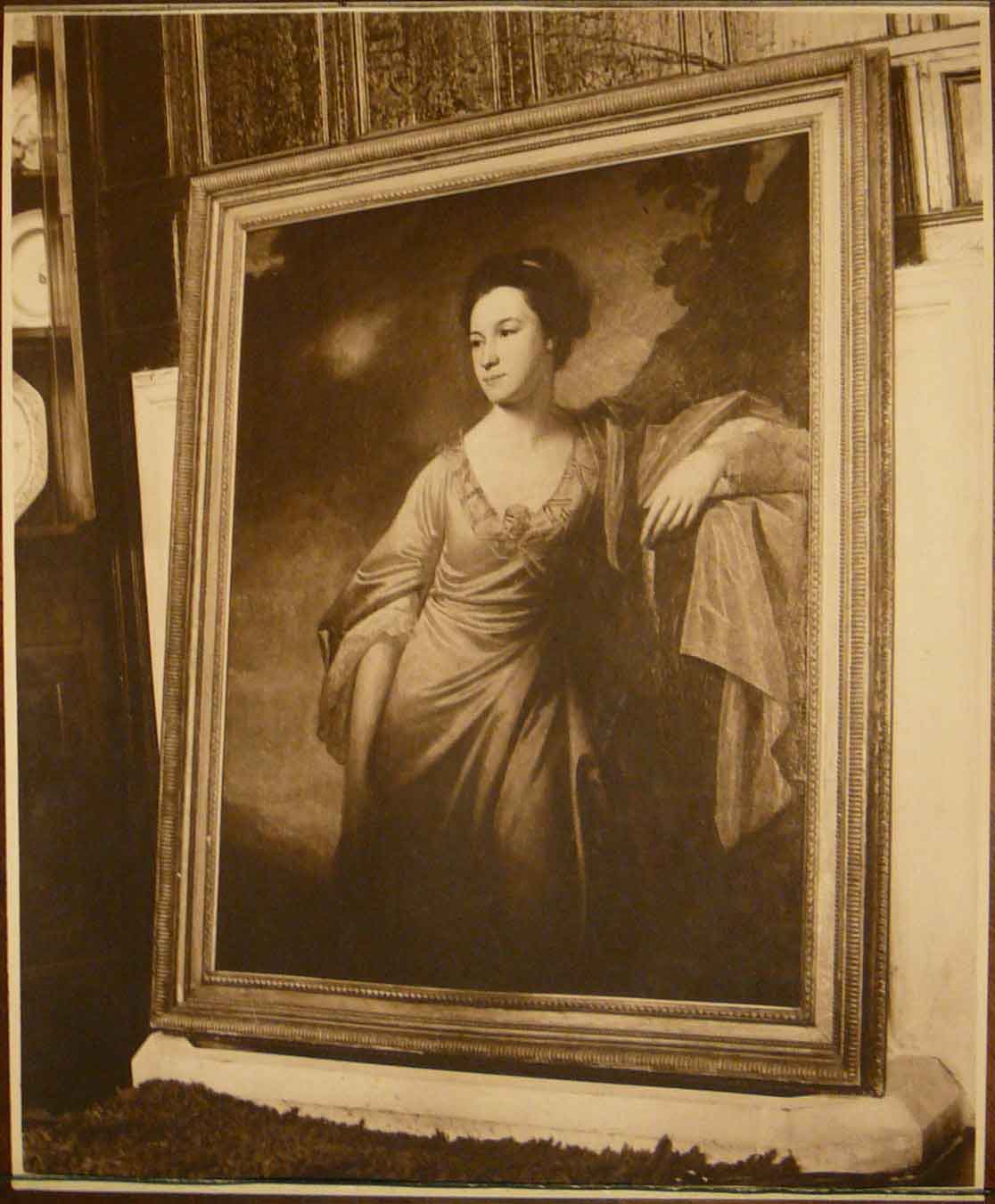 Elizabeth Baldwyn, wife of Sir Joseph Yates
---
Contact the author and navigate this site
---
Want to ask questions, offer information or pictures, report errors, suggest corrections or request removal of personal information? Contact author
Notes on sources
Anderson family tree
Information is largely taken from the book 'The Andersons of Peterhead'. This was based on the records made by John Anderson 1825/1903 [VIII 32], known as 'China John'. This was brought up to date in 1936 by Cecil Ford Anderson [X 17] and Agnes Donald Ferguson [CS 45 X b]. Many photographs were taken and compiled in an album by Olive Edis (daughter of Mary Murray, daughter of Andrew Murray (2) of Aberdeen). Corrections to both Janet Innes Anderson's and Alexander Murray's death dates from Robert Murray Watt and Iain Forrest.
Forrest family tree
Iain Forrest kindly supplied material to update the Forrest family (progeny of William Forrest) details.
Hibbert family tree
The information is largely taken from a tree compiled by F.B. (she knows who she is!) with extra material found by the author.
Murray family tree
The 'Genealogical Table showing various branches of the Murray family', from which this information was taken, was prepared by Alexander Murray of Blackhouse, extended by Andrew Murray - advocate - Aberdeen circa 1880 and further extended by Arthur Murray Watt 1972. The generational notation is the author's.
Pike family tree
Information from family sources as well as 'Burke's Landed Gentry' 1875
Stevenson family tree and many Stevenson and Anderson photos
Deepest thanks for some fantastic pictures and for writing the wonderful book 'Jobs for the Boys' to Hew Stevenson, which you can see on www.dovebooks.co.uk.
And the rest
Thanks also to all who have written in with information, advice, help and, most importantly, corrections.
© John Hibbert 2001-2013
28 February, 2021