William Pike (2) of Glendarrary, Achill Sound, County Mayo
---
Generation 7 iii
Contact the author and navigate this site
William Pike (2) of Glendarrary, Achill Sound, County Mayo d.1881
Son of Jonathan Pike of Beech Grove, County Tyrone b.1782 d.1860. Justice of the Peace, Barrister-at-Law. More information
Married on 26 August 1843 Marion Watson [picture] d.1866 daughter of John Watson of Toxteth Park, Lancashire.
They had the following children [pictures]:
M
i
Major Richard James b.17 February 1850 d.29 November 1891. Suffolk Regiment
Married in 1879 Mary Emily Todd-Naylor
F
ii
Mary Anne Laming d.1859
M
iii
Major-General Sir William Watson b.10 March 1860 d.26 June 1941
Married in 1886 Sarah Louisa Wheatley d. 3 March 1918
F
iv
Sarah Helen Nicholson d.1865
F
v
Elizabeth Barrington d.1921
F
vi
Marion Watson d.1889
Married Harry Baycliff Osbourne. They had unknown children.
F
iv
Isabella Harriet Wilkinson d.1945
Other information

I have seen a fine gold watch which has incribed on the back:



"PRESENTED TO WILLIAM PIKE OF LIVERPOOL,
And of Beech Grove in the County of Tyrone, Esqr
BY DCCIV ADMIRERS OF HIS COURAGE,
in rescuing a female from drowning
IN THE RIVER MERSEY
on the night of 5th Novr 1842"



On wirralhistories.net it quotes Liverpool Mercury November 11 1841.



"Praiseworthy and Heroic Conduct


On Saturday last, about five oclock, as one of the Woodside Ferry boats was about to leave the broad steps at George's Pierhead, a female who was rather late, missed her footing, and fell into the river. She immediately passed under the paddle wheel, was carried down the river by the ebb tide, and had disappeared twice under the water, when a gentleman of the name PIKE divested himself of his coat, and in the most heroic manner leaped from the stern of the vessel to her rescue. Being an excellent swimmer, he soon reached his object, whom he caught, and a small boat pushed off, reaching the parties in ti[m]e to save both. We believe the gentleman has not suffered from his manly and generous efforts, and we are gratified to learn that a subscription, not exceeding one shilling, has been commenced at Woodside, for the purpose of presenting Mr PIKE with a small token of the admiration in which his conduct is held high by his friends and the public."

William Pike bought just under one-seventh of Achill Island in 1852 for £2,333 6s 8d, equal parts being bought by Thomas Brassy and Samuel Holme; the remainder was bought by the Achill Mission [to convert Roman Catholics] for £10,500. Very soon William Pike bought out Brassy and Holme and the Pike estate then comprised nearly one third of the island.

He presumably bought the land as an investment, having previously been on the Committee of Birkenhead Improvements. Whether he used practices which landlords had found successful in England and Scotland earlier, including the Land enclosures and Highland clearances, or actually was legally obliged in taking ownership to terminate leases of the previous landlord, Daniel Petit Junior questions in his very interesting thesis [please report if this link is found to be broken]. Petit concedes Pike was at least not an absentee landlord, though of course his farming practice was carried on in the interests of increasing his income from cattle farming at the expense of traditional tenant use of lands, and he quotes a local historian Anna Falvey

"The eviction of the Pike Estate tenants on Achill Island took place a few days before Christmas [says in 1896, though most accounts give it as 1854; this Pike was dead by 1896 and his son behaved very differently in different times] because of two to eight years rent arrears. These tenants had holdings of between one and five acres. Happily, the evicted were reinstated on the same day upon payment of two years rent plus costs … Several evictions had taken place in the previous few years on the Pike Estate but in most cases the evicted tenants had been reinstated when they paid off their arrears. The remainder lost their land and homes" (Falvey 1999: 35).

Petit goes on to say:-

"In 1854 the ongoing battle between [Father] Henry and the Protestant owners of the island was manifested through a series of newspaper articles that concerned evictions threatened by William Pike. On September 19, 1854, Pike's bailiff served notice on tenants in Derreen that they were to be evicted by October 30 if they had not peaceably given up their lands. Father Henry responded with a letter to the Castlebar Telegraph that was published on October 18. The letter called Pike a bigoted landowner who was endeavoring to get rid of Catholic Tenants (Henry 1854).

The situation intensified in late November when Pike received a letter, from 'Captain McGuire, Tyrawley Lodge' that stated,

You are hereby required to take notice that unless you quit your tyranny and persecution in Achill by wasting the lands and compelling poor Roman Catholics to leave their homes and lands for their religion that your death warrant is signed and sealed by a judge and jury of Molly McGuire (Bracken 1992: 81; orig. 1854).

On December 19, 1854, a letter in which Pike responded to these allegations and threats was published in the Mayo Constitution. Besides republishing Father Henry's original letter he replied:

As to the turning out of tenants I have ejected neither Protestant nor Roman Catholic, although I have had in my possession for two years an injunction by which I might have turned out eighty four families (Pike, 1854)

The injunction that he was referring to was the right to vacant possession that he received from the Encumbered Estates court. He went on to say

I certainly shall eject some of the worst characters who have ever been ready to listen to bad advisers and who contaminate the neighbourhood in which they reside (Pike 1854).

At this point, according to Anne Gannon (1990) and Anna Carty (1997), Baile na hAilte was evicted on Christmas Eve. This seems unlikely, however, since no mention of evictions in December was made in the ongoing newspaper debate between Father Henry and William Pike, which continued for several months into 1855. Certainly, neither made any mention of evictions over barking dogs or the village being burnt to stave off its inhabitants. An eviction did take place slightly later, however, as Father Henry eloquently wrote in another letter, published in the February 5, 1855 edition of the Freeman Journal:

The brave and hardy islanders, whose brethren fought so nobly for their country at Alma, Balaklava, and Inkerman, must fly their ancient native mountains, and cross the Atlantic to feed the strength of other nations- to make way for the goat and the game- though a loyal, peaceful patient, well-disposed tenantry, not owing one shilling rent. The sheriff and a posse of police were brought a few days ago, to eject and entire district of Achill. Some, it is true, were allowed to remain in their houses during the landlord's pleasure, while the crowbar did its work levelling the houses of several families who were drifted on the world in this very inclement season when frost and snow cover our bills; and it is painful for me to add, that the parents of some of the evicted refused a night's shelter to some of their children, lest, by so doing, they might incur the landlord's displeasure… The weeping of mothers and the cries of the children overpowered the hearts of fond fathers in beholding their houses unroofed, and their black gables giving way to the crowbar. But they were Catholics- they were attached to the faith of their fathers, and there was no home for them… We have at this moment some families who were evicted living in the chapel of Kildavnet and in the schoolhouse adjoining it; and as their friends dare not shelter them from the inclemency of the weather, they must remain in the present position until an all-merciful God open for them a door in some more Christian land (Pike 1855).

William Pike again republished Father Henry's letter with his own response in the Mayo Constitution. The article, entitled "Father Henry on Evictions," stated that eighty families were thrown out, but only two permanently:

We, on the authority of the Sheriff and every person who was present when the lands were taken possession of, fearlessly declare that of the eighty families being thrown out, only two were disturbed, and these because they were persons whom the landlord could not safely leave on his estate, from the turbulence of their characters, and to evict whom it was necessary to bring a police force to preserve the peace; the remainder of the tenantry were merely formally removed and let back into possession; but to create a grievance, Father Henry put one fellow named Lavelle, into the chapel, and the other into the national school-house (Pike 1855).

At this point the 'fellow named Lavelle' that William Pike mentioned also joined into the newspaper debacle. In an article published February 21 he wrote that the affected evictions were based on frivolous reasons and were really prompted by a bigoted desire to get rid of Catholic tenants. Pike replied

I shall feel ever grateful for the manner you have upheld me when right, as one of a class of recent purchasers in this country whom it has been sought to intimidate and annoy by every species of threats and calamnity. I again state I am not the person to be influenced by such means. Every possible effort has been made by Reverend Mr. Henry to create a bad impression in the minds of my tenants on against me. Has he not in the Mayo Telegraph declared that he would find a home in the Currane for any that I should eject, and has he not a hundred times told the people to set me at defiance and he would get them land elsewhere … Were it not for his teaching I do believe I should not have been obliged to eject a single man, if I may except Lavelle (a shoemaker from Newport) who has always distinguished himself as an agitator, a shebeen house keeper (for which he was fined £2), and a troublesome neighbour. In fact the people have told me they had no peace in the village with him. He has, I am informed, now entered on a course more dangerous to himself, of which I expect the public will soon hear.

He concluded by saying that,

In spite of all the opposition and begging letters (who benefits by them?) of Mr. Henry, I find the people of this place show more good feeling towards me each day and from one end of the land to the other the same remark is make to me 'We wish Mr. Henry would mind his own business and not be setting the gentlemen and the people against one another' we wish we had never seen him' (Bracken, 1992: 81, 82; orig. 1855).

In the same issue of the Mayo Constitution another letter appeared from a Hugh McCann, which stated

We don't like that Ned Lavelle or any other person should interfere between our landlord and ourselves anymore (Bracken, 1992: 82; orig. 1855).

Ned Lavelle replied two weeks later, retorting that no such tenant existed on the Pike estate and that the letter was nothing more than the creation of a Mrs. Harris, one of Pikes' retainers (Bracken 1992: 82; orig. 1855).[vi] Lavelle's letter was the last in over four months of arguing.

The newspaper battle between Father Henry and William Pike would have been humorous if not for its heavy subject. Whether Pike's Catholic tenants saw their lives or relationships with the Protestant landlord as a dichotomy of 'us against them', their literary representative, Father Henry, obviously extolled such a viewpoint. On the other hand, William Pike asserted that they lived in peace with him, and both authors used the inhabitants to advance their own cause. Unfortunately, neither author's statements were ever reconciled or validated by a third party, leaving open the questions of how tenants and labourers interacted with the landowner as well as how many people were actually evicted. Historically, the Catholic priests of Ireland in the nineteenth century have been viewed as the voices of the peasants, and the modern day remembrance of Father Henry on the island is no exception (Bartlett 1992; Taylor 1985). In many ways, however, the inhabitants of Ailt, as in other areas, were merely the pawns of an infant national movement led by priests and more often middle class tenant and shopkeeper land agitators that rose against English aristocratic interests. When landlords began selling properties to leaseholders in the late nineteenth and twentieth centuries, it was often these middle class tenants who became the new landlords (Hoppen 1991).

During the remainder of the 1850s Pike continued to expand his properties on Achill, and by 1861 he had bought out the remainder of Upper Achill from Thomas Brassy and William Holmes. According to Anthony Kilbane (Personal Communications, July 2001), a local inhabitant, he also eventually succeeded in evicting Father Henry- a statement that was somewhat echoed by Father Joyce, writing of Father Henry in 1910,

The parochial residence was at Kildownett, but the appearance of an enemy later on in another part of the island rendered a change of position advisable" (Joyce 1910: 86).

A Father Michael Gallagher replaced him, who folklore has generally remembered as more sympathetic to the landlord.

The 1870s brought a period of recession and declining livestock prices throughout Ireland, and William Pike was undoubtedly affected by dwindling returns on his pastureland. It was during this time, according to Anthony Kilbane, that poor soils and rocky pastures forced the landlord to curtail some of his cattle drives (Personal communications, July 2001). By the census of 1881 the population of CarrickKildavnet had climbed from eight to fifty-eight, perhaps showing that Pike had reopened some portions of his pasture for tenants.

If this was the case, it did not endure. By 1891 the population of CarrickKildavnet had again declined to only thirteen individuals. According to the census of that year,

The decrease was attributed to emigration and removals" (Census of Ireland 1902: 78).

Evictions continued through the 1890s, according to Anne Falvey, and the supposed eviction of the Pike Estate on Christmas Eve, 1896, was only one of several that took place throughout the decade (Falvey 1999). Surprisingly, there was not a significant decline in population and no evictions were listed on the census of 1901 for Upper Achill. Nevertheless, if most of the inhabitants were allowed to return after paying rent arrears, as Falvey suggested, then the evictions may have been more of a scare tactic than a means of clearing tenants for more pastureland (1999). Since the 1890s were plagued by crop failures and recession in Ireland, it is not surprising to find that tenants were having troubles making rent payments.

Unlike CarrickKildavnet, the decline of the Baile na hAilte's clachans and villages in Derreen are harder to illuminate. Besides the evictions in 1854 and 1896, no others are apparent. There are no instances of evictions or sudden population declines in the census returns. The reasons for this vary. Nearly the entire townland of CarrickKildavnet was cleared, walled, and used use as a pasture by Pike. Derreen, on the other hand, was a much larger geographic area, and even if part of the land was used as pasture, the decline of inhabitants in one area could be offset by their emigration into another portion of the townland. The evictions of the area known as Baile na hAilte are especially complicated, since it includes all of CarrickKildavnet but only the southern third of Derreen. English records kept track of entire townlands, but never accomplished the same feat for individual settlements." (Daniel Petit Junior 2003 rev. Hugh O'Donnell 2007)

Pike seems to have tried to steer a moderate path, as Theresa McDonald says in her book Achill Island (publ. IAS Publications 2006), pages 178 191 and 194 where he goes against the wishes of the Achill Mission. In the same book it's stated that Sir Robert Peel came to the island in 1861, staying with Mr Pike. In 1864 William Pike wrote an article for the Tourist's Guide to Achill on the Climate and Ornithology of the island.

Achill was during this time the home of Captain Boycott, who went to Ballinrobe as Land Agent for Lord Erne. When he refused the demands of the Land League 1879-80 to reduce rents, locals refused to work for him or sell him food, and the verb 'to boycott' was coined.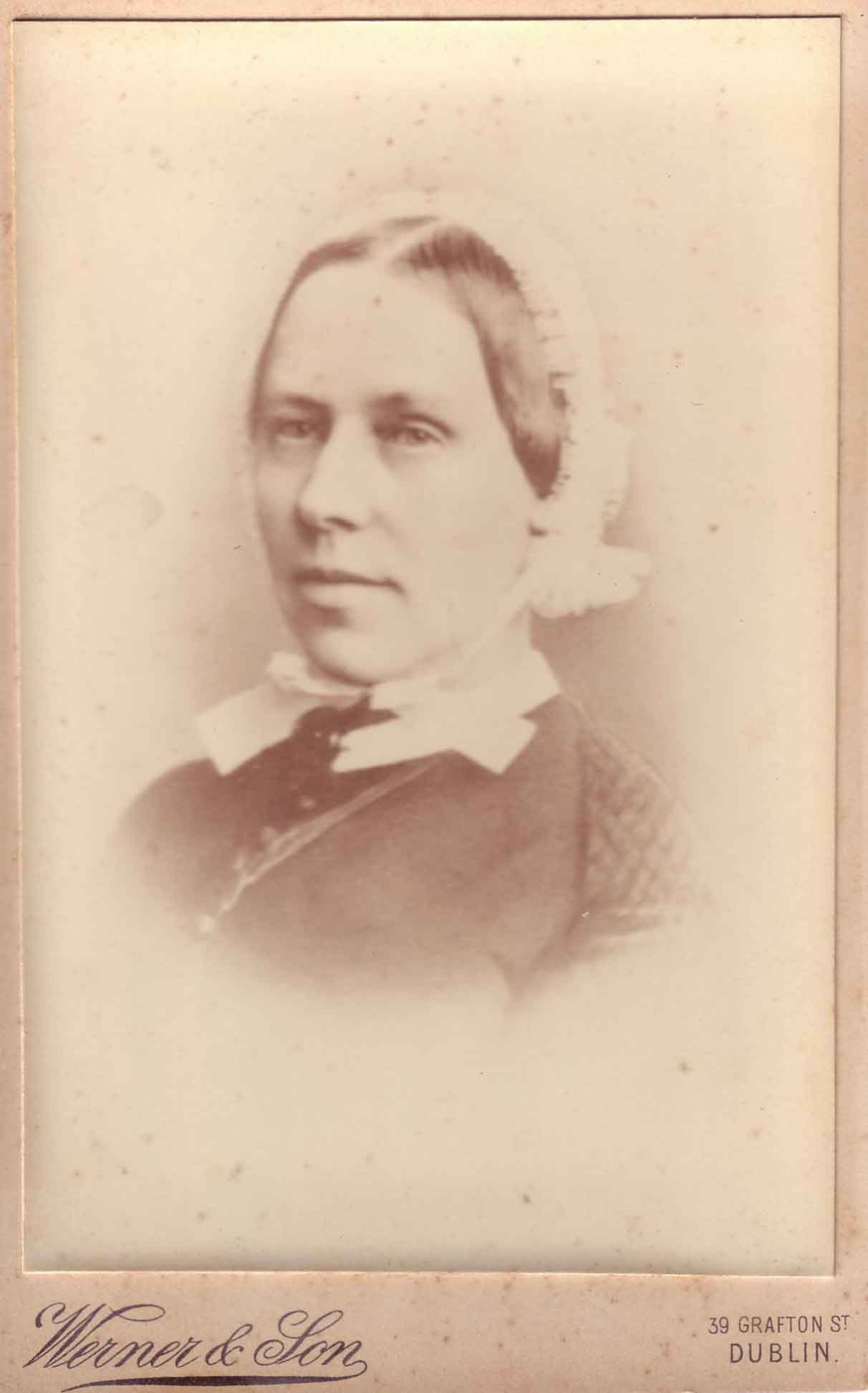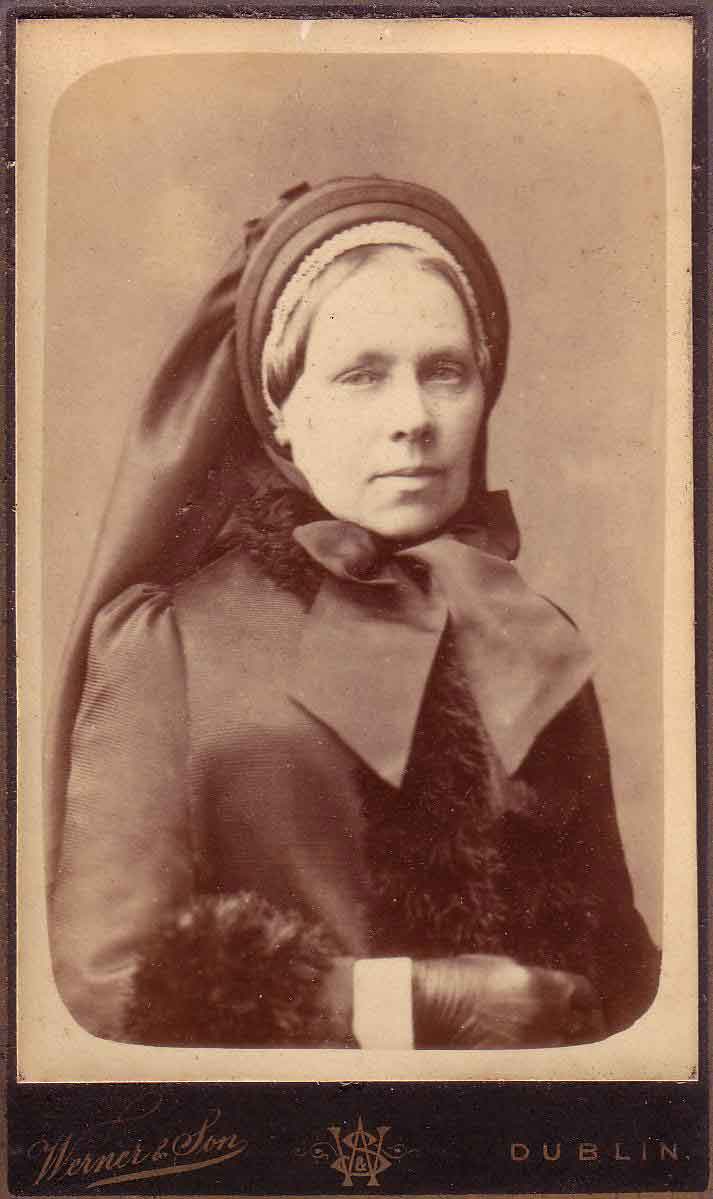 Marion Watson
This interesting research from Dawn Scotting http://bygonedaysphotography.blogspot.co.uk/2016/04/miss-m-pike-of-achill.html
" * * * Photographs as named in the Fetherstonhaugh Family Album * * *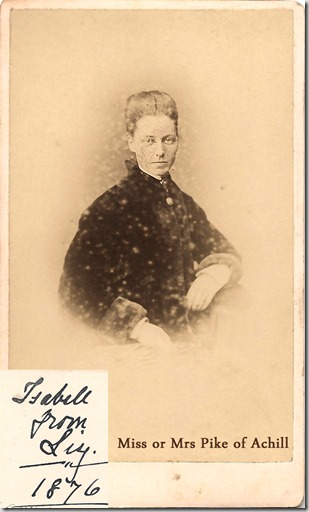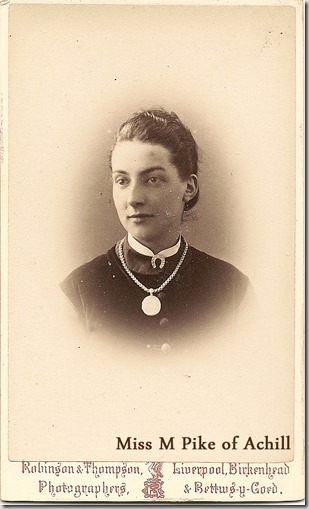 "I don't think these two women are the same person, you may have other ideas? The first photo is not very clear, I've tried to fix it up in PhotoShop but it's still hard to make out her features, her ears look very similar, hard to say with the nose, mouth is similar but the eyes look different to me. It's been rather hard to ascertain just who she is for sure so here are my thoughts on it.
"I have not found a direct link between the Fetherstonhaughs and the Pikes, relationship wise, but the Nangles (who are related to the Fetherstonhaughs) were living on the Island at the same time so I guess they all knew each other. This is a small part of an article that mentions Edward Nangle & William Pike:-


"The PIKE family settled in county Cork in the 17th century. William Pike was a barrister and third son of Jonathon Pike of Beechgrove, county Tyrone. William seems to be the only Pike on Achill so I'm presuming it is one or two of his daughters the photos are of.
"William Pike married Marion Watson in 1843 in Birkenhead, Cheshire, which looks promising because the second photo above was taken in either Birkenhead or Liverpool, the other one in Dublin. William & Marion had seven children (that I've found), the first three daughters were born in Birkenhead and the rest in Ireland, some if not all of them, on Achill Island.
"Their eldest daughter, Mary Ann Laming, died in 1859 aged 14 so neither of the photos would be her. The next two daughters are Sarah Helen and Elizabeth Barrington, no M there. The two youngest daughters are Marion Watson and Isabella Harriet, there were also two sons but they don't count!
"The word Miss or Mrs written in the album is written in such a way that it's hard to make out whether it is Miss or Mrs although one of them does have a dot for the i but that one looks more like Mrs to me! The message written on the back of one of them confuses me even more.
"The first photo might be Isabella Harriet but the message on the back is addressed to her not from her. The second one could be Marion Watson Pike born 1855 married 1879 in Birkenhead so I think it's likely to be her.
"The first photo has rounded corners which normally means it was taken sometime after 1870 when rounded corners became popular, the date of 1876 fits that. However, the second photo has square corners which are supposed to be before 1870 and if that is the case then Marion would only have been 15 or less and the woman in that photo is older than that. I guess it's possible that square corners were used after 1870, if not them we're back to square one"!
---
Contact the author and navigate this site
---
Want to ask questions, offer information or pictures, report errors, suggest corrections or request removal of personal information? Contact author
Notes on sources
Anderson family tree
Information is largely taken from the book 'The Andersons of Peterhead'. This was based on the records made by John Anderson 1825/1903 [VIII 32], known as 'China John'. This was brought up to date in 1936 by Cecil Ford Anderson [X 17] and Agnes Donald Ferguson [CS 45 X b]. Many photographs were taken and compiled in an album by Olive Edis (daughter of Mary Murray, daughter of Andrew Murray (2) of Aberdeen). Corrections to both Janet Innes Anderson's and Alexander Murray's death dates from Robert Murray Watt and Iain Forrest.
Forrest family tree
Iain Forrest kindly supplied material to update the Forrest family (progeny of William Forrest) details.
Hibbert family tree
The information is largely taken from a tree compiled by F.B. (she knows who she is!) with extra material found by the author.
Murray family tree
The 'Genealogical Table showing various branches of the Murray family', from which this information was taken, was prepared by Alexander Murray of Blackhouse, extended by Andrew Murray - advocate - Aberdeen circa 1880 and further extended by Arthur Murray Watt 1972. The generational notation is the author's.
Pike family tree
Information from family sources as well as 'Burke's Landed Gentry' 1875
Stevenson family tree and many Stevenson and Anderson photos
Deepest thanks for some fantastic pictures and for writing the wonderful book 'Jobs for the Boys' to Hew Stevenson, which you can see on www.dovebooks.co.uk.
And the rest
Thanks also to all who have written in with information, advice, help and, most importantly, corrections.
© John Hibbert 2001-2013
28 February, 2021