Elijah Hibbert of Oldham, England
---
Generation 2:i
Contact the author and navigate this site
Elijah Hibbert b. 13 July 1800 d.10 March 1846 at Lyon House, Oldham. More information
Son of Joseph Hibbert and his unknown wife.
Married, by Special Licence, 26 December 1822 Elizabeth 'Betty' Hilton[picture] d. 15 December 1864¹ aged 65; , daughter of Abraham Hilton of Cross Bank, Oldham¹.
¹Burke's County Families 1864 and Dictionary of National Biography pub. 1912 by Smith, Elder & Co. Marriage date corroborated on Lancashire online parish clerk project http://www.lan-opc.org.uk.
They had the following children:
M
i
John Tomlinson b.5 January 1824 at Lyon House, Oldham d.7 November 1908.
M
ii
Thomas Johnson d.9 June 1888 aged 59 at Broughton Grove, Field Broughton, Grange-over-Sands.
Married Harriet Margaret d.21 April 1893 at Aix-les-Bains, France, buried at Staveley-in-Cartmel
M
iii
Abraham Hilton life dates unknown.
M
iv
William life dates unknown.
M
v
James life dates unknown.
M
vi
Edward baptised 6 September 1838. Elijah's address given as "late of Cowhill Lodge, St Mary's Oldham"
M
vii
Henry b.20 July 1840 d.13 February 1913. Amongst other community involvement, Henry was the secretary of the North Lonsdale Archers club from its start in 1868 until his death in 1913.
Other Information
There's an entry in the Parish Register of St Michael and All Angels, Ashton-under-Lyne as follows:-
Baptism: 25 Oct 1795 St Michael and All Angels, Ashton under Lyne, Lancs.
Ann Hibbert - Daughter of Joshua Hibbert & Betty
Abode: Woodhouses
Occupation: Weaver
Source: Original Parish Register
Baptism: 25 Oct 1795 St Michael and All Angels, Ashton under Lyne, Lancs.
Elisha Hibbert - Son of Joshua Hibbert & Margaret
Abode: Droilsden
Occupation: Weaver
Source: Original Parish Register
1822 : Marriage: 26 Dec 1822 St Mary, Oldham, Lancs. Elijah Hibbert (Parish regs, m/fm p56) Elijah Hibbert of Greenacres Moor of this parish, Iron founder Betty Hilton of Bottom of Greenacres Moor of this parish, Spinster married by licence 26 December 1822 In presence of : Frederick Reyner, John Hilton & Robert [?] Wilson. Register: Marriages 1822 - 1824, Page 56, Entry 167 Source: LDS Film 1656118
After Elijah died, she had to move out of their house into Chamber Cottage, where she eventually died.

Oldham Chronicle 17 Dec 1864
On the 15th inst., at Chamber Cottage, Oldham, in the 65th year of her age, Elizabeth, relict of the late Elijah Hibbert, Esq.

Oldham Local Chronicle 24 Dec 1864
Hollinwood. Funeral of the late Mrs Hibbert of Chamber Cottage. The funeral of the late Mrs Elizabeth Hibbert, of Chamber Cottage, relict of the late Elijah Hibbert, Esq., took place on Tuesday morning at St Margaret's Parish Church, Hollinwood. The cortege left Chamber Cottage at 11.30, passing through Csh Gate, arriving at the church at 11.45. As the procession moved slowly along, it was a scene of solemn grandeur. The hearse was drawn by 4 horses, which was followed by 4 mourning coaches and 4 private carriages. Her remains were interred in the new family vault on the north side of the new burial ground. The Rev John Robinson, incumbant of the place, and the Rev Thomas Ireland, incumbant of St Thomas', Werneth, officiating. Deceased [sic] who was the mother of our esteemed borough member, J. Tomlinson Hibbert, Esq., was in her 65th year.

Elijah's will

His will, made 8 Nov 1844, proved 10.10.1846
Leaves all household goods, furniture, books,linen, bedding, glass, china, etc to his dear wife Betty.
To his brother-in-law, Joshua Radcliffe, & his son John Tomlinson(JTH), the wines, etc.
Assigns to Betty an annuity of £250, payable in four equal quarterly payments, for her natural life. First payment to be made 3 months after his death. She has this independently of any husband she may marry, and may not be subject to his control, debts or engagements.
Gives to JTH all his shares in the freehold & leasehold premises which 'hitherto belonged to my late father-in-law', Abraham Hilton deceased. Also all shares, premises, etc with my partners in trade.
Gives to Joshua Radcliffe & John Tomlinson Hibbert upon trust for my 3 sons, JTH, Thomas Johnson HIbbert & Henry Hibbert and any future child I may have in equal shares, as tenants in common; but in case any of them (or any such future child of mine) shall either in my lifetime, or after my decease, die under the age of 25, without leaving any issue, the share of such child shall in each case be added to in augmentation of the other remaining shares. If under 25 when Elijah Hibbert dies, the interest of that child's share should be extended & applied for or towards the maintenance & education of such child until he or she shall attain the age of 25.
I direct that the surplus income of each share shall be invested at interest, augmented & accumulated.
I direct that it shall be lawful for any trustee to raise the sum of money, not exceeding £5000, by the transfer of mortgage of any part(s) of the expectant share of each & any of my sons, & to apply and dispose of the same for the placing of such son in or to any profession, business or employment.
In case there should be no child of mine who shall live to attain the age of 25 years, or who, dying that age shall leave your(?) living at his or her decease, Then subject and without prejudice to the trustees aforesaid shall raise or appropriate out of or from my said estate, the principal sum of £4000 ( the same to be considered raisable from the time when such failure of children shall happen) - and subject thereto my said estate shall be held in trust for my half brothers and sisters JOHN SHARPLES, JAMES SHARPLES, ELIZABETH RADCLIFFE and ANNE....LEES in equal shares as tenants in common, and their respective heirs.
The £4000 shall be held upon trust to pay the interest thereof to my said wife during her life, and after her decease, then £2000 to pay the interest to my brother-in-law Daniel Hilton during his life. After his decease to divide the same sum( of £2000) amongst his children in equal shares.
The children or any child of any of the said children ( of Daniel Hilton and Sarah Ashton) who may have died in my lifetime to be entitled (equally among them if more than one) to the share which would have belonged to their parents respectively if living at my decease.
I direct that it shall be lawful for my said Trustees for the time being at any time within the period of 21 years after my decease - or at any time whilest any child of mine shall be living & under the age of 25 - at the discretion of the said Trustees, to convey or demise or join in conveying any part / parts of the hereditaments & premises herein before devised & bequeathed to them, etc,etc.
I give & bequeath to Joshua Radcliffe, JTH and John Sharples all my stock in trade, capital & effects, and all my residuary personal estate Upon Trust that they ...carry on my business as a machine maker and Iron Founder now carried on by me in partnership with the sons of the late Henry Platt.
I bequeath unto my said half brother, John Sharples, the sum of £300 for his own use absolutely.
_________________
Probate granted 10.10.1846. £30,000 value.

[Manchester Times and Gazette, Saturday, December 22, 1838 announces Elijah was asked but refused to be appointed magistrate.
[The Leeds Mercury, Saturday, February 2, 1839] Elijah elected to board of Liverpool and Manchester and Liverpool District Bank, which had been in difficulties.
[Manchester Times and Gazette, Saturday, February 2, 1839] Elijah seconds vote of thanks for speaker against the corn laws.
[The Charter, Sunday, May 26, 1839] Elijah sits with Rev. James Horborn in petit sessions to appoint 520 suitable inhabitants as special constables to deal with the Chartist threat.
[Manchester Times and Gazette, Saturday, March 29, 1845] Elijah attends fancy dress ball in Public Baths and wash-house on April 29 at the Free Trade Hall, at which the band of Mr Jullien is engaged, tickets 1 Guinea each
[Manchester Times and Gazette, Saturday, July 26, 1845] Oldham and Districty Railway Company advertises for capital, with Elijah top of the provisonal committee listing. Capital sought: £300,000
[From the National Archives] In 1770, blacksmith Henry Platt was building textile carding machinery in Dobcross, Saddleworth. His grandson Henry was born in 1793 and founded a similar concern in Uppermill in 1815. Five years later Henry junior moved to Oldham, and re-established the business at Huddersfield Road. In 1822 Henry Platt and Elijah Hibbert formed Hibbert and Platt. When Henry's sons Joseph and John [picture] joined the firm, it became Hibbert Platt & Sons. Henry Platt died in 1842, and Elijah Hibbert in 1846. His shares were acquired by the Platt family, the company becoming Platt Brothers & Company. A new factory site in Werneth, Hartford New Works, was first opened in 1844. The company transferred its headquarters there from the "Old Works" in 1868, upon taking limited liability status. John Platt died in 1872, by which time the company employed 7,000 men. It became the largest machine-making firm in the world. During the 1890s an estimated 42% of Oldham's population was supported by the company [ website] [industry in C19th Oldham].
[John 'Jock' P.M. Hibbert spent a lot of time trying to prove that Elijah's mother (or grandmother?) was a 'warming pan baby' from the Earls of Atholl, bearing out a supposed Murray connection.
There was certainly a connection between the Ware-Hibberts and the Murrays, as on page 493 of A Genealogical and Heraldic History of Great Britain it mentions "WARE-HIBBERT, SAMUEL, M.daughter of Edinburgh, b. 21st April, 1782; m. first, 23rd July, 1804, Miss Sarah Crompton, of Bury, Lancashire, and by her, who died 13th April, 1822, had issue,"
"Titus Hibbert, 1. 17th September, 1810.
William Hibbert, b. 15th April, 1812, in the medical service of the army.
Sarah Hibbert."
"He married, secondly, 8th January, 1825, Charlotte-Wilhelmina, eldest daughter of Lord Henry Murray, son of John, 3rd Duke of Atholl, and by her, who died 1st August, 1835, has issue, Robert Green b.18 May 1826, Elizabeth-Jessie b.18 January 1833 and George-Henry b.9 November 1834"]
London Gazette Issue 19999 published on the 16 July 1841 page 1867

"NOTICE is hereby given, that the agreement subsisting between Elijah Hibbert and John Mayall, for working and turning the Cotton Mill or Factory belonging to them, situate at Hey, in the parish of Ashton-under-Line, in tire county of Lancaster, was put an end to, by mutual consent, on the 29th day of May 1838, at which time the share of the said Elijah Hibbert in the said mill, and the steam engines, boilers, steam pipes, and going geer therein, was let to the said John Mayall; and that the said mill or factory has been since the said period, and will continue to be worked and turned by the said John Mayall on his own account.— Dated the 29th day of June 1841. E. HIBBERT. JOHN MAYALL."
London Gazette Issue 19828 published on the 21 February 1840 page 397

"NOTICE is hereby given, that the Partnership lately subsisting and carried on by us the undersigned, Abraham Lees, James Lees, Daniel Hilton, James Greaves, Elijah Hibbert, James Colling John Lancashire, and Philip Norelli, as Coal-Merchants and Coal-Miners, at Swine Clough, within Oldham, in the county of Lancaster, under the firm of Abraham Lees and Company, was dissolved by Mutual consent, on the 14th day of-February instant.
Dated this 17th day of February 1840
Abraham Lees.
James Lees.
Daniel Hilton..
James Greaves..
Elijah Hibbert.
James Callings.
John Lancashire.
B. Novell."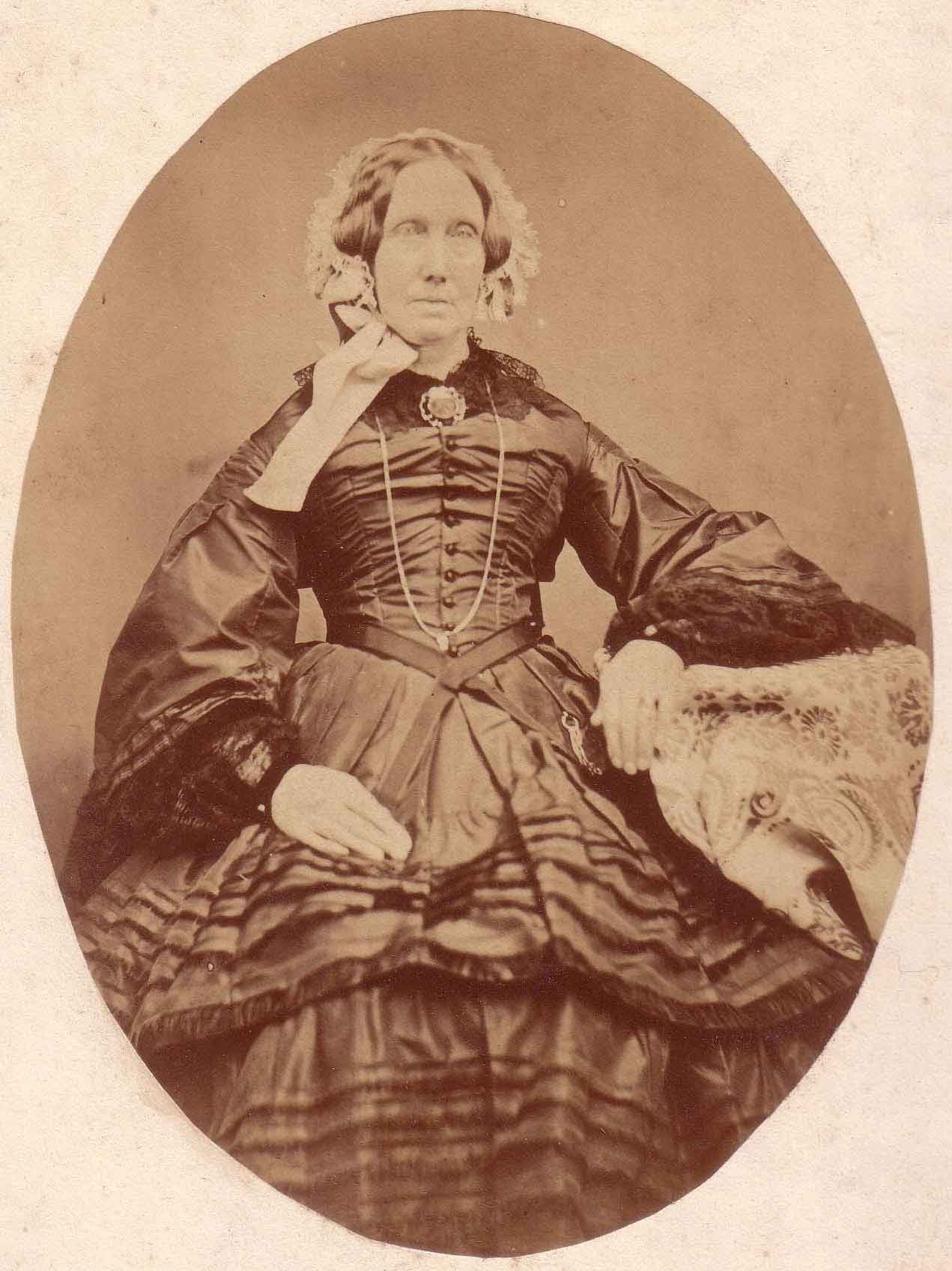 Betty Hilton, wife of Elijah Hibbert
More photos below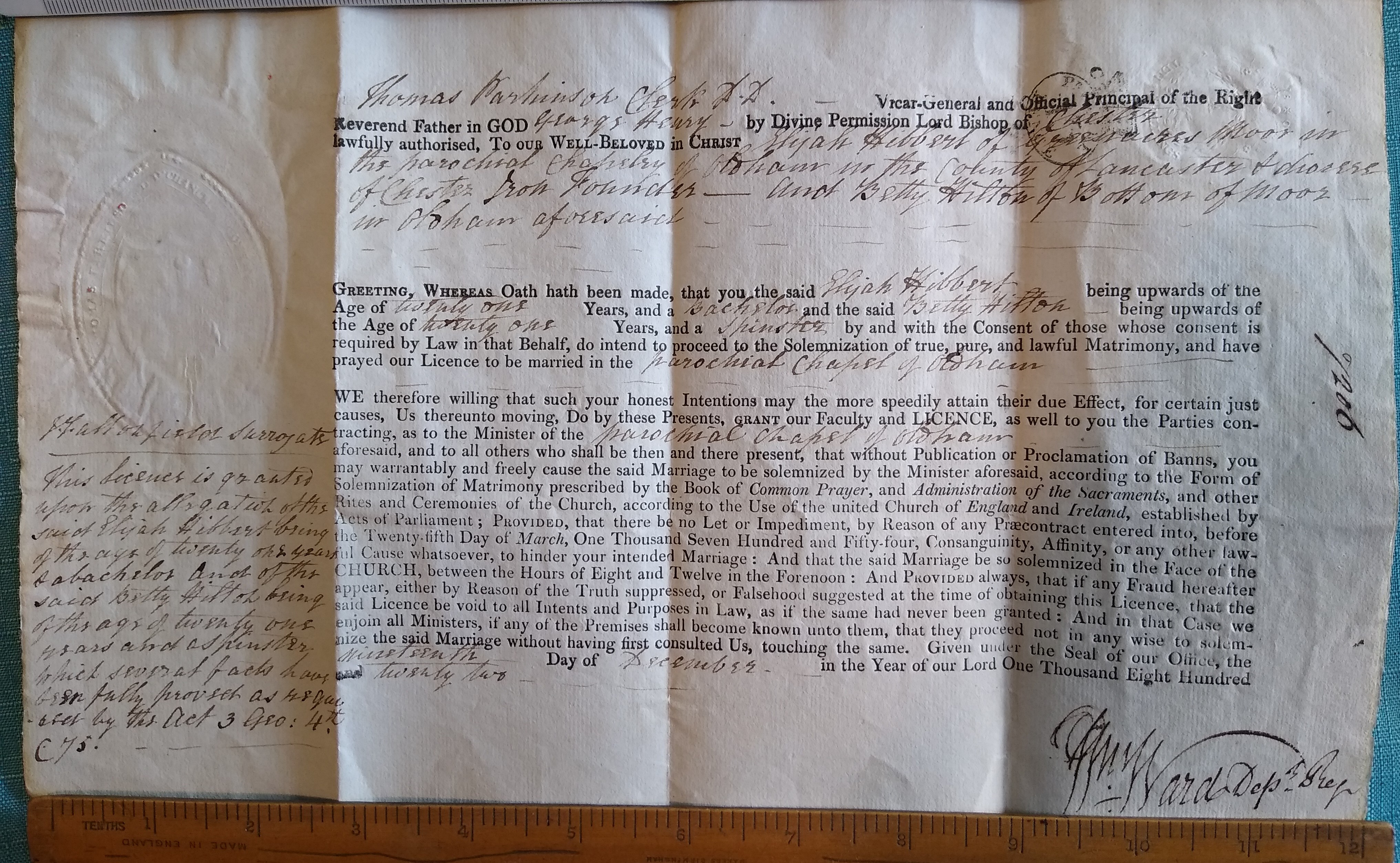 Elijah and Betty's marriage licence 19 December 1822 in John Hibbert's possession
More photos below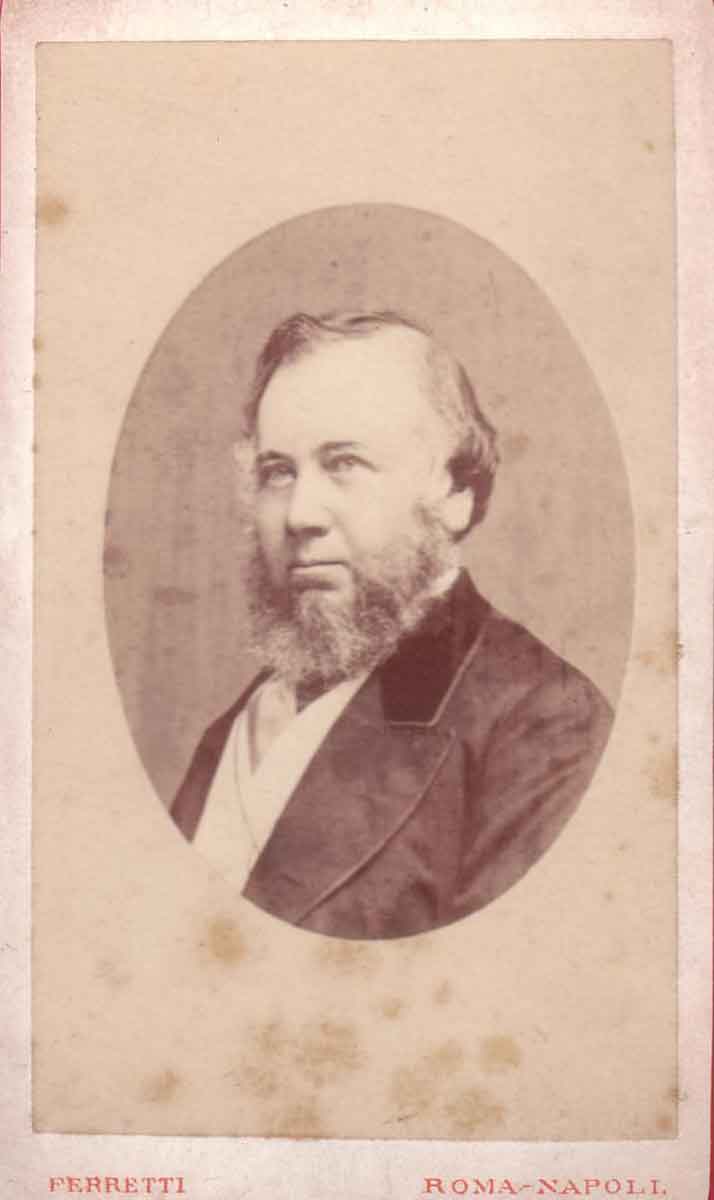 John Platt, partner of Elijah Hibbert
More photos below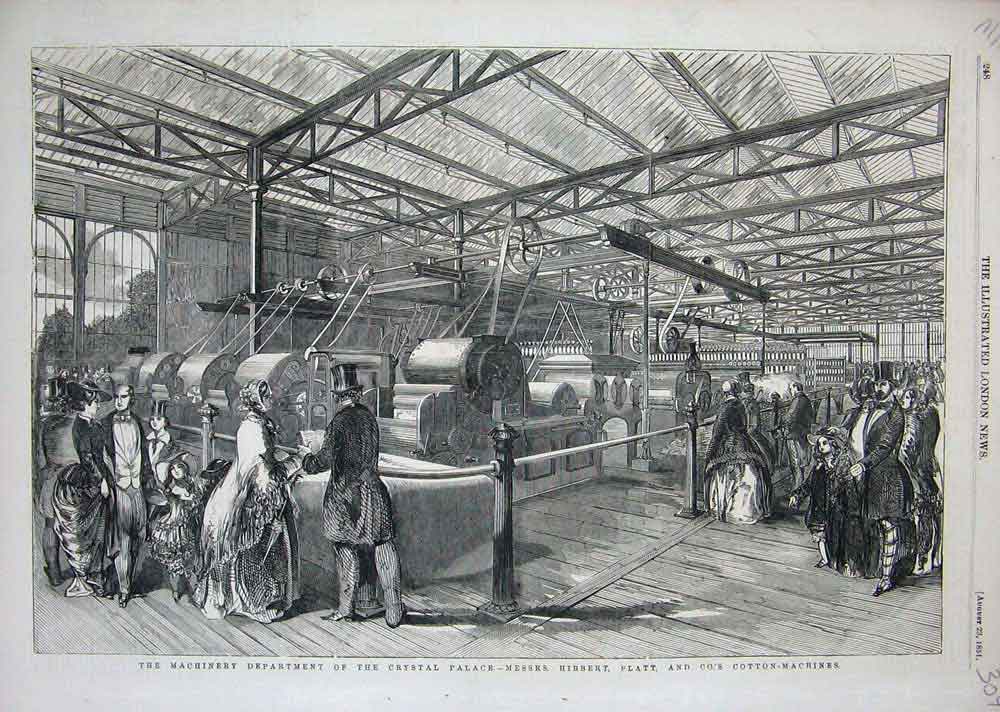 Hibbert cotton machines at the 1851 Great Exhibition at Crystal Palace
---
Contact the author and navigate this site
---
Want to ask questions, offer information or pictures, report errors, suggest corrections or request removal of personal information? Contact author
Notes on sources
Anderson family tree
Information is largely taken from the book 'The Andersons of Peterhead'. This was based on the records made by John Anderson 1825/1903 [VIII 32], known as 'China John'. This was brought up to date in 1936 by Cecil Ford Anderson [X 17] and Agnes Donald Ferguson [CS 45 X b]. Many photographs were taken and compiled in an album by Olive Edis (daughter of Mary Murray, daughter of Andrew Murray (2) of Aberdeen). Corrections to both Janet Innes Anderson's and Alexander Murray's death dates from Robert Murray Watt and Iain Forrest.
Forrest family tree
Iain Forrest kindly supplied material to update the Forrest family (progeny of William Forrest) details.
Hibbert family tree
The information is largely taken from a tree compiled by F.B. (she knows who she is!) with extra material found by the author.
Murray family tree
The 'Genealogical Table showing various branches of the Murray family', from which this information was taken, was prepared by Alexander Murray of Blackhouse, extended by Andrew Murray - advocate - Aberdeen circa 1880 and further extended by Arthur Murray Watt 1972. The generational notation is the author's.
Pike family tree
Information from family sources as well as 'Burke's Landed Gentry' 1875
Stevenson family tree and many Stevenson and Anderson photos
Deepest thanks for some fantastic pictures and for writing the wonderful book 'Jobs for the Boys' to Hew Stevenson, which you can see on www.dovebooks.co.uk.
And the rest
Thanks also to all who have written in with information, advice, help and, most importantly, corrections.
© John Hibbert 2001-2013
28 February, 2021