Lawrence Pilkington
---
Generation 2
Contact the author and navigate this site
Lawrence Pilkington b.1855 d.7 October 1941
Son (youngest) of Richard Pilkington of Windle Hall, Saint Helen's (himself eldest son of William Pilkington of Windle Hall and Anne Hatton, daughter of Richard Hatton of Parbold), co-founder of the Pilkington Glass Works in St Helens, and Ann Evans, daughter of Richard Evans of Haydock. More information
Coal owner and Chairman of Salford Royal Hospital for 30 years.
Married in 1890 Mary 'Mollie' Gavin Stevenson b.1867 d.18 January 1942 [picture], daughter of Archibald Stevenson d.1877 aged 38.
They had the following children:
| | | |
| --- | --- | --- |
| F | i | Margaret b.1891 d.2 August 1974 unmarried. Director Pilkington Pottery Co. Trained at Slade School. Member of the Committee for the Whitworth Collection, Manchester; endowed the 'Margaret Pilkington Room' at the Whitworth Museum. Secretary of the Wood Engravers Society. Member of several artistic and philanthropic institutions. More |
| F | i | Dorothy Lawrence b.1893. Unmarried. Director Pilkington Pottery Co and of Clifton and Kersley Coal Co. |
Other information Back to top of page
The Pilkington Family of Rivington

The Pilkington Family have their roots in the Manor of Pilkington, near Whitefield in Bury, and their ancestry goes back to Alexander (sometimes known as Leonard) de Pilkington who fought at the Battle of Hastings in 1066. It was upon his marriage that Whitefield and Underworth (later called Unsworth) became part of the Pilkington Estate. The districts of Stand and Outwood, old parts of Whitefield, remained solely in the hands of the Pilkington family until the fifteenth century when the entire Manor passed to the Derby family - probably forfeited because of the Pilkington family allegiance to the defeated and deposed King Richard III.

Robert Pilkington fought and died at the Battle of Agincourt and Sir Thomas Pilkington fought at the Battle of Bosworth and was killed at the Battle of Stoke in 1487. In the early 16th century, James Pilkington, the third son of Richard Pilkington of Rivington Hall, became the first Protestant Bishop of Durham and thereafter the family gained lands all over England. His brother Leonard Pilkington founded a Grammar School in the 1500s at Rivington, near Horwich, with the permission of Queen Elizabeth I. (See History of the Pilkington Family of Lancashire 3rd edition 1912 by Lieutenant-Colonel John Pilkington, private printing by C Tinling & Co)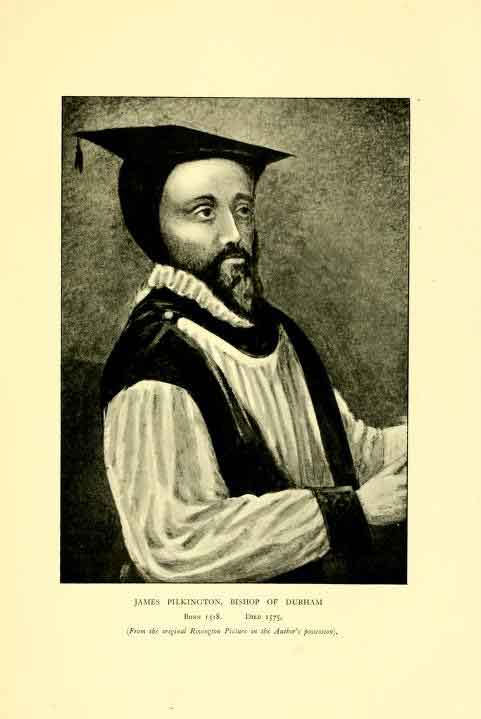 James Pilkington, first Protestant Bishop of Durham


Nearer to the present day William Windle Pilkington, who was born at Windle Hall, St Helens in Lancashire on 26th September 1839, the eldest son of Richard Pilkington, was to become one of the founders of the famous Pilkington Glass works in St Helens. He was married to Ann Evans, who was the daughter of Richard Evans, proprietor of the Haydock Collieries.

Richard Pilkington was a magistrate and the co-founder of Pilkington Glass.

Margaret Pilkington (1891-1974) was a skilled wood-engraver but is better remembered as a champion of the arts and crafts. She was honorary director of Manchester's Whitworth Art Gallery from 1936 until 1959 and was the leading figure in the Red Rose Guild of Designer Craftsmen. Margaret Pilkington also held strong social commitments, reflected primarily in her work with girls' clubs in Manchester, but also in her pioneering views in relation to public access to galleries. She was actively involved in many aspects of Manchester's social and intellectual scene; she was a Justice of the Peace for Manchester from 1945 and a member of the Manchester Diocesan Advisory Committee for the Care of Churches from the late 1940s. She was the first woman to be president of either the Manchester Luncheon Club (1963-1964) or the Manchester Literary and Philosophical Society (1964-1965).

Margaret Pilkington was born at Pendleton near Manchester on 25 November 1891 into an affluent family. She was the elder daughter of Lawrence Pilkington (1855-1941) and Mary "Mollie" Gavin Pilkington, née Stevenson (d. 1942). Her father was the co-founder, with his brother Charles, of the Pilkington Lancastrian Pottery and Tile Company at Clifton Junction near Manchester, famous for its lustre wares. Margaret Pilkington herself was a director of the firm for many years. Margaret had one sister, Dorothy Lawrence Pilkington (1893-1971) to whom she remained close throughout her life. In 1907 the family moved from Southgarth, their house in Pendleton, to Firwood, a house in the village of Alderley Edge, a desirable area fifteen miles south of Manchester. Margaret and Dorothy were both sent to the private Croham Hurst School in South Croydon. Encouraged by Theodora Clark, the Quaker headmistress, Margaret showed a talent for and enjoyment of art. She pursued this interest and from 1911 to 1913 studied at Manchester College of Art. In 1913 she defied the accepted social conventions of her background by going to London to study painting at the Slade School of Fine Art. Her parents were at first apprehensive about her going to study in London, but they eventually agreed to let her attend.

In 1914 Margaret Pilkington enrolled at the Central School of Arts and Crafts; this was to prove a formative development in her career. The school employed leading craftsmen as tutors, including May Morris, Douglas Cockerell and Edward Johnston. Margaret Pilkington studied wood-engraving under the tutorship of the influential wood-engraver Noel Rooke. Margaret stayed in touch with Rooke for many years, but it was Lucien Pissarro whom Margaret Pilkington felt to have had the greater impact on her style. Margaret Pilkington became good friends with the Pissarro family and would offer help at their Eragny Press. Her wood engravings demonstrate a skilled use of contrast between black and white, light and shade.

The outbreak of the First World War cut short Margaret Pilkington's studies at the Central School and she moved back home to Alderley Edge. However, she regularly visited London and met Noel Rooke at the Central School. During these war years, Margaret Pilkington became involved with various Manchester girls' clubs, valuing social duty over her own artistic pursuits. Margaret devoted much time to the girls' club in Ancoats, a poor district in Manchester, was honorary secretary of the Pioneer Club for business and professional girls and women from its foundation in 1916, and was President of Manchester and Salford Girls' Clubs from 1929 to 1931.

Although Margaret Pilkington continued with her painting, drawing and wood engraving, she put a lot of her efforts into organization within the arts. In 1920 she organized an exhibition at Houldsworth Hall that marked the beginnings of the Red Rose Guild, exhibiting with the Society of Wood Engravers. She became a member of the Society the following year, was honorary secretary from 1924 and chairman from 1952 until 1967. A founder member and honorary secretary of the Red Rose Guild, she was appointed chairman in 1926. Her appointment diaries suggest how much time she devoted to these two bodies over the years. Margaret was also a member of the Manchester City Art Galleries from 1925 and was president of the North West Federation of Museums and Art Galleries from 1945.

In 1925 Margaret Pilkington was invited to join the council of Manchester's Whitworth Art Gallery (officially known as the Whitworth Institute), beginning what was to be a life-long involvement with the gallery. She was honorary director from 1936 to 1959. At the outbreak of the Second World War she oversaw the decision to move many of the gallery's art treasures to storage in the National Library of Wales. She then helped to set up a rest centre at the Whitworth for those who had been made homeless by the air raids, personally looking after people there. After the war the Whitworth's grand Edwardian galleries looked unfashionable. The Whitworth Institute's financial situation left it struggling to pay even for redecoration. In 1958, its neighbour, the University of Manchester, took over the Whitworth Institute and renamed it the Whitworth Art Gallery. Margaret Pilkington's achievements were recognised with the award of an honorary MA from The University of Manchester in 1942 and an O.B.E. in 1956.

On 7 October 1941 Margaret's father Lawrence died, followed three months later on 18 January 1942 by her mother Mollie. Lawrence Pilkington was the youngest son of Richard Pilkington, the co-founder of the Pilkington Glass Works in St Helens, and of Ann Evans, whose family owned collieries. Lawrence and his brother were proprietors of the Clifton and Kearsley Colleries and Lawrence later went on to be joint proprietor, and eventually Chairman, of the Royal Lancastrian Pottery and Tile Company at Clifton. He was also a keen mountaineer, amateur musician and author (see his Guardian obituary, 9 October 1941). While they may not have seen eye to eye on all matters, Margaret Pilkington appears to have had a great deal of respect and affection for her father. She engraved illustrations for a number of books he wrote such as Tattlefold, Thoughts in Hospital and An Alpine Valley and other poems. Her diaries and correspondence suggest that his death left her with a very deep sense of loss.

This, regarding Lawrence Pilkington and his brother Charles, from WalkHighlands:-

"In 1880 Willie Naismith, later to be the founder of the Scottish Mountaineering Club, made his first visit to Skye. He climbed the north peak of Bidein Druim nam Ramh. Later in the year, Charles and Lawrence Pilkington (of Pilkington Glass), two of the greatest climbers of their day, came to the island. They made the first ascent of the Inaccessible Pinnacle, watched by John MacKenzie, who returned to make the second ascent the following year after taking off his shoes. By 1886 Stocker and Parker had ascended the west side of the pinnacle."

"In 1887 Charles Pilkington – with MacKenzie - climbed Sgurr Thearlaich, and later Sgurr Mhic Choinnich. The peaks were named in their honour; Sgurr Thearlaich is Gaelic for Charles' peak; whilst Sgurr Mhic Choinnich is Mackenzie's."

Margaret and her sister Dorothy continued to live together at the family home. In 1943 the two sisters provided three-quarters of the money needed to buy Alderley Woods, giving the woods to the National Trust in memory of their parents. Their generosity and love of art is reflected in their numerous donations of works of art to the Whitworth Gallery and their endowment in 1958 of the Pilkington chair in the history of art at the University of Manchester. Margaret also donated works of art to Abbott Hall, Kendal and to what is now the Crafts Study Centre, Surry Institute of Art and Design. Dorothy's major commitment was to the Manchester High School for Girls, for which she was on the governing body from 1935 to 1970, and chairman from 1944 to 1963. She was granted an honorary MA by the University of Manchester in 1964.

Margaret Pilkington's papers devote much attention to her travels. From her first trip abroad to the Swiss Alps in 1908 with her parents, she continued to travel extensively. She recorded in words and images her impressions of what she saw, paying particular attention to local people, mountain scenery, architecture, museums and galleries. Her diaries and letters show Margaret as a modest yet determined woman endowed with great generosity. She died of breast cancer on 2 August 1974 aged 82¹

¹Thanks to the John Rylands University Library for the biographical detail.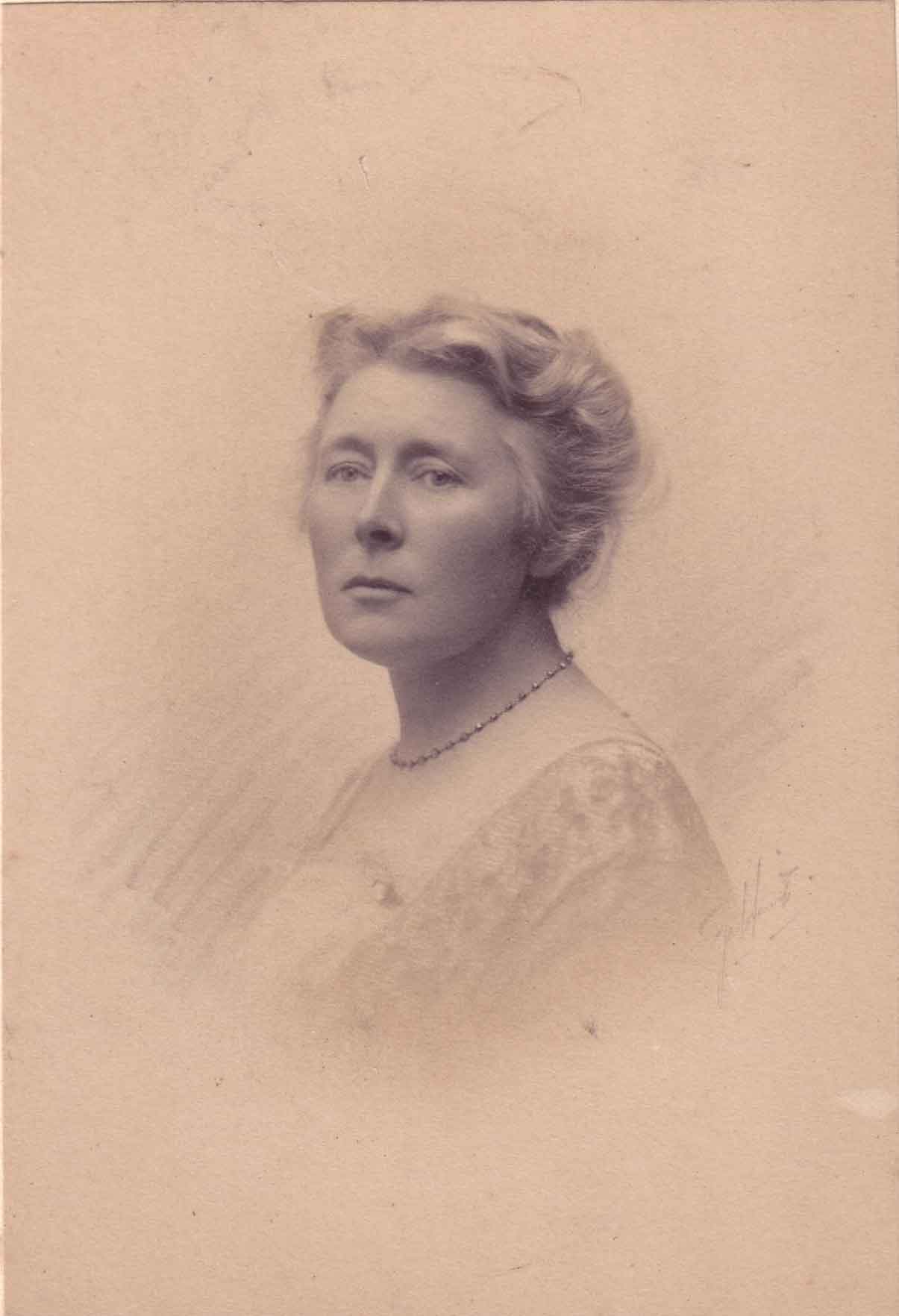 Mary 'Mollie' Gavin Stevenson b.1867 d.18 January 1942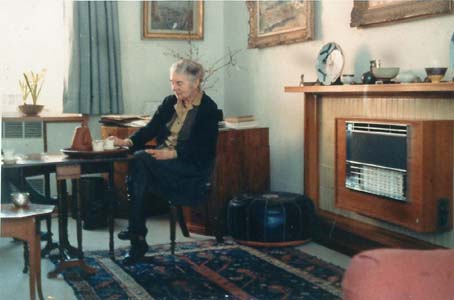 Margaret Pilkington b.1891 d.2 August 1974
---
Contact the author and navigate this site
---
Want to ask questions, offer information or pictures, report errors, suggest corrections or request removal of personal information? Contact author
Notes on sources
Anderson family tree
Information is largely taken from the book 'The Andersons of Peterhead'. This was based on the records made by John Anderson 1825/1903 [VIII 32], known as 'China John'. This was brought up to date in 1936 by Cecil Ford Anderson [X 17] and Agnes Donald Ferguson [CS 45 X b]. Many photographs were taken and compiled in an album by Olive Edis (daughter of Mary Murray, daughter of Andrew Murray (2) of Aberdeen). Corrections to both Janet Innes Anderson's and Alexander Murray's death dates from Robert Murray Watt and Iain Forrest.
Forrest family tree
Iain Forrest kindly supplied material to update the Forrest family (progeny of William Forrest) details.
Hibbert family tree
The information is largely taken from a tree compiled by F.B. (she knows who she is!) with extra material found by the author.
Murray family tree
The 'Genealogical Table showing various branches of the Murray family', from which this information was taken, was prepared by Alexander Murray of Blackhouse, extended by Andrew Murray - advocate - Aberdeen circa 1880 and further extended by Arthur Murray Watt 1972. The generational notation is the author's.
Pike family tree
Information from family sources as well as 'Burke's Landed Gentry' 1875
Stevenson family tree and many Stevenson and Anderson photos
Deepest thanks for some fantastic pictures and for writing the wonderful book 'Jobs for the Boys' to Hew Stevenson, which you can see on www.dovebooks.co.uk.
And the rest
Thanks also to all who have written in with information, advice, help and, most importantly, corrections.
© John Hibbert 2001-2013
28 February, 2021