Reverend William Beckett
---
Generation 2
Contact the author and navigate this site
Reverend William Beckett b.1812 in Paisley Lanarkshire d.21 January 1890 in Maryhill Glasgow.
Son of William Beckett b.around 1780 and Ann McLerie b.25 March 1785, daughter of John McLerie and Janet Richie b.28 April 1745 in Cramond Edinburgh. More information
Married (1) 3 March 1842 Jane McDowell b.around 1815, parents unknown.
They had the following children:
F
i
Anne Walker b.19 February 1843 .
F
ii
Jane b.12 January 1846 d.in her thirties [picture]
Married 1869 a banker in Glasgow, without issue.
Married (2) 29 January 1850 Margaret Ogilvy Robertson b.15 April 1823 at Glasgow d.1864, daughter of John Robertson b.around 1785 and Jean Bremner b.7 February 1788 at Glasgow d.4 February 1864 at Glasgow.
They had the following children [picture]:
M
i
William b.26 January 1851 at Rutherglen, Glasgow.
Married Frances B Begg b.6 May 1854, daughter of Alexander Begg of Paisley b.17 November 1825 and Jane Paul b.1827.
M
ii
James Robertson b.20 March 1855
Married Anne Bertha Murray b.11 January 1864 at Cruden Aberdeen d.6 January 1952 at Worthing, Sussex, daughter of Alexander Murray (5) of Nethermill b.1811 d.10 September 1901 and Mary Sutter b.1826 d.1906.
M
iii
Oliphant b.25 November 1856 at Rutherglen, Glasgow..
F
iv
Jane Brenner b.1 September 1858 at Rutherglen, Glasgow..
F
v
Charles Edward b.3 June 1860 at Rutherglen, Glasgow..
F
vi
Mary Robertson b.10 March 1862 at Rutherglen, Glasgow..
Other information Back to top of page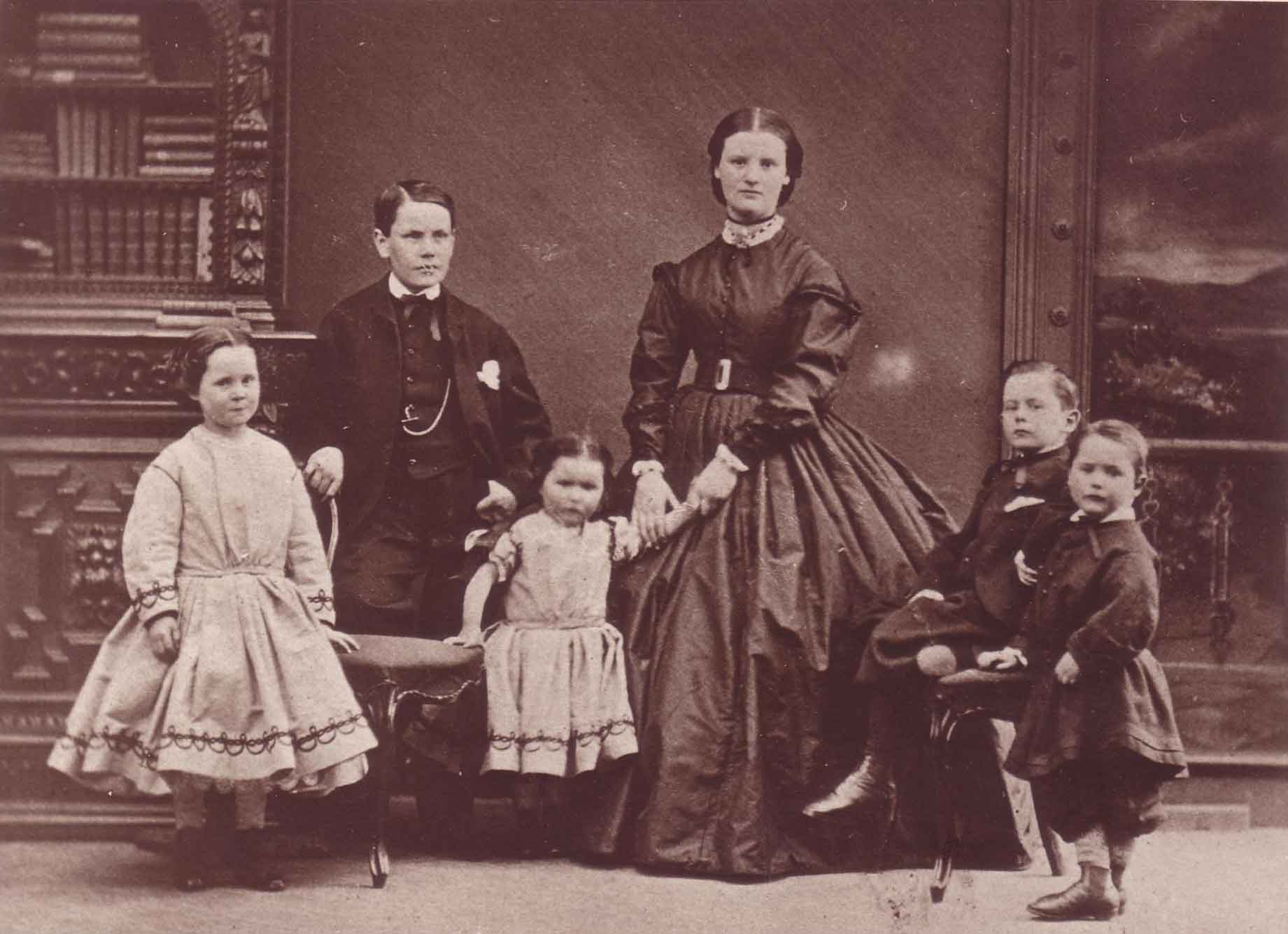 As I was told by my mother, EGI Beckett "it's the Beckett family, from left, Unknown, William, Brenner, Charles"
However, I believe, by looking at the birth dates and the picture, as well as a letter I found, it's:
Jane Brenner, William, Mary, Jane (19 or 20 at the time, so the picture was taken 1865 - 6), James or Oliphant, Charles
---
Contact the author and navigate this site
---
Want to ask questions, offer information or pictures, report errors, suggest corrections or request removal of personal information? Contact author
Notes on sources
Anderson family tree
Information is largely taken from the book 'The Andersons of Peterhead'. This was based on the records made by John Anderson 1825/1903 [VIII 32], known as 'China John'. This was brought up to date in 1936 by Cecil Ford Anderson [X 17] and Agnes Donald Ferguson [CS 45 X b]. Many photographs were taken and compiled in an album by Olive Edis (daughter of Mary Murray, daughter of Andrew Murray (2) of Aberdeen). Corrections to both Janet Innes Anderson's and Alexander Murray's death dates from Robert Murray Watt and Iain Forrest.
Forrest family tree
Iain Forrest kindly supplied material to update the Forrest family (progeny of William Forrest) details.
Hibbert family tree
The information is largely taken from a tree compiled by F.B. (she knows who she is!) with extra material found by the author.
Murray family tree
The 'Genealogical Table showing various branches of the Murray family', from which this information was taken, was prepared by Alexander Murray of Blackhouse, extended by Andrew Murray - advocate - Aberdeen circa 1880 and further extended by Arthur Murray Watt 1972. The generational notation is the author's.
Pike family tree
Information from family sources as well as 'Burke's Landed Gentry' 1875
Stevenson family tree and many Stevenson and Anderson photos
Deepest thanks for some fantastic pictures and for writing the wonderful book 'Jobs for the Boys' to Hew Stevenson, which you can see on www.dovebooks.co.uk.
And the rest
Thanks also to all who have written in with information, advice, help and, most importantly, corrections.
© John Hibbert 2001-2013
28 February, 2021