Sir Hugh Kerr Anderson
---
Generation IX 32
Contact the author and navigate this site
Sir Hugh Kerr Anderson b.1865 d.1928. More information
Son of James Anderson b.1811 d.1897 and Eliza Murray d. 1890 aged 60.
Married in 1894 Jessie Mina Innes d.1946, daughter of Surgeon-General Francis William Innes CB.
They had the following children:
M
i
Austin Innes b.1897.
Married in 1925 Alison Royse Lysaght.
F
ii
Mary Désirée b.1902. Author of 'The Mediaeval Carver' (Cambridge University Press, 1935); British women at war (London : John Murray & the Pilot Press, 1941); A saint at stake; the strange death of William of Norwich, 1144 (London, Faber and Faber 1964); Drama and imagery in English medieval churches (Cambridge University Press, 1963); The imagery of British churches (London : Murray, 1955); History and imagery in British churches (London, J. Murray, 1971); Misericords, medieval life in English woodcarvings (Harmondsworth, England: Penguin, 1954); etc., etc..
Married in 1935 George Trenchard Cox son of Wiliam Pallet Cox.
Other information Back to top of page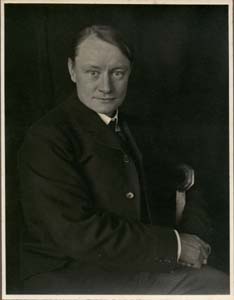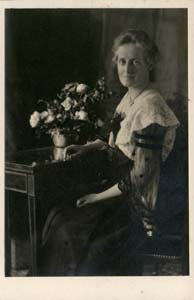 Sir Hugh Kerr Anderson b.1865 d.1928 and Jessie Mina Innes d.1946
Sir Hugh Kerr Anderson, scientist, artist, financial organiser, Knight, MD, MA. Educated Harrow 1880-4; Caius College Cambridge 1884; Scholar 1886-9; Treasurer Caius Musical Society; 1st Class Natural Sciences Tripos Part 1 1887; BA 1887; Tripos Part 2 1888, MA, MB, 1891; elected Fellow 1897; MD 1898; Director Medical Students 1898.
University Demonstrator in Physiology 1899; Syndic of University Press 1906, Chairman 1918; FRS 1907.
Member Medical Board 1907; member Financial Board 1908; Council of Senate 1910; Master of Gonville and Caius 1912 to his death; member Royal Commission on Oxford and Cambridge Universities 1919; member of Statutory Commission on Cambridge University 1922; Knight 1922; Governor of Harrow School 1922.
An actor plays his character in the Film Chariots of Fire
Buried in Ascension Parish Burial Ground, Cambridge, England¹.
¹Email from Martin Packer received 09.32 29 December 2012.
---
Contact the author and navigate this site
---
Want to ask questions, offer information or pictures, report errors, suggest corrections or request removal of personal information? Contact author
Notes on sources
Anderson family tree
Information is largely taken from the book 'The Andersons of Peterhead'. This was based on the records made by John Anderson 1825/1903 [VIII 32], known as 'China John'. This was brought up to date in 1936 by Cecil Ford Anderson [X 17] and Agnes Donald Ferguson [CS 45 X b]. Many photographs were taken and compiled in an album by Olive Edis (daughter of Mary Murray, daughter of Andrew Murray (2) of Aberdeen). Corrections to both Janet Innes Anderson's and Alexander Murray's death dates from Robert Murray Watt and Iain Forrest.
Forrest family tree
Iain Forrest kindly supplied material to update the Forrest family (progeny of William Forrest) details.
Hibbert family tree
The information is largely taken from a tree compiled by F.B. (she knows who she is!) with extra material found by the author.
Murray family tree
The 'Genealogical Table showing various branches of the Murray family', from which this information was taken, was prepared by Alexander Murray of Blackhouse, extended by Andrew Murray - advocate - Aberdeen circa 1880 and further extended by Arthur Murray Watt 1972. The generational notation is the author's.
Pike family tree
Information from family sources as well as 'Burke's Landed Gentry' 1875
Stevenson family tree and many Stevenson and Anderson photos
Deepest thanks for some fantastic pictures and for writing the wonderful book 'Jobs for the Boys' to Hew Stevenson, which you can see on www.dovebooks.co.uk.
And the rest
Thanks also to all who have written in with information, advice, help and, most importantly, corrections.
© John Hibbert 2001-2013
28 February, 2021